From Denver to Down Under
A few years ago, Tyler Ames (University of Northern Colorado, 2012) wasn't even familiar with Australian rules football or footy. Today, he lives in Australia where he plays Division 1 footy in the Eastern Football League in Melbourne.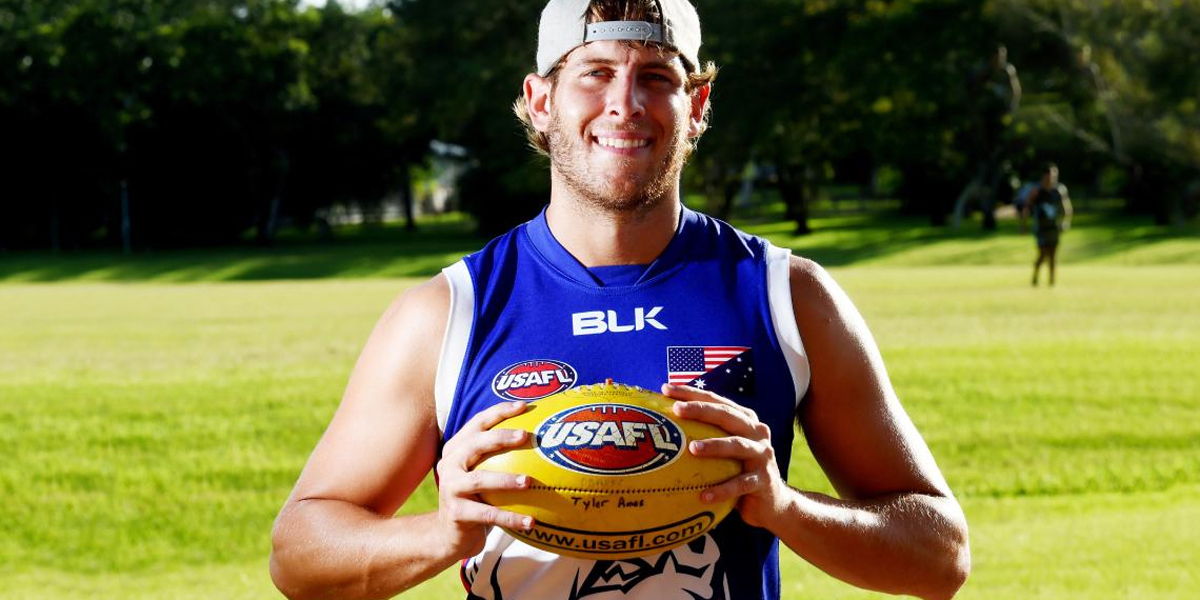 After graduating from college in 2012, Ames lived in Denver where he worked as a public accountant. He became friends with a coworker from Australia, Michio McGrath who talked Ames into trying out for footy. After Ames went to a few practices in Denver, he slowly developed a love of the contact sport.
Footy involves two teams of 18 players on an oval-shaped field. Players score by kicking an oval-shaped ball between the opposing goal posts or behind the posts. According to the United States Australian Football League (USAFL), the first game played in the U.S. was in 1996 and the league was founded the following year. USAFL is a grassroots, amateur sports organization dedicated to the development of and participation in Australian football. There are 40 teams in the U.S. and four Canadian teams.
"The moment I truly started loving the game was during the 2015 USAFL National Championship in which I played in the Denver Bulldogs Division 4," said Ames. "From that point on I was motivated and driven to get good at footy and I wanted to help lead the Bulldogs to National Championship."
At a National Football tournament, he was approached by representatives from the Australian Football League (AFL) and USAFL who were looking for the first American to go to Darwin, the capital of Australia's Northern Territory through an exchange program.
"Once I started thinking Australia, I didn't want to halt my career. I was thinking, 'This is a pipe dream, this is crazy. Is this something that's realistic? Should I take a step back in my career?'" said Ames. "Maybe it's time to make a big change, shake things up and experience something different."
Over the next few months, Ames worked through plans with the support of mentors and friends including three Delt coworkers and he decided to take a chance on the move to Australia. He'd always focused on being well-rounded in all aspects in his life and has always played sports, just not footy. In some way, he felt his life wasn't complete and the opportunity to play footy appealed to this desire.
"Most people lose the aspiration to play sports at a high level as soon as college ends, or maybe before. At one point in college, I'd torn my ACL, I gained 65 pounds. I was out of shape. If you'd told me then I'd ever be in the kind of sharp and condition I'm in now and that' I'd play a sport at a high level I would have told you that you were absolutely insane," said Ames.
When he first arrived in Darwin, he dove into the game playing for the Darwin Buffaloes. There he lived with an Aboriginal family. "I was a bit of a minority up there. Almost all of my teammates were of some Aboriginal descent. I experienced a whole new culture, a whole new way of life. You have to embrace it and take it one day at a time. The initial fear of change is a shock to the system, but as long as you take it take day by day, you make new bonds and new friendships."
Ames moved on to play for the Montrose Demons in Melbourne, and at the same time, he secured the next step in his career. "I'm extremely career motivated, so I went into the city in suit and tie and went to a couple recruiting firms looking for accounting jobs," he said. At his first interview, he was offered a job as a recruiter where he's now worked for most of the last year. He specializes in public accounting.
Ames takes his demanding schedule in stride. During the week he wakes up at 4:45 a.m., works out from 5 a.m. to 6 a.m. and takes a train to get to work by 7 a.m. Normal office hours are 8 a.m. to 6 p.m., but he arrives early so that when needed he can leave early to make it to footy practice on time. He takes an evening train into the country for footy training after work. He trains a few times during the week with games on Saturday. "When you get used to being so busy all the time you just get into your routine, and it doesn't really matter," said Ames.
Ames said Delts have been integral in helping him pursue these life steps. "The Fraternity was always such an important part of my life and again, something I never planned or expected to do, but you're so close with so many people especially right out of college," he said. "Those are the people you create lifelong bonds and relationship with. Having that support system, they were naturally the first people that I went to as I made this decision because I felt like they knew me best. They knew my life, they knew my situation and would help me see the bigger picture."
Today, Ames is working to help grow the footy exchange program and increase visibility in the U.S. He participates in speaking engagements, talks to American players and serves on committees with USAFL including a development committee. He shares best practices based on his experience and hopes to grow the game at all levels.
"You have to give back, just like the Fraternity. You're always a Delt. The people who came before you and the people who paved your road did so much to set that up. And I never would have had those experiences if people before me hadn't given back. I always want to be able to give back to the Fraternity and be a mentor, always offer my experiences or money and I want to do the same thing for this experience as well. Being taught those values and life lessons, that's the plan that I will be able to give back to AFL and help grow the game in America."