Forward for JDRF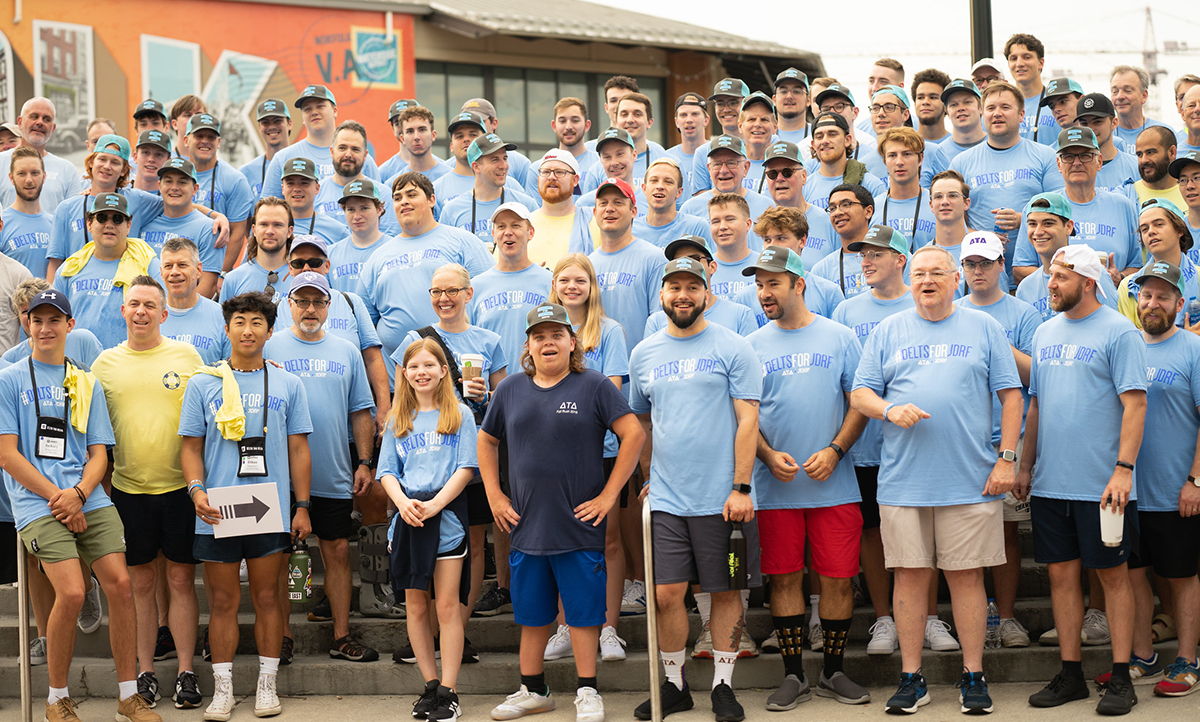 November is National Diabetes Awareness Month (NDAM)
Delta Tau Delta alumni and undergraduates joined forces raising more than $6,500 for JDRF through the 2022 Norfolk Karnea JDRF Walk on Aug. 5, 2022. With a steamy 7 a.m. start, participants donned their blue #DeltsForJDRF T-shirts to walk through downtown Norfolk, Va. and along the waterfront. Today, Delta Tau Delta continues to support JDRF in forging the future and moving forward for National Diabetes Awareness Month (NDAM).

Blue represents looking Forward—JDRF's theme for the month. The theme fuels the vision and mission to cure, prevent, and treat T1D and its complications, for those living with type 1 diabetes (T1D) and those who love them. It's a reminder of what and who we are fighting for, and that together, we move #ForwardAs1 in strengthening our community.

JDRF is the world's leading non-profit organization dedicated to the fight against type 1 diabetes (T1D). T1D is an autoimmune disease that strikes both children and adults suddenly and unlike type 2 diabetes, its onset is not tied to diet or lifestyle. There is nothing you can do to prevent it and presently, there is no cure. People with T1D must regularly monitor their blood sugar level and inject or infuse insulin through a pump. Even with intensive management, a significant portion of their day is still spent with high or low blood sugar levels.
As an organization committed to strengthening our community, Delta Tau Delta has been deeply involved with JDRF as its national philanthropic partner since 2012. We are proud to support JDRF's mission to create a world without T1D. We hope all Delts will join efforts to commemorate NDAM, spread awareness about JDRF and T1D, and move forward to the ultimate goal–a cure starting with T1Day.
T1Day on Nov. 1: Inaugurated by JDRF on Nov. 1, 2011 (11-1-11), T1Day is an occasion to use our collective voice to reach as many people around the world as we can, to raise awareness about T1D, and celebrate the lives of those who live with T1D and those who love them.
World Diabetes Day on Nov. 14: Delt will continue its support for JDRF in honor of World Diabetes Day on Nov. 14 the anniversary insulin discoverer Frederick Banting's birth.
Delta Tau Delta's collective contribution to JDRF is the result of the commitment of students and alumni from more than 130 Delta Tau Delta chapters. The men of Delta Tau Delta encourage students, parents, alumni and campus communities to learn about type 1 diabetes and support JDRF's mission to accelerate life-changing breakthroughs and to cure, prevent and treat T1D and its complications. JDRF works every day to change the reality of this disease for millions of people—and to prevent anyone else from ever experiencing it—by funding research, advocating for government support of research and new therapies, ensuring new therapies come to market and connecting and engaging the T1D community. Every dollar put toward research comes from donations. As of 2022, Delta Tau Delta Fraternity has raised more than $2 million in support of JDRF and its mission.