For the Education of Youth
"For the education of youth." It is a simple concept but at the essence of Delta Tau Delta's founding mission. It is the very principle that echoed in the mind of Ryan Coutu (University of North Carolina-Wilmington, 2004) as he walked away ill-at-ease from the small village of Chimpamba in Malawi, Africa. He sadly realized the 650 children he left behind would never know the power of education.
This thought weighed heavily on Ryan as he returned to the states. It became the spark that ignited his mission to provide an opportunity for education to the children of Chimpamba.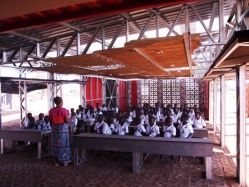 "It's eye-opening to see what education means to people who don't have it at their fingertips," said Coutu. "And after seeing what we saw over there, we couldn't just write the check and wash our hands of it."
This was the beginning of Youth of Malawi.
Youth of Malawi, whose core mission is to enrich the lives of orphans and vulnerable children in Malawi, was founded by Coutu in 2009. In its conceptual stage of development, the primary goal of the non-profit was to send school supplies to the children of Malawi, including books and clothes. But it quickly became apparent that a lack of supplies was marginal compared to the proximity of a classroom to the village.
"The children who live there are walking four to five miles both ways to the closest schools," said Coutu. "They're needed during those hours to work at home and in the farms, and they're deprived of an education because of the distance."
This is why Coutu, with the help of some ingenious architects from Architecture for a Change, refurbished and retrofitted two 20-foot shipping containers with insulation, wiring, solar panels and a slew of school supplies to be hauled more than 2,000 miles from South Africa to the heart of the village. Each container, from purchase to delivery, rang in close to $25,000.
Once the containers were on site, Youth of Malawi hired 36 women and 45 men for the summer to lay the foundation and assemble the classrooms. From sun up to sun down, the women collected water from the well 500-yards away, and the men laid the foundation and built the roof system, which required 20,000 handmade bricks. "To them it's one of the best jobs," said Coutu. "They helped build the school with their hands, so it's very empowering and they feel more ownership of the buildings."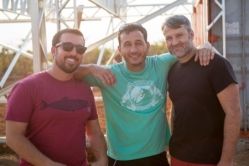 Today, the two classrooms house 300 students, grades one and two, taught by resident teachers provided by the Malawi state department. But Coutu has no intention of stopping there. He'll be returning this fall to map out and develop a strategy to incorporate a chicken farm, not only as a source of sustainable food, but as an alternate source of income for the villagers. Additionally, Coutu has his sights set on building two more classrooms as the value of education is his primary driving force.

"Striving for a life of excellence and keeping education important are integral to where I am today," said Coutu, on how his Delt values are reflected in his mission in Malawi. But it isn't just schools and classrooms he is building. He is also creating something far greater on his journey to excellence; he is building hope.