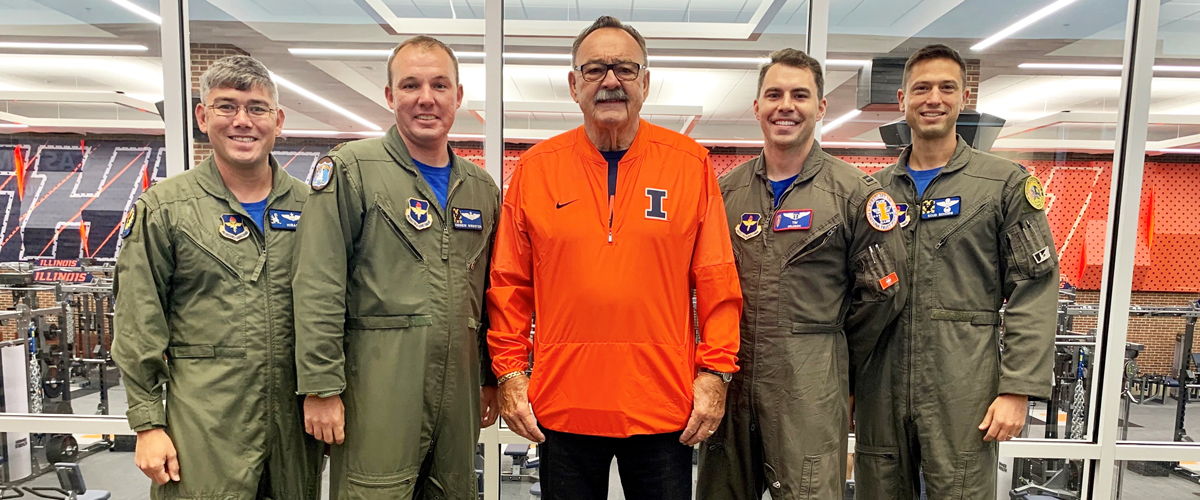 When Timothy Orlowski (University of Illinois, 2012) heard F-16s over campus on a game day as a freshman, he never dreamed he'd fly above Memorial Stadium, but that's right where he found himself last fall.
Now an Air Force flight surgeon, Captain Orlowski, joined the pilot of a T-6A Texan II for a flyover buzzing the stadium at nearly 300 miles per hour at the conclusion of the National Anthem on Oct 12.
The pilot and squadron commander managed the careful calculation to time the approach and hit certain mile-markers on the route, so the crew were over the stadium at exactly the Anthem's conclusion. "It went by really fast," said Orlowski, who could hear the National Anthem through a radio onboard. "After landing, our team attended the game, and the University of Illinois Athletic Department was awesome. We met the players, toured the stadium and were down on the field during the game."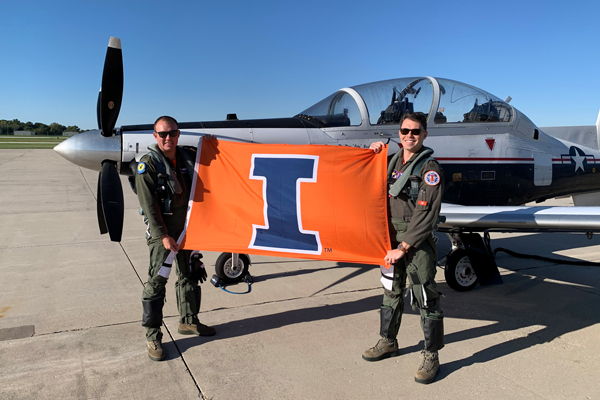 While touring the stadium, Orlowski ran into Hall of Fame linebacker Dick Butkus. The Chicago Bears legend and Illinois alumnus was on campus for the unveiling of a 12-foot tall, 1,000-pound statue outside the Smith Center, Illinois' state-of-the-art new football performance center.
"He stopped, shook hands and chatted with us. He was gracious enough to even take a photo with us. It was honestly one of the best weekends I've ever been a part of," said Orlowski.
Orlowski, who grew up in Illinois, earned a B.S. in kinesiology. After leaving Urbana-Champaign, he attended Loyola University Chicago Stritch School of Medicine through the Air Force Health Professions Scholarship Program. After graduation, he began active duty service at Travis Air Force Base (AFB), Calif., where he rotated through different medical and surgical specialties during an internship. Then, after completing nine weeks of flight surgeon training at Wright-Patterson AFB, Ohio, he earned his flight surgeon wings and was eventually stationed at Naval Air Station Pensacola, Fla.
Since 2017, he has been stationed at the 479th Flying Training Group, the United States Air Force unit stationed at Naval Air Station Pensacola. A component of Air Education and Training Command, the group is the only undergraduate combat system officers' training in the U.S. Air Force, where they teach weapon system officers, combat system officers, navigators and electronic warfare officers.
As the flight surgeon, Orlowski oversees medical readiness and the health and wellness of the about 1,000 individuals—about 600 flyers, but overall around 1,000 Air Force Airmen. "They're the ones who do the really amazing stuff. My job is to keep them healthy," said Orlowski. Being able to fly with his fellow pilots allows Orlowski to understand what the flying environment entails and why it's so important for flyers to be at their peak performance.
Orlowski's grandfather was in the Air Force, and while he had considered military service, he was initially focused on becoming a physician and didn't realize how the two could come together. He encourages anyone interested in a career in medicine or the military to keep their options open and see where life takes you. Orlowski said he feels honored and blessed to serve in the Air Force, while also fulfilling his dream of being a physician. "I never imagined I'd be an Air Force flight surgeon. It's truly an incredible experience. It's fantastic. And I never thought I'd get to be a part of a flyover at my alma mater."
The views expressed are those of the author and do not reflect the official policy or position of the U.S. Air Force, Department of Defense or the U.S. Government.