Finding Delt Family Was Life-Changing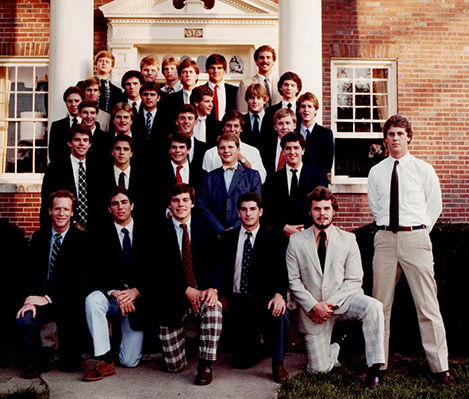 The first fraternity house Doug Smith visited during recruitment at the University of Kentucky was Delta Tau Delta. "I met them, and it was amazing," Smith said. Even though he was a legacy at three other fraternities, Smith knew he'd found his home in Delta Tau Delta, and he remains steadfast in his commitment to the Fraternity.

Smith graduated from high school in 1975. He arrived on the University of Kentucky campus five years later, having already worked for a congressman in Washington, D.C. and having served in the U.S. Air Force. As an undergraduate, he held Fraternity leadership roles serving as rush chairman, social chairman and vice president of pledge education.
He also started working for DHL while he was an undergraduate, and that job eventually led him to move to Cincinnati. In 1987 Smith finished his political science degree at Northern Kentucky University, just seven miles southeast of Cincinnati. Subsequent career moves with DHL took him away from the area, but he returned in 2000 and now lives outside Cincinnati, just over an hour away from the UK in Lexington.
After he began visiting campus for tailgating and football games, he was invited to join Delta Epsilon Chapter's house corporation. He continues to serve Delt as a volunteer with the house corporation. At the request of Delta Epsilon House Corporation President Mike Perros (University of Kentucky, 1981), he has also done a stint as house manager.
"The reason I'm involved is when I came back from the Air Force, I really had nowhere to go. I didn't know what I wanted to do," Smith said, "When I joined the Fraternity, it was life-changing. My brothers became my family and helped me grow as an individual. And I think that helped me with my career. I'm in sales now. I work for a logistics company and I gained lifelong friends. They're my family."
Through the Fraternity, Smith learned essential lessons on how to relate to other people, start conversations, and speak in public. "It was a natural transition," he said. "Because of my role, for example, with DHL, I had direct reports, would lead meetings and give presentations, all using those same skills."
In addition to leadership roles and life lessons, Smith said he and his contemporaries are proud to have participated in campus-wide events hosted by fraternities and sororities during their undergraduate years and to be part of the greater UK fraternity and sorority community. He hopes to see similar opportunities for current and future students. He encourages more alumni of all ages to get involved as Fraternity volunteers with the house corporation or in an advisory capacity.
Today, Smith is a national account mange for ePost Global, a company with more than 25 years of experience in international shipping and logistics. His career has focused on delivering publications internationally, like The Rainbow, which ePost Global ships to brothers who live outside the U.S. and who have requested the print magazine. He also focuses on the e-commerce industry, delivering domestic and international packages.
As he continues the journey with his Delta Tau Delta family, Smith looks toward the future anticipating Delta Epsilon's 100th Founder's Day Centennial celebration on April 12 and 13, 2024. Delta alumni former Governor Steve Beshear (University of Kentucky, 1966) and Kentucky business icon Jim Host (University of Kentucky, 1959) will be honorary co-chairs of the 100th Founder's Day Centennial Celebration. Beshear is an influential attorney and politician who served as the 61st governor of Kentucky from 2007 to 2015. Host is an innovative entrepreneur who built Host Communications into the preeminent college sports-marketing firm in the country.