Father and Son Fight Type 1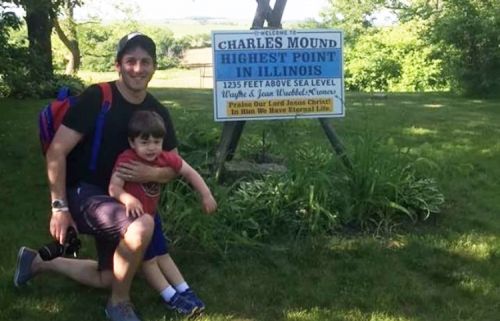 Brian Weisbaum (Indiana University, 2007) got a crash course in life with type 1 diabetes (T1D) when his son Ethan was diagnosed in May of 2015.
Ethan was just a few months away from his second birthday. He had been soaking through overnight diapers and drinking excessively, but he was growing. When the Weisbaum's asked the pediatrician about diabetes and Ethan's unusual thirst, the doctor said, "Don't worry about it. Kids with diabetes don't grow at a normal rate."
Weisbaum's wife took Ethan for a wellness checkup and she asked the pediatrician to dip his urine and check his blood sugar. The doctor was dismissive but did the test. She was in the parking lot when a nurse came sprinting out and calling, "Oh my God, the doctor needs to see you. The doctor needs to see you."
Ethan's blood sugar was 698. An average reading is between 60 and 100.
"We spent the next four nights in the hospital learning everything there is to learn about diabetes," Weisbaum said. There they received a JDRF backpack with information, resources and a teddy bear.
"That was a really hard time for us and it was comforting for us to know there was an organization like JDRF," Weisbaum said.
They embraced the JDRF relationship and his family's team was the third highest fundraising family team at JDRF's Chicago One Walk in 2015. They raised $13,000 and more than 50 people from their team joined the walk. "It was just a wonderful experience," Weisbaum said. "It was an opportunity to feel like we belonged. We weren't alone. It was very empowering. There's not a lot we can do other than take care of our boy, but this was one of those tangible things that made a difference—raising money, walking, being part of the community. It was really important for us to participate."
He also knows research funded by JDRF has led to products that have a direct impact on his family. He says it's hard to see devices attached to his child but Ethan has an insulin pump and a continuous glucose monitor attached to him at all times. He's further encouraged by technology in the pipeline for diabetes management.
Through Twitter Weisbaum saw that the Beta Delta Chapter at the University of Georgia had done a fundraiser for JDRF. He wrote his first-ever Tweet to the chapter saying, "Delt from Indiana. I love what you guys are doing, keep it up."
Weisbaum decided to increase his involvement with the JDRF Illinois Chapter and volunteers for the site committee to plan this year's One Walk in Chicago scheduled for October 2. As he got more involved he learned Delt undergraduates from the Beta Pi Chapter at Northwestern University were involved. That's when he visited delts.org and learned about the Fraternity's national partnership with JDRF which was established in 2012.
He isn't just a Delt and a father of a child with T1D, he is facing his own diagnosis. Weisbaum tested positive for the three primary antibodies found in type one diabetics and research points to him having T1D in the next five to seven years. Weisbaum expects to enter clinical research trials through a program dedicated to funding research to either delay the onset or prevent T1D in immediate family members of those diagnosed with T1D. "I can't take this away from my son, but these are things that I can do to help the cause," he said. "It's a balance. I don't want to get it, but knowing that my almost three-year-old has it, and knowing he'd go through his life with a dad that has it, balances the fear of getting it myself."
Weisbaum says general misconceptions about T1D versus type 2 diabetes abound. "We've had a lot of 'stop feeding your kid cake' comments," he said. The importance of the JDRF message is close to Weisbaum not only because it is the primary funding mechanism behind research but also because it is a resource. "We talk to many people who don't know about T1D. It's not our job to educate the world, but JDRF makes it their job."
Photo: When Ethan was diagnosed Weisbaum decided they would start climbing the highest point in each of the 50 states. "I want Ethan to know that diabetes does not have to hold him back from doing anything. He can climb mountains and do whatever he wants to do," he said. In 2016 they visited Brasstown Bald in Georgia and Charles Mound in Illinois.