Epsilon Xi Chapter Installed at Western Kentucky University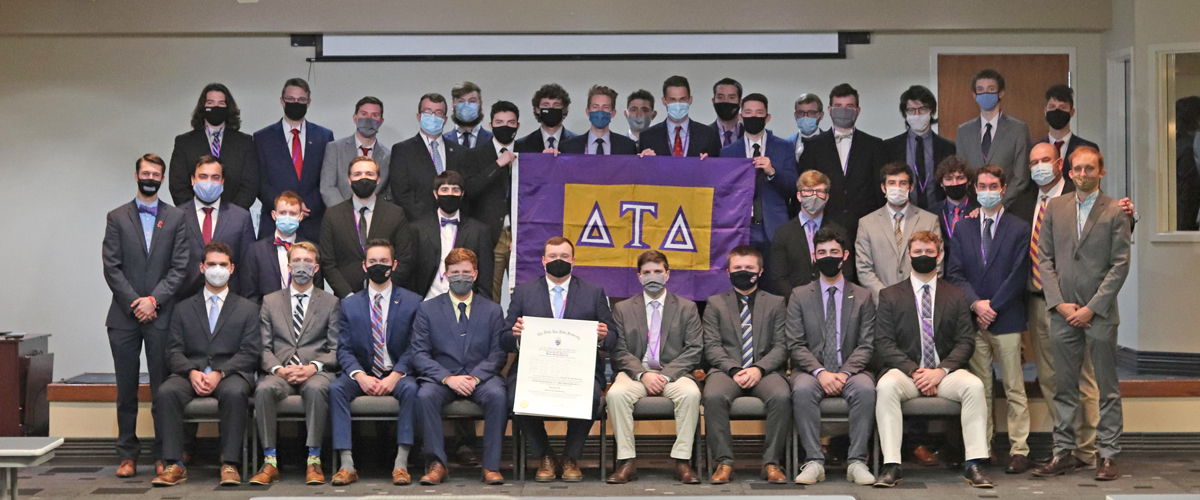 Delta Tau Delta welcomed 39 founding fathers of Epsilon Xi Chapter at Western Kentucky University through a carefully planned virtual installation on Nov. 14, 2020.
For this second-ever virtual installation, International President Bruce Peterson (University of Wisconsin-Milwaukee, 1975) and International Secretary Bryan Adams (University of Maine, 2007) signed the charter before it was mailed to the home of Chapter Advisor D.G. Sherrill (Western Kentucky University, 1991) in advance of the installation.
Zeta Zeta Chapter from Morehead University welcomed the founding fathers to the Fraternity by performing the model Ritual. Using a pod system for health and safety measures and to abide by CDC guidelines, the founding fathers signed the roll book and the charter. A majority the men joined from Bowling Green, Kentucky where they gathered in a large meeting room with one man per table spread throughout the room. Five colony graduates were among the men initiated.
All but one member of the Arch Chapter attended from their home states and Southern Division President Mark Nichols (Kansas State University, 1991) participated in the installation along with Southern Division Vice President Derek Olive (Western Kentucky University, 1991) and former Southern Division President and Division Vice President Lee Grace (Western Kentucky, 1984).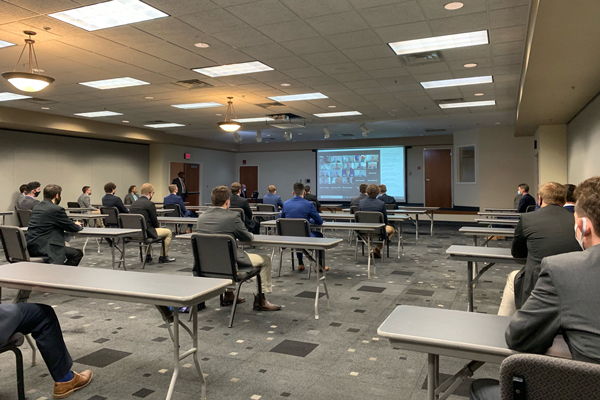 "I'm excited by the return of Epsilon Xi Chapter. On this momentous occasion I encouraged the men to learn something new every day, and to share those lessons with those who come behind them," Nichols said.
Delta Tau Delta CEO Jack Kreman (University of Nebraska at Kearney, 2004) was present from Indiana, Director of Growth Adam Abbott (Morehead State University, 2017) from Kentucky and Colony Support Consultant Justin Vatti (Moravian College, 2020) from Pennsylvania as well as Delta Tau Delta Education Foundation Senior Advancement Officer Vince Russo (Robert Morris University, 2017) and Cody Nulph (University of South Florida, 2018) a member of the original expansion team.
"It's always exciting when a new chapter is installed," said Vice President of Membership Doug Russell (Western Kentucky University, 2010). "This one clearly means a lot to me—my membership began on the Hill. It's important to me and the organization that Delta Tau Delta has a place at Western Kentucky University."
An in-person celebration and more detailed Ritual education will be held once campus and state restrictions related to COVID-19 are lifted and it is safe to gather.
The history of Delta Tau Delta's newest chapter goes back to 1938 when a group of students formed what was known as the "13 Club" named for a group of 13 friends. The "13 Club" became a local fraternity in 1963, going by Phi Phi Kappa before affiliating with Delta Tau Delta. When Epsilon Xi Chapter was originally installed in 1967, the Honorable Tom C. Clark (University of Texas at Austin, 1922), who was then president of Delta Tau Delta, was the principal speaker and more than 300 guests attended the installation banquet.
Delta Tau Delta became the 14th member of Western Kentucky's Interfraternity Council as a colony in October 2018. The chapter boasts more than 650 Delt alumni.