Epsilon Rho Chapter Installed at University of Texas at Arlington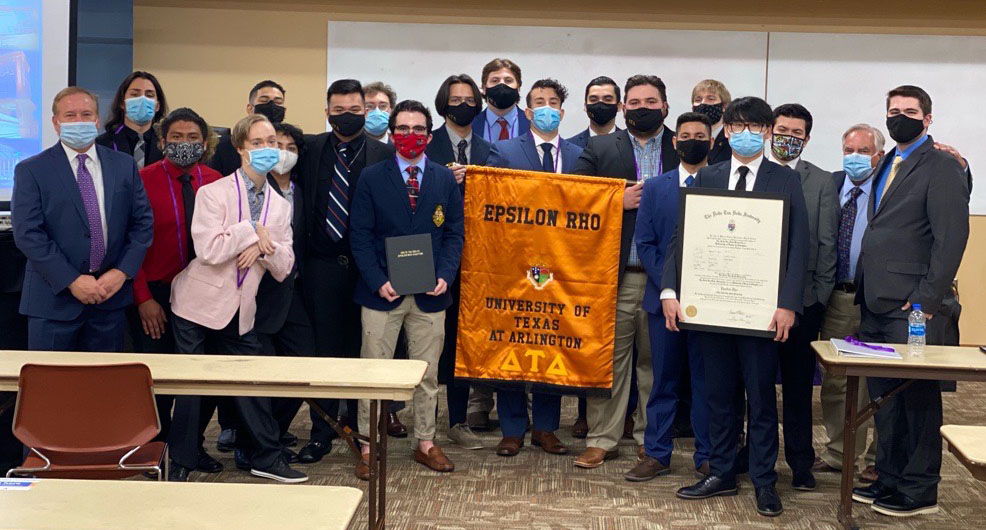 Delta Tau Delta welcomed 20 founding fathers of the new Epsilon Rho Chapter at the University of Texas at Arlington on April 11, 2021, when the Fraternity conducted its fourth-ever virtual installation via Zoom.
Due to COVID-19, the signing of the charter was conducted in pod-style to abide by Centers for Disease Control guidelines. Chapter Advisor Zane Gober (University of Texas at Arlington, 1983) delivered the Epsilon Rho Charter after it was signed in advance by International President Bruce Peterson (University of Wisconsin-Milwaukee, 1975) and International Secretary Bryan Adams (University of Maine, 2007) and shipped to Texas.
Epsilon Zeta Chapter from Sam Houston State University performed the model Ritual and welcomed the founding fathers to the Fraternity while International President Bruce Peterson gathered via Zoom along with Western Plains Division President Chris Wisbrock (University of Missouri, 1997), and the rest of the Fraternity's Arch Chapter.
"It has been an honor to watch this group strive for excellence and have its work culminate in the historic re-founding of Epsilon Rho Chapter. They are truly an example to us all that sometimes the hardest of times inspire us to do great things. I would also like to thank the men of Epsilon Zeta for leading the installation—they have long been a top-performing chapter in the Western Plains Division and their eagerness to assist was appreciated," said Wisbrock.
Chapter Advisor Zane Gober said it was rewarding to have the trust of alumni and fulfilling to watch the undergraduates as they grow. "The installation was historic and it was inspiring to me to watch the undergraduates—the plan they had and their attitude," Gober said. In addition to Gober, University of Texas at Arlington Delts who serve as assistant advisors attended the installation, including Jeff Harwell (1973), Bruce Orr (1973), Steve Willey (1973), David Hynson (1986) and Epsilon Rho's first founding Colony President, John Nowell (1970).
Nowell, who was not sure he'd live to see Epsilon Rho Chapter reborn, said, "I know I speak for all Epsilon Rho alumni in saying how absolutely thrilled we are to see our chapter reestablished on the UTA campus. And while UTA is a very different University than it was 50 years ago, all alumni share with the current undergraduates the same set of enduring values that make Delta Tau Delta the greatest of all fraternities."
Delta Tau Delta CEO Jack Kreman (University of Nebraska at Kearney, 2004) and Volunteer Recruitment Coordinator Nick Pidgeon (University of South Florida, 2019) were present along with Colony Support Consultant Justin Vatti (Moravian College, 2020). Expansion and Chapter Leadership Consultants Mark Lipnickey (Vanderbilt University, 2016), Connor Hollrah (Westminster College, 2015) and Alberto Saenz (Eastern Michigan University, 2016) led Epsilon Rho to re-colonization on March 3, 2017.
An in-person celebration and more detailed Ritual education will be held once campus and state restrictions related to COVID-19 are lifted and it is safe to gather.
Founded in 1895 as Arlington College the school was in the Texas A&M University System for several decades until joining the University of Texas System in 1965, just three years prior to Epsilon Rho's initial installation on April 6, 1968. Today, UT Arlington's student population numbers more than 40,000 and it is the fourth-largest university in Texas.