Epsilon Psi Chapter Installed at University of Louisiana at Lafayette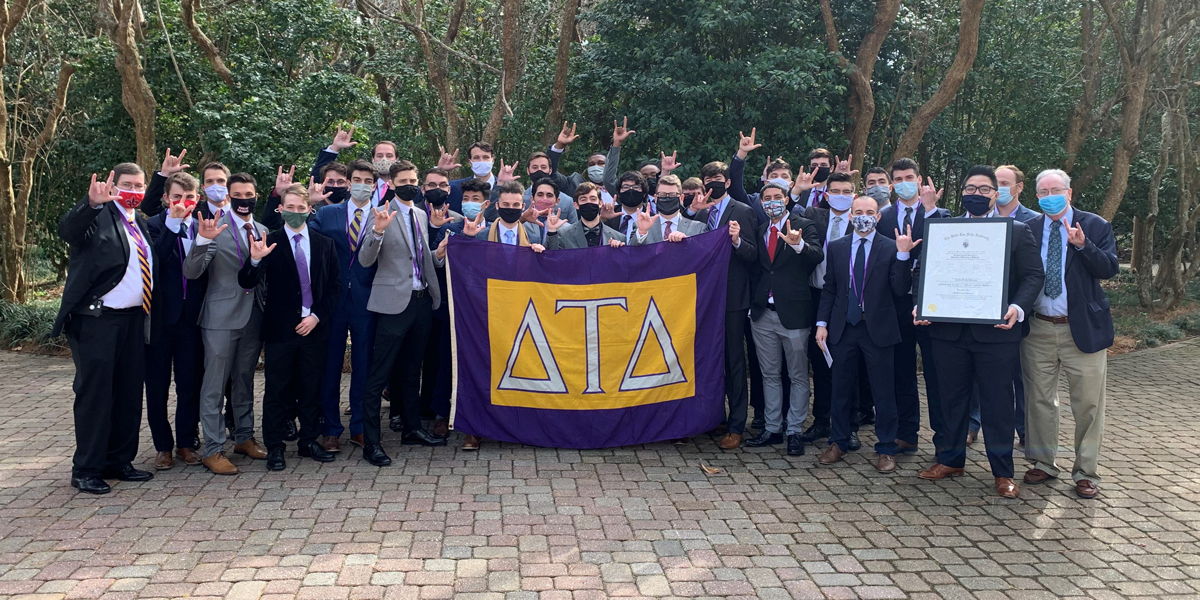 Delta Tau Delta welcomed 34 founding fathers of Epsilon Psi Chapter at the University of Louisiana at Lafayette as the Fraternity conducted its third virtual installation via Zoom on Dec. 19, 2020.
The chapter received its charters, signed in advance, and mailed by International President Bruce Peterson (University of Wisconsin-Milwaukee, 1975) and International Secretary Bryan Adams (University of Maine, 2007) to Chapter Advisor James McLaurin (University of Louisiana at Lafayette, 1983).
Epsilon Phi Chapter from Southeastern Louisiana University performed the model Ritual and welcomed the founding fathers to the Fraternity. Health and safety measures following guidelines from the Center for Disease Control meant the founding fathers used a pod system to conduct the signing of the roll book and charter.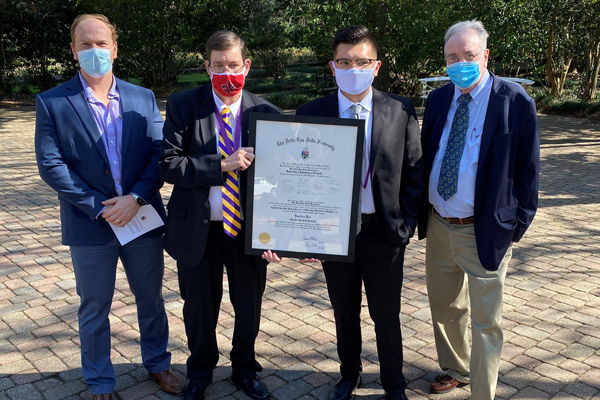 International President Bruce Peterson gathered via Zoom along with International Second Vice President Anthony Albanese (American University, 1996), Southern Division President Mark Nichols (Kansas State University, 1991) Western Plains Division President Chris Wisbrock (University of Missouri, 1997), Northern Division President Jeff Pelletier (Ohio State University, 1994) and Division Vice President Justin Poche (Southeastern Louisiana University, 2007).
"Delta Tau Delta is a values-based organization where all members live by the fundamental principles of Truth, Courage, Faith and Power. The day a member takes his Oath, he begins his pursuit of a life committed to excellence. It is evident to me that Epsilon Psi is committed to our fundamental principles and will fulfill our mission of helping our brothers be 'Committed to Lives of Excellence,'" said Peterson.

Delta Tau Delta CEO Jack Kreman (University of Nebraska at Kearney, 2004) and Delta Tau Delta Foundation President Steve Vedra (Butler University, 2002) were present along with Colony Support Consultant Justin Vatti (Moravian College, 2020), Expansion Consultant Dalton Ford (Kennesaw State University) and Director of Volunteer Recruitment Bentley Anderson (University of Southern Mississippi, 2009).
Three of four expansion team members who began recruiting on campus in the fall of 2019 attended including Volunteer Recruitment Coordinator Nick Pidgeon (University of Southern Florida, 2019), Heath Schintler (University of Iowa, 2019) and Brooks Rahim (University of Southern Mississippi, 2019).
First chartered in 1969 when the University of Louisiana at Lafayette was known as the University of Southwestern Louisiana, the Epsilon Psi Chapter has not been active for more than 30 years but has more than 150 alumni. The first Epsilon Psi Chapter president and original founding father, Joseph Dalfiume (1970) attended the installation 51 years after his own initiation.
"I'm very happy to see the students realize all of their hard work. I remember being in their place 51 years ago. I was happy then and I am happy they are back," said Dalfiume who hopes to participate in the future in-person celebration. "I am very proud of what they are becoming. They will be great Delts and a great influence at the University."
Three Epsilon Psi alumni volunteers joined Dalfiume—Assistant Chapter Advisor Frank Hull (1971), Assistant Chapter Advisor for Finance Bo Billeaud (1979) and Assistant Chapter Advisor for Recruitment Kenneth Dupre (1982). Assistant Chapter Advisor for Risk Management and New Member Education Chase Wilson (University of Southern Mississippi, 2014) also attended.

An in-person celebration and more detailed Ritual education will be held once campus and state restrictions related to COVID-19 are lifted and it is safe to gather.
Founded in 1898, the University of Louisiana at Lafayette is the second-largest university in Louisiana with more than 19,000 students and is the only university in the world whose sports teams are the Louisiana Ragin' Cajuns.