Epsilon Pi Chapter Installed at the University of South Florida
Delta Tau Delta welcomed its newest chapter, Epsilon Pi at the University of South Florida in Tampa, Florida on Saturday, April 22, 2017.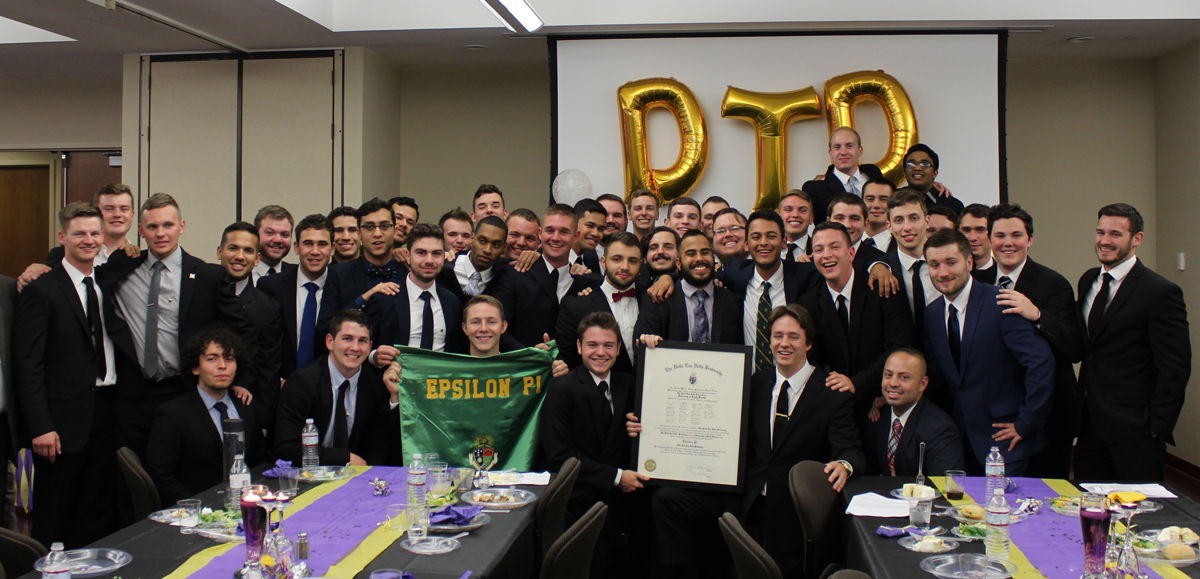 Forty-three founding fathers experienced the Rite of Iris and Ritual superbly performed by the men of Iota Xi Chapter at Florida Institute of Technology. International President Jim Garboden (University of Pittsburgh, 1988) presided over the ceremonies and was joined by Southern Division President, Tiger Edwards (Southeastern Louisiana University, 1973). Jim Vanderbleek (University of Florida, 1981) was installed and recognized as the chapter advisor.
Chief Operating Officer Jack Kreman (University of Nebraska-Kearney, 2004) presented the Eversole Badge to Chapter President Josh Grant (University of South Florida, 2019). The president of every new chapter is given this gift to pass down to each president thereafter.
Edwards presented the chapter guide, Lee Lewis (University of South Florida, 2016), with the chapter Bible, Ritual books and robes. "It was a wonderful weekend highlighted by a flawless initiation ceremony conducted by Iota Xi Chapter (Florida Institute of Technology)," Edwards said. "Local alumni led by Jim Vanderbleek, Mike Hanson (University of South Florida, 1977) and John Morehouse (Albion College, 1981) put in an extraordinary amount of work in preparations. Most of all, it was gratifying to see the faces of the new USF Delts as they wore their badges for the first time."
The installation was followed by a celebratory banquet where guests included IFC Advisor Thomas Strahan. President Garboden delivered a keynote address after presenting Grant with the chapter charter signed by all 43 refounders of the Epsilon Pi Chapter.
The University of South Florida's Mission is to deliver competitive undergraduate, graduate, and professional programs to generate knowledge, foster intellectual development, and ensure student success in a global environment. The University of South Florida is a global research university dedicated to student success and positioned for membership in the Association of American Universities. The University of South Florida is a large, public 4-year university offering undergraduate, graduate, specialist and doctoral level degrees. Serving more than 49,000 students, the USF System is ranked 41st in the nation for research expenditures among all universities, public or private, making USF Florida's leading metropolitan research university.
ABOUT DELTA TAU DELTA FRATERNITY:
Founded in 1858 at Bethany College, in Bethany, W.Va., Delta Tau Delta has 137 chapters and colonies in 39 states and the District of Columbia with a membership of more than 9,000 undergraduates and 120,000 living alumni. The Fraternity posts a GPA of 3.1, making it one of the highest achieving men's fraternities academically.
Delta Tau Delta's mission, "Committed to Lives of Excellence," is what the Fraternity seeks to represent at its host institutions. Delta Tau Delta strives to develop its members' leadership skills, seeks superior academic achievement, promotes community service efforts and helps its members launch successful careers.