Kyle Barger (Wittenberg University, 2007) exemplifies the true spirit of entrepreneurial thinking – taking start-up ideas and turning them into successful operations. Some of those ideas and skills were developed during his time at Wittenberg University where he joined Delta Tau Delta's Iota Beta Chapter.
Barger, a class of 2007 graduate from Columbus, Ohio, earned his degree in business management with a minor in psychology. Upon graduation, he spent 10 years trading commodities for the David J. Joseph Company, a division of Nucor Steel, based out of Cincinnati. Barger traveled all over the United States and gained the knowledge and expertise to start his own business, not once, but twice.
"I wasn't a straight 'A' student, but my management professor, Lowell Stockstill, pulled me aside and cared enough to help me out. He told me I should interview with this steel company. He felt like this was an opportunity for me," said Barger, who went to Wittenberg to play football, but fell in love with rugby instead. "Of course, I wanted to work at J.P. Morgan like everyone else, but I decided to go to the interview not expecting anything. That interview was a life-changing experience for me. Sometimes we don't see it, but it was a defining moment in my life."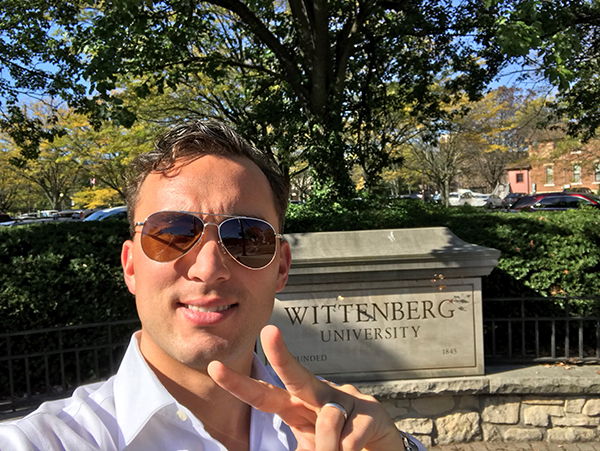 A former sponsored CrossFit athlete, two-time gold medalist at the Cornhusker state games, a three-time CrossFit games regional competitor, three-time world's Toughest Mudder qualifier and a U.S.A. Triathlon national qualifier, Barger was a member and captain of Wittenberg's rugby team. He then went professional, playing in England, New Zealand and Tonga.
Barger turned his love of sports into a business, opening a gym while living in St. Louis, Mo. Arch City Fitness was St. Louis' No. 1-rated fitness studio for two years, but he gave it all up and returned home upon learning his father's health was deteriorating. He then started the Champion Trading Group (CTG) in Columbus, a third-party purchasing and sales division for customers in the steel and metals recycling industry.
CTG provides access to the industry's top trading talent at a fraction of the cost and currently manages more than $250 million annually. Not bad for a company he started just 13 months ago.
"Champion connects independent steel companies to the industry's best traders servicing multiple accounts," said Barger, who recently returned to Wittenberg to speak to students about entrepreneurship, how to stand out in the job market, and other important job-finding tips. "Companies hire us to take on their sales and negotiate for them. Taking the leap to being an entrepreneur is not as challenging as most would think. You just have to be committed to it."
Barger started CTG last September and already it has grown to cover more than 30 states and continues to expand.
"I was lucky enough to spend 10 years with a good company learning the steel industry and meeting hundreds of business owners and key personnel. After leaving the David J. Joseph Company, I designed my own business model to target a segment of the business nobody paid attention to. We have been lucky to see the success we have in such a short amount of time," said Barger.
"I couldn't be happier," he added. "I do a job the way I want to see it done. I encourage anyone with a good idea and commitment to see it succeed to give it a shot. Ask yourself 'what is the worst that can happen?' If it doesn't work out, you can always find a job doing whatever you did before. But to succeed, you need to be confident in yourself, committed, and work your tail off."
Barger currently resides in Columbus with his wife, Lauren, and his little girl, Charlie. They recently started the Make-A-Day Foundation in Columbus in honor of his grandfather, Ralph Emrich, as a project dedicated to providing service and assistance to those less fortunate.
"My cousin and I started this charity about six months ago," Barger said. "I've been so lucky with Champion taking off that I thought this would be a great way to give back to the community. My grandfather passed away when I was pretty young, but we wanted to start this organization in honor of him. About every six to eight weeks we host a pop-up event somewhere in Columbus. We have provided pop-up salons, restaurants and even had a blanket drive to take care of our homeless brothers and sisters in Columbus."
Courtesy of Wittenberg University