Energized Service for JDRF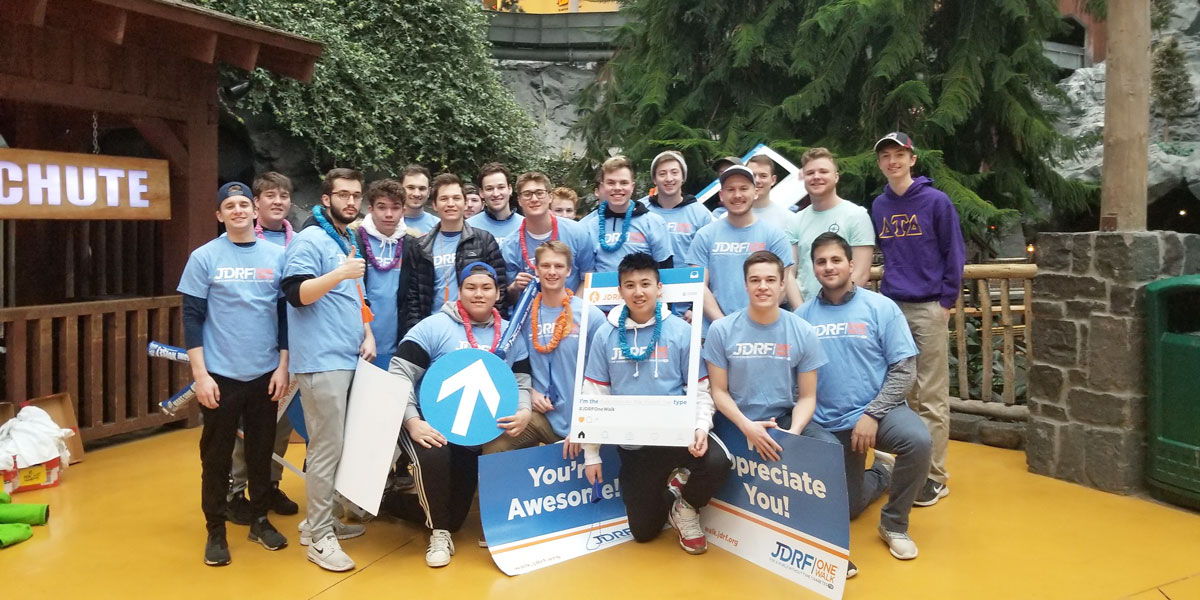 Organizers of the JDRF One Walk at the Mall of America in Minneapolis set out to raise $1.7 million this year with 20,000 walkers participating in the event and the men of Beta Eta Chapter at the University of Minnesota stepped up to assist.
"As our chapter has grown in the years past, we have started working on more aspects of the Walk," said Chapter President Pierre Estephan (University of Minnesota, 2020). "We have people working to set up, energize, and tear down."
"The goal of JDRF is to fund research targeted toward prevention and understanding what causes type 1, finding better treatments and ultimately a cure," said Karen Abrahamson, executive director of JDRF's Minnesota Chapter. The state of Minnesota alone includes 300,000 people diagnosed with type 1 diabetes and the local JDRF chapter meets 350 new families each year, many of whom were at the walk on Feb. 23, 2019.
During the One Walk Delt members used props to energize the crowds as they walked around the Mall and got on stage to dance with local walkers and boost morale. They also served as guides with directional signs to lead the way and assisted other JDRF volunteers with tasks like gathering supplies, handing out snacks and tearing down after the event.
"We work very closely with our local JDRF chapter. Any time JDRF is hosting an event, we send a handful of guys to assist in the logistics and set up," said Estephan.
Beta Eta Chapter also hosts its own philanthropy events to raise money for JDRF and spread awareness of type 1 diabetes. Fundraisers include Delta Taco Delta, where members serve homestyle walking tacos in the shelter; Crescent Cup and an annual golf tournament with four teams in a shotgun-style tournament paired with a silent auction and a guest speaker on the topic of type 1 diabetes. Chapter leaders are also developing a new event, Dunkin Delts, set to include a dunk tank.
While support of JDRF and awareness of and education surrounding type 1 diabetes have been a strong focus for the chapter for some time, the message now hits closer to home for undergraduates.
"One of our chapter members, a new member who joined this semester has type 1 diabetes, so now when we support JDRF we are not only fighting for our community but also fighting for our brother-to-be," said Estephan.