Education as the Path to Opportunity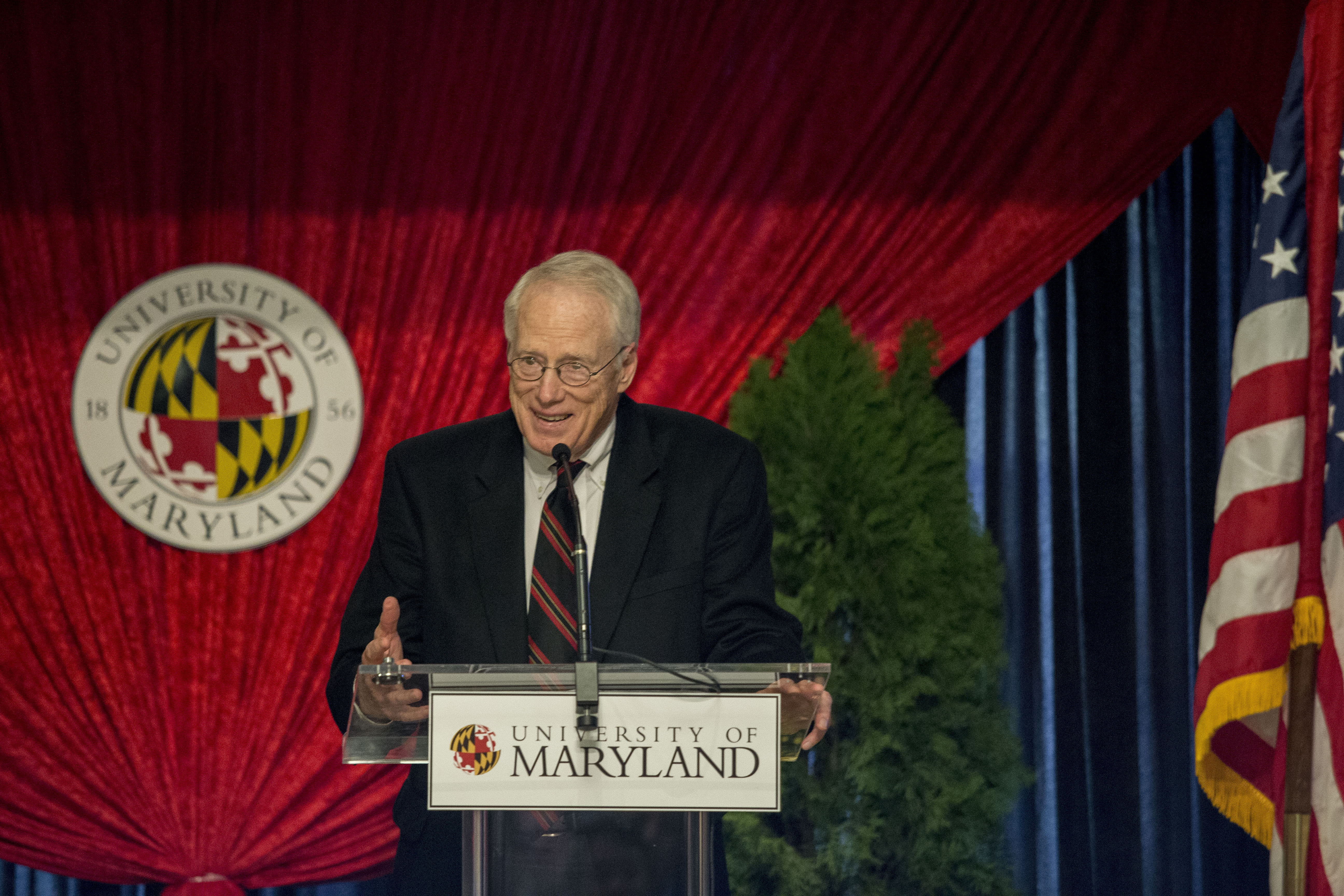 From an early age, William E. "Brit" Kirwan, II (University of Kentucky, 1960) knew he wanted to pursue university life not just as a student, but as a career — a professor and administrator. "I grew up in a family that placed an enormous value on education," Kirwan said. He learned from his parents the importance of engaging students, not just in the classroom, but being part of their lives outside the classroom as well.
It would be interesting to know Dr. Albert Kirwan's reaction late in the 1950s when he learned his son Brit, a student, former football player and pending graduate, was planning a career in the field of mathematics with the goal of teaching at the college level. Dr. Kirwan's career in education at the University of Kentucky included serving as a history professor, department head, then dean of the graduate school. And in 1968, when the current president resigned, "Ab" was appointed by the Board of Trustees to become the University of Kentucky's seventh president.
"I saw what a wonderful life my parents had and how the university brought so many benefits to their cultural and social life outside just the profession of teaching. There's no question their influence and what I observed in the quality of their life was a major factor in my pursuing a career in academia," Kirwan said.
As a Delt undergraduate Kirwan also found the enduring value college education brings. "I must give credit to [Delta Epsilon] Chapter because one of the things I always admired is that it put an unusual value on the academic performance of members. The university had a special trophy for the fraternity with the highest GPA and the Delt chapter at UK won that trophy almost every year," Kirwan said. "Names of those with the highest GPAs would get posted. That was very important and meaningful in my building a sense of respect and value for educational achievement."
He also found the fraternity experience helped him learn leadership skills. "I was quite a shy person when I was finishing high school and going off to college. I was not one to seek positions of leadership, but that occurred during my time in the chapter. I was chair of various committees and was vice president of the chapter. It did, I think, unleash some interest in leadership in me. I valued that experience and its contribution to my early development as a leader. I credit the chapter for those experiences," Kirwan said.
After completing his undergraduate studies at UK, Kirwan then — in 1964 — earned his doctorate in mathematics at Rutgers University. That same year he accepted the position of assistant professor in the University of Maryland's Mathematics Department rising quickly through the ranks first to full professor and then as chair of the department. In 1981 he was appointed as the University's provost; and in 1988, when Maryland's president resigned, William E. "Brit" Kirwan, II was appointed to fill the position. Father Ab would, of course, have been extremely proud.
His experience in the classroom influenced his role as a university administrator in advancing and improving the quality of education because of its empowering effect on students. "I spent the early part of my career doing research and mathematics and teaching. Research can be exciting but also frustrating because things don't always work out as well or as quickly as you'd hope. But I always got such enormous pleasure from teaching because there are moments in the classroom where you realize the class, or a particular student, gained an understanding of a difficult concept and you realize they now have the knowledge to do and understand things as never before in their lifetimes," Kirwan said.
For almost anyone else, the president role would have been the ultimate position. For this former UK Delt — class of 1960 — however, it was only the beginning. In 1998 Ohio State University—having recently lost its president — contacted Kirwan and convinced him to make the change in academic institutions. Thus William E. Kirwan, II became OSU's 12th president.
Columbus, Ohio, was the administrator's home for four years — until Maryland appeared in the picture once more, convincing him to return to the Old Line State. This time it was to locate in the Baltimore area — becoming chancellor of the University of Maryland System comprised of the state's 12 public universities. He held this position until his official retirement in 2015, but he remains active in the field of education.
In 2016 he was asked by the governor and the General Assembly to chair an organization — known, appropriately as the Kirwan Commission — to make recommendations so that Maryland's Pre-K-12 schools would perform at the level of the world's best school systems. This three-year effort led to legislation called the "Blueprint for Maryland's Future," totally reforming the state's educational system and increasing funding for schools by $4 billion over the next 10 years. The potential for the broad impact to significantly increase the quality of education available to children around the state further ignites Kirwan's lifelong passion for education. "The day the bill passed the General Assembly was, in many ways, the crowning moment of my life as an educator," he said.
Kirwan has many awards for his lifelong commitment to advancing the quality of education. In 2009 he was awarded the Carnegie Corporation Award for Academic Leadership, which included a $500,000 grant to support his priorities for his state university. In 2010 he received TIAA (Teachers Insurance and Annuity Association of America) Father Theodore Hesburgh Award for Leadership, given annually to but one university president in the nation. In 2015 he was inducted into Maryland's Business and Civic Leader Hall of Fame, and he has also received several honorary degrees including one in 2016 from the Johns Hopkins University.
Brit Kirwan continues to exemplify intellectual wellness with "book smarts," cultural knowledge, and involvement when and where required. His abilities are honed and perfected from his early schooling, his participation in sports, his many years of classroom instructing, administrating, in-person counseling and listening. And his passion for increasing access to high-quality education drives home his powerful commitment to the lifelong learning needed in today's knowledge economy.
"A college education prepares one for life, in the sense that a college education enables you to enter the workforce in a position that draws upon the knowledge you've acquired over your time at the university. But college does so much more than that. It teaches you how to learn. With the pace at which we see changes in technologies and in the workplace, the ability to adapt and to learn is so important. I think that's a significant benefit of a college. It's not just the immediate impact when you leave college and that first job, its value grows over a lifetime," he said.
By Roger W. Gum (University of Kentucky, 1960) and Kenneth R. Hixson (University of Kentucky, 1960)