Duane Allen Receives Alumni Achievement Award
Duane D. Allen (Texas A&M UniversityCommerce, 1965) received the Alumni Achievement Award (AAA) in recognition of his distinguished career. The Nov. 10 presentation took place on the campus of Texas A&M University-Commerce (formerly East Texas State University) in Commerce, Texas.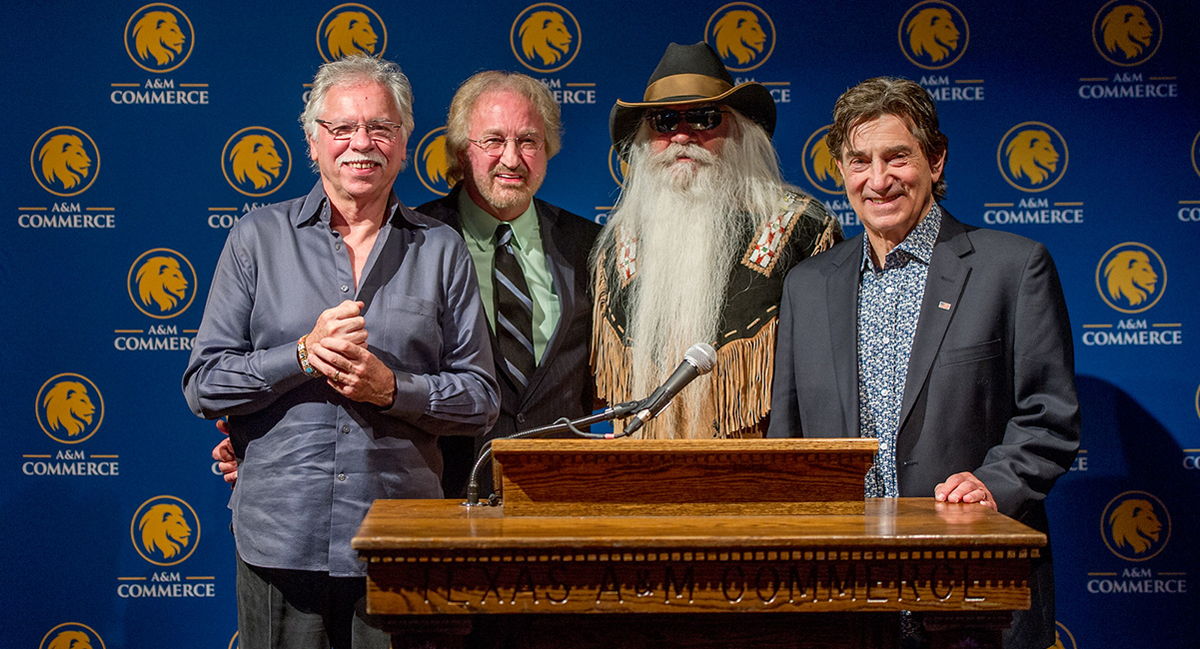 Allen, who graduated from East Texas State University with a degree in music in 1965, began his musical journey with the Southernaires Quartet and a gospel radio show on KPLT to help fund his college education. He continued with the Prophets Quartet until he joined The Oak Ridge Boys in 1966.
Allen's time with The Oak Ridge Boys includes more than 41 million records sold; a dozen No.1 singles and 30 top 10 hits; and 12 gold, three platinum and one double platinum albums. He is a member of The Texas Gospel Music Hall of Fame, The Gospel Hall of Fame in Nashville, The Texas County Music Hall of Fame and is a 2015 inductee into the Country Music Hall of Fame.
Former International President of Delta Tau Delta Tom Huddleston (Texas A&M UniversityCommerce, 1962) presented the award and was joined by Allen's pledge brother and former International President of Delta Tau Delta, Dr. Kenneth L. Clinton. Alumni Achievement Awards are extended to alumni of the Fraternity whose achievements in their fields of endeavor have brought honor and prestige to Delta Tau Delta. First presented in 1966, only 236 Delts have received the Fraternity's AAA.
Allen is the third Epsilon Eta Chapter alumnus recognized with the AAA as he joins Gary McCollum (Texas A&M University-Commerce, 1962) and Dr. Cliff R. Wood (Texas A&M University-Commerce, 1966).
Following the presentation of the Alumni Achievement Award, Allen reflected on his Fraternity journey and thanked Delt brothers who have shown up all over the country to support him throughout his career.
"When I woke up this morning, I came to the front of the bus. The TV was already on, and Bill Hemmer was bringing all of the latest news. It was interesting to see that his very next guest was Paul Ryan, speaker of the house. As a proud Texan, I watched as A.J. Hinch and his Houston Astros brought the World Championship to Houston, an area that needed something wonderful to celebrate. Then we all watched this past week as Governor Greg Abbott searched deeply into his heart and soul to find words to comfort people in a small town that had just experienced a horrible shooting in a church. What all these men have in common, they're all my brothers; they're all Delts. Showing firsthand what our organization stands for—Truth, Courage, Faith, Power. They are all making a difference in our world.
When I pledged the Delta Tau Delta Fraternity, I think they recruited me because they wanted to win 'Sing Song.' I was the only music major in the whole fraternity. When I first got the guys together, and we started singing, I heard some of the guys singing harmony. I said, 'Can you guys hear harmony?'
Well, that had never happened before in a fraternity. They all just came up to the stage and sang unison. Well, we got harmony singers, and toward the end of the song we put a third part on it. And we won…
The brotherhood I experienced in the Delta Tau Delta Fraternity is the same brotherhood that has helped keep The Oak Ridge Boys together, the same four for 44 years.
And two of us have been here over 50 years. Today, I am deeply humbled to accept this huge honor. I know that it is presented to a small number of Delts and I don't really have enough words to express how I feel. So in the most humble and sincere way I know how to speak or express myself, I just say, 'Thank you very much.'"