Drummer Balances Pop Rock Band with Pursuit of Finance Degree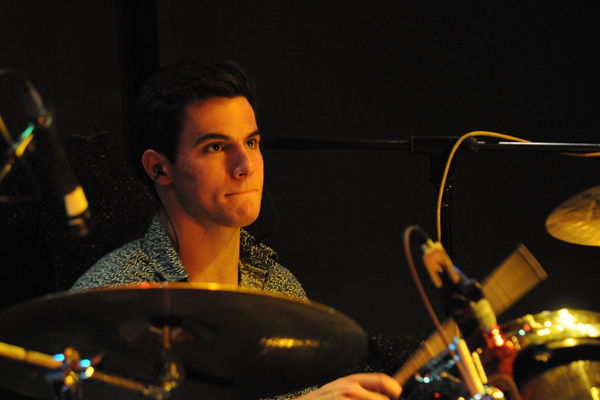 In the summer of 2014, Brian D'Angio (James Madison University, 2020) walked into a garage a few blocks from home to meet some guys in a band that needed a drummer. D'Angio's brother Mark (James Madison University, 2017) introduced him.
Today, the group solidified into SWIM, a four-piece pop rock band based in Stonybrook, N.Y. D'Angio started playing drums in fourth grade following his older brother Mark who played drums. He took private lessons through high school, but for the school band, he was initially assigned to play saxophone even though he listed his preference as drums. Luckily, his mom stepped in with a phone call to the school that kept his drumming dreams alive.
He has fond memories of high school concerts, especially a particular spotlight during the last spring concert during his senior year. "I had this big open drum solo during one of the jazz pieces. The entire band left the stage, and I was left out there alone just to give a three-minute solo," he said.
Always a math fan, D'Angio is now pursuing a bachelor's degree in finance. "I balance coming up with new ideas for songs with studying accounting equations. It's a load, but we all embrace it," D'Angio said.
Balancing school with playing in a band presents challenges. D'Angio enrolled at James Madison University in Harrisburg, Va., in 2016. The lead singer and the guitarist for his band are at Stony Brook University in New York, and the bass player is at Hamilton College in Clinton, N.Y.
"We text each other and call each other about different ideas about different tunes and ways to formulate the track. It's tough because we're all at school, but when we come home for Thanksgiving and winter break, we try to play a gig or two here or there at a bar or a local music venue," D'Angio said. "Then, when summer comes around it's insane. This past summer we played 15 shows across Long Island."
The band's rising popularity is apparent. It placed in the top 10 in Long Island's Newsday Battle of the Bands. Also, last summer SWIM released its EP "Finally Someone." Band members started recording in a studio in Brooklyn in January 2017. Then when they returned from school in early May, they recorded at a studio in Calverton, N.Y. In full, the EP took just under 40 hours to complete.
D'Angio's chapter brothers have been supportive of the band. When the EP dropped in July, he texted the chapter. "I got so much feedback from the guys about it," D'Angio said. "They were like, 'Oh, that's really cool' and 'I really like this song. When are you guys coming out with more stuff?"
The EP release was a clear highlight of the summer. "We did it at this local venue, and we got just tons of people to come in and watch us and dance. It's great watching people dance to your music because I don't think there's anything better than that. It's a good feeling," D'Angio said.
Follow SWIM, @SwimBandNY on Instagram, Twitter and Facebook.