Long before they met at the University of North Dakota Mike Fretschel (2003), Matt Simondet (2003) and Ryan Lee (2004) each had their own dreams of flying. The three are but a few of the many brothers from the Delta Xi Chapter, who have pursued careers in aviation. Each man enrolled because of the school's strong aviation program then built relationships through the Fraternity as their network of friends, mentors and protégés overlapped and grew.

"I wanted to be a pilot for as long as I can remember," Fretschel said.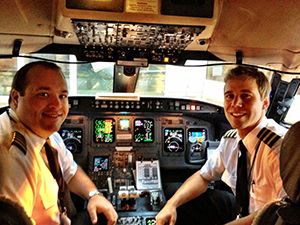 While visiting fraternities during the first week of college, he ran into a friend's cousin who was involved with both the UND aviation program and Delta Tau Delta. Fretschel enjoyed getting to know members of the Fraternity and decided to pledge.
After graduating with a degree in aeronautical science, Fretshcel worked for the university as a flight instructor and was then hired by Piedmont Airlines. He went on to fly for Pinnacle Airlines and then Compass Airlines and has now been with Delta Airlines for almost two years as a first officer flying the MD88.
"I love flying. I've always loved flying," said Frestchel, who credits flexibility in scheduling as an extra perk of the job.
Simondet caught the aviation bug from his grandfather, an aviation mechanic who treated him to a few special flights when he was a young boy. He loved looking at the sky and dreaming. By high school, he was president of an aviation club where he met a few future fraternity brothers including Dave Thomas (University of North Dakota, 2003).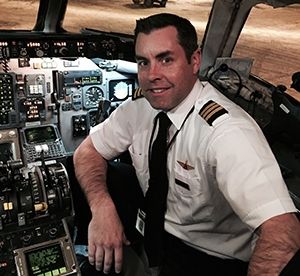 He earned degrees in commercial aviation and air traffic control and has experience both as an air traffic controller and as a pilot. Today he is a captain flying for Endeavour Air. Recently he began putting his recruiting skills to work interviewing potential pilots and recruiting on college campuses. In this role, he also mentors younger pilots and speaks to groups of high school students who are interested in becoming pilots.
"I think the Fraternity helped me build that personality where I don't have any issue getting up and talking in front of a few hundred people. It's the same thing even flying an airplane when you talk on the PA so much. I think it went back to being so involved with the Fraternity and recruiting guys for the Fraternity or the college."
Of is relatively new role recruiting for the airline Simondet said, "I forgot how much fun it is to meet new people and how exhilarating it is to see the excitement in their eyes. There's nothing better than telling a pilot he can have a job flying."
Simondet was one of the brothers who originally encouraged Ryan Lee to join the Fraternity. Lee started taking flying lessons when he was 16 and earned his private license before enrolling in college. When he and his friends from the dorms decided to join a fraternity he found a number of Delta Tau Delta brothers also pursuing aviation careers.
"When you choose something as specific as aviation," Lee said, "It's nice to know others with the same degree who can help you along the way."
After graduation Lee and a group of fraternity brothers including Simondet moved to California where they worked as flight instructors. Lee then worked for Pinnacle Airlines and two years ago was hired by Delta Airlines where he flies the Airbus 320.
Lee's favorite thing about flying is the ability to travel and expand his horizons. "You get to see all over the world and visit locations that most people don't get to experience," he said.
"There's a lot of luck and good fortune that comes your way in a career that's very seniority based. It's definitely something you need to drive for to move forward. I feel fortunate to have my dream job at 31. It takes a lot of hard work with a little bit of luck and timing," said Lee.