Doug Russell Appointed as Director of Chapter Services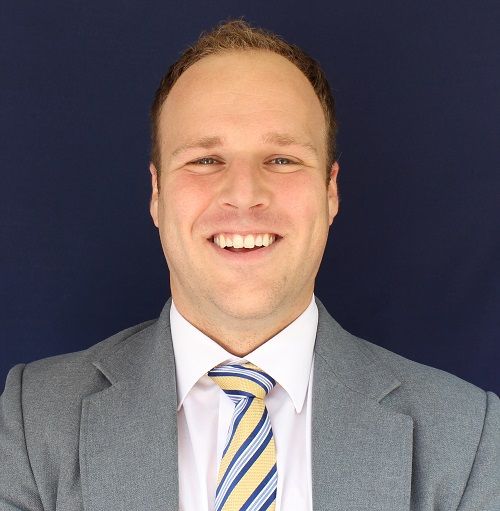 The Central Office is pleased to announce the appointment of Doug Russell (Western Kentucky University, 2010) as director of chapter services. In his new role, Doug will assume primary responsibility for service delivery to chapters and chapter members, primarily through the chapter consultant program. He will work collaboratively with programming, alumni services and growth to ensure the provision of quality services continues to the membership. He will begin his new duties May 8, 2017 and report to Chief Operating Officer Jack Kreman.
A search to find Doug's successor as the director of leadership experiences will begin immediately.
Russell joined the Central Office staff in 2012 as the assistant director of leadership development and was promoted to director of leadership education in May 2015. During his time in these roles he oversaw the creation and development of the leadership experiences, Ignite and The Charge. Prior to him joining staff the Fraternity saw 56 men go through its advanced leadership programming, and in 2017 the organization anticipates more than 250 will participate. In addition, he has assisted in providing strategic vision and goals for the Fraternity leadership programs, oversaw the Presidents and Advisors Retreat, helped develop and oversee educational programming at Karnea and Division Conferences. Prior to this role, Russell served as a chapter leadership consultant from 2010-2012 academic years, traveling the entire Atlantic Coast.
Russell grew up in Louisville, Ky. As an undergraduate, he was a member of the Epsilon Xi Chapter where he served as director of academic affairs and chapter president. He attended the Presidents and Advisors Retreat in 2009. In 2010 he graduated with a Bachelor of Arts in advertising from Western Kentucky University and will receive his Masters of Arts in organizational leadership from Gonzaga University in the fall of 2017.
In his spare time, he volunteers with Big Brothers Big Sisters of Central Indiana and serves on the board of JCI Indianapolis, an organization dedicated to connecting young professionals and bettering the city of Indianapolis. His hobbies include traveling and cheering on his hometown Louisville Cardinals, Indianapolis Colts and Cincinnati Reds.
ABOUT DELTA TAU DELTA FRATERNITY:
Founded in 1858 at Bethany College, in Bethany, W.Va., Delta Tau Delta has 137 chapters and colonies in 39 states and the District of Columbia with a membership of more than 9,000 undergraduates and 120,000 living alumni. The Fraternity posts a GPA of 3.1, making it one of the highest achieving men's fraternities academically.
Delta Tau Delta's mission, "Committed to Lives of Excellence," is what the Fraternity seeks to represent at its host institutions. Delta Tau Delta strives to develop its members' leadership skills, seeks superior academic achievement, promotes community service efforts and helps its members launch successful careers.