Donor Spotlight: Monroe E. Trout, University of Pennsylvania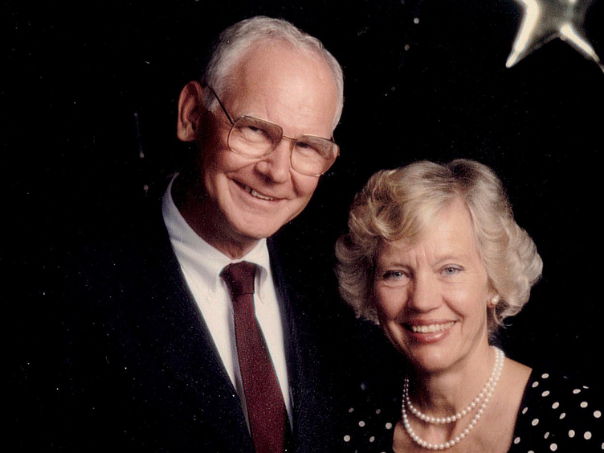 Prior to pledging Delta Tau Delta, Monroe E. Trout, M.D. (University of Pennsylvania, 1953) had already been living out our values of truth, courage, faith and power. From a very young age, he committed to making an impact on society through a life of excellence and he continually works to instill his values on those he encounters.
A member of the Bethany Society and the Order of the C--, he is grateful to know that our Fraternity uses his gifts to provide essential member training. "We learned how to be good leaders and that is one of life's most important lessons." Trout's wife, Sandy, notes that generosity has a domino effect – "We hope this gift inspires people to give in return throughout their careers."
Delt has given Trout a life of friendship no matter where he and Sandy have lived. Whether it be meeting his "best man" in the Omega Chapter, reconnecting with long-lost brothers, or befriending new faces around the country, Trout has always been eager to create new bonds of brotherhood. He credits the ability to make and connect with so many friends as one of Delt's most commendable assets. Notable lifelong relationships have included Jim Bowersox, Don Kress, Alan Brackett and many others over the years. Recently, Trout reconnected with Bryan Weatherup, a Delt from San Diego who is now serving overseas in the military, proving that Delta Tau Delta is not just for undergraduates.
Sandy, a graduate of the University of Wisconsin-Madison and member of Kappa Alpha Theta, quickly adopted and mimicked her husband's love for and devotion to Delt. Though not a Delt herself, Sandy admires the lasting impact that it has, by claiming that it "gives you a small island in the great ocean of a university."
Monroe E. Trout, M.D. recently made a generous gift to the Foundation to further its mission of enriching the lives of young Delts. We hope you will join Brother Trout by considering a transformative gift to the Delt Foundation at delts.org/give.