Disaster Relief Assistance after Hurricane Ida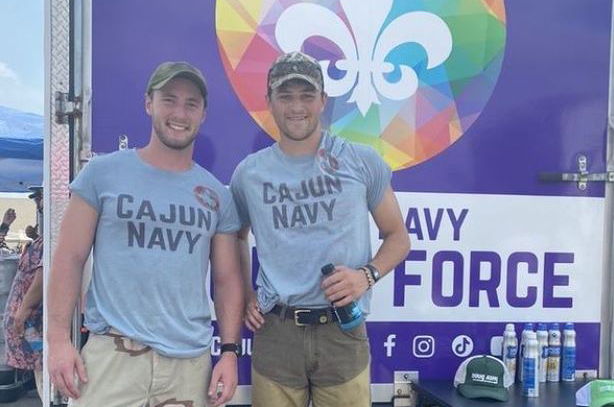 In the aftermath of Hurricane Ida, the Category 4 storm that battered Louisiana's coast in late August, Beta Xi Chapter brothers at Tulane University began finding ways to help disaster relief through volunteer service and fundraising.
Jack Sanders (Tulane University, 2021) was one of many who sprang into action volunteering with the Cajun Navy, an action-oriented volunteer group poised to offer disaster relief assistance.
Sanders, a senior pursuing a major in homeland security and a major in political science grew up in Belle Chasse, La., near New Orleans.
"Honestly, once I saw posts about people donating to the Cajun Navy, I didn't think just donating was enough. I felt volunteering was the best way I could help," Sanders said.
"I'm from the New Orleans area. I love this place. Volunteering and helping my fellow Louisianans just means a bit more to me. Especially in today's climate, people are so divided. It's encouraging to see people helping one another without question in times of disaster," Sanders said.
While Sanders had not volunteered in this capacity before, he had the right skills to share when the community needed help. "I have my own landscaping freelance business and I'm good with a chainsaw, so I saw this as an opportunity to help," he said.
Sanders and Beta Xi chapter brother Rocco Zaytoun (Tulane University, 2021) worked with Cajun Navy Relief joining a group comprised of people of all ages from across the United States. "One kid who helped us on the chainsaw team was a 14-year-old boy from Maine. People came from all over to help volunteer," Sanders said.
As part of one of five chainsaw teams, they moved to assigned locations in Houma to help as needed. "It could be clearing someone's driveway from big debris and branches, clearing neighborhood roads from downed trees, or simple handyman work for elderly people," Sanders said. The team also transported a cooler with food and water to hand out to residents in need.
While New Orleans gets a bulk of the national attention regarding what happened during the storm, Sanders points out that hundreds of small towns and cities are experiencing dire needs after the hurricane, and recovery needs continue.
In early September Beta Xi Chapter at Tulane University focused fundraising efforts on disaster relief, collecting $3,364 to help New Orleans and the surrounding parishes recover. The chapter donated the money to The Greater New Orleans Foundation, a philanthropic institution dedicated to driving positive impact through philanthropy, leadership, and action in the Greater New Orleans Region, and has allocated $1.8 million in grants from its first three rounds of the Hurricane Ida Disaster Response & Restoration Fund.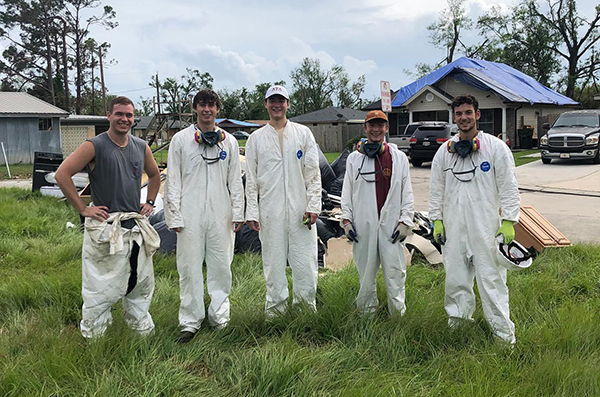 Beta Xi brothers continue their volunteer service and recovery efforts this fall. As the calendar changed to October, five brothers Brendan McCormack (2023), Jimmy Wisz (2023), Luke Halverstadt (2024), Ian Shevory (2022), Jacob Maltese (2024) dedicated time to helping in the community. They volunteered with SBP, an organization founded in 2006 as the St. Bernard Project, which has grown to support a broader area in the mission to rebuild, share, prepare, advise and advocate in disaster resilience and recovery. Their labor consisted of mucking and gutting damaged homes in Houma, La.
"Rocco and I witnessed terrible devastation in Houma," Sanders said. "If a building or structure was not made of brick or concrete, it was totally destroyed. I encourage others to continue to volunteer and donate. It makes a huge difference and thousands of people still need help."