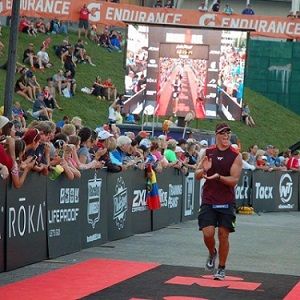 Bobby McDonnell (Virginia Tech University, 2017) has heard countless phrases and comments throughout his life which were forgotten as quickly as they were heard. But after months of grueling physical training culminating in a 13 hour and 12 minute triathlon through the rugged terrain of the Adirondack Mountains in Lake Placid, N.Y., there is one phrase he'll not forget in this lifetime—"You're an Iron Man, Bobby."
The Ironman Triathlon is widely considered one of the most difficult one-day sporting events in the world. Originating in Hawaii on Feb. 18, 1978 with a mere 11 finishing competitors, the Ironman Triathlon consists of a 2.4-mile swim, 112-mile bicycle ride and a 26.2-mile run.
Today, there are more than two dozen Ironman Triathlon races worldwide with thousands of competing athletes. While the Lake Placid Ironman is a favorite among competitors, it is also exceptionally difficult with the mountainous landscape navigated by competitors, most of whom tackle a half Ironman before attempting the full.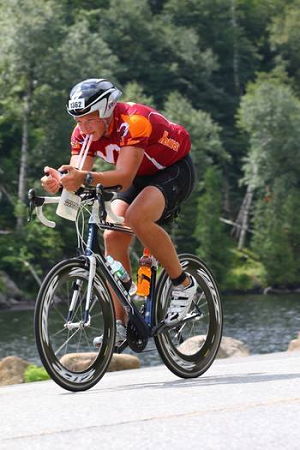 Bobby McDonnell was not one of those competitors.
"I'm more of a show up and throw up guy," jokes McDonnell, who, even after months of training, could not have imagined the level of difficulty in store for him on race day. However, the feeling of accomplishment, and subsequent bragging rights, upon hearing Ironman legend Mike Reilly proclaim his Ironman status justified the long hours and sore muscles, according to McDonnell. In fact, he has every intention of earning a second Ironman medal within the next few years.
You could say it's in his blood—"it" being a stubbornly competitive nature. McDonnell's father also competed in the 2015 Lake Placid Ironman.
"I grew up around him competing in these events, and when I was younger, I thought, 'When I'm 18, I'm going to do that,'" said McDonnell. "Finally being able to cross the finish line and to have my dad there to share that with…it was a great feeling."
McDonnell still has some catching up to do to compete with his father, who can now hang up his fourth Ironman medal. "You can call my family crazy," laughed McDonnell.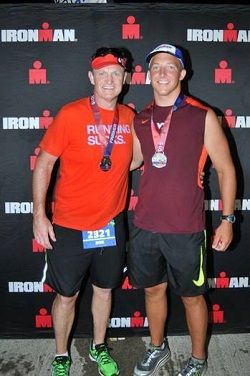 The entire McDonnell family was present at the race on July 26 to cheer on father and son as they overcame rough waters, steep inclines, mental fatigue and even broken equipment: after battling through the 2.4-mile swim with 2,800 other competitors, McDonnell hopped on his bike only to break his sunglasses and his bike computer within the first few miles.
Ultimately, Both McDonnell and his father powered through to the finish line and were greeted by a cheering fan section, which also included McDonnell's best friend and Delt brother, Tommy Hooker (Ohio State University, 2017). Hooker wasn't the only support McDonnell received from his brothers. Members of the Iota Zeta Chapter at Virginia Tech shared words of encouragement throughout his training which evolved into exclamations of amazement on race day after tracking his 13-hour progress.
"They were very supportive the whole time," said McDonnell. "Most of my brothers texted me after the race saying, "You did awesome, great job!"
There are many take away lessons from training and competing in an Ironman competition applicable within the chapter at Virginia Tech, namely confidence and courage. But most importantly, McDonnell can bring to the Fraternity that which cannot be taught—a relentless determination to succeed.