Shenghao Zhou (Oregon State University, 2019), who graduated from Army basic training last December, has a distinct reason why he wanted to join the U.S. military.
"During the second world war, Japanese forces cut off all the food supply. My grandparents on both my father's side and my mother's side were saved by the U.S. military air supply drop," said Zhou. "My grandmother's family saved several American pilots. I'm always trying to pay back. I was training with the Oregon State Army ROTC the first two years of my college. But I couldn't be contracted as a cadet since I'm not a U.S. citizen. I enlisted in 2016."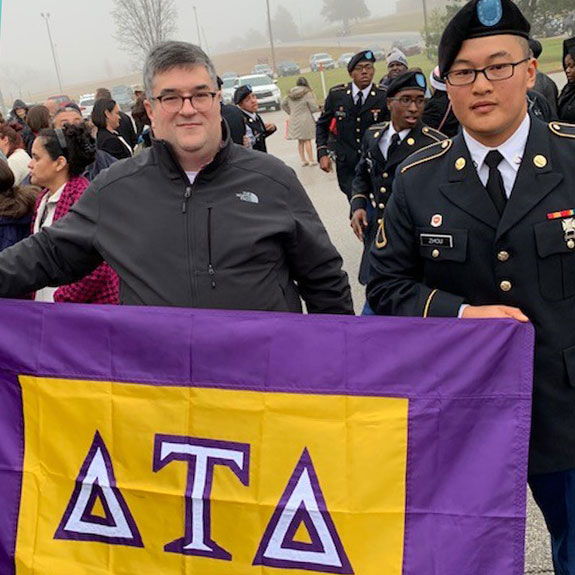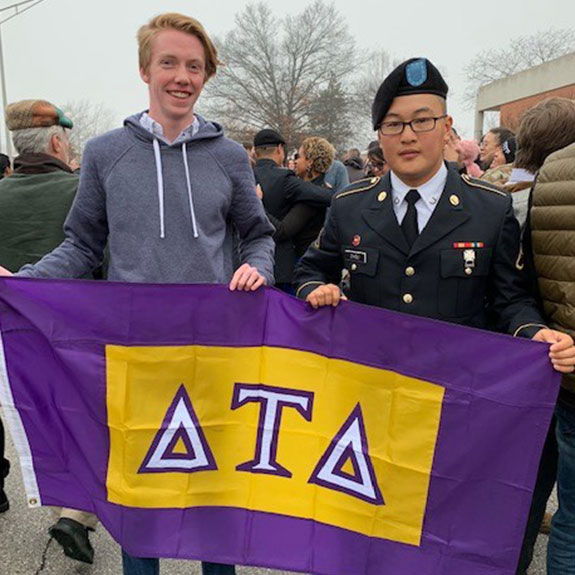 In January 2018, Zhou was invited to present colors before the awards banquet at the Fraternity's Western Pacific Division Conference held in Boise, Idaho. At the time he was a pre-basic soldier with several drill experiences. Today, after 14 weeks of one-state-unit-training he is an army engineer and has been promoted to a Specialist based in Clackamas, Ore.
As a reserve soldier, Zhou ensures he is ready to be deployed whenever the Army calls. At the same time, he continues as a pre-nursing college student. His typical day includes classes and an internship, homework and time at the gym.
Zhou, who also goes by Josh, joined Delt in his fifth year of college and was initiated at the time of Delta Lambda's Chapter Installation in June 2018. When he first joined, many of Zhou's college friends had graduated and he thought joining a fraternity would help him make more friends. He knew coworkers Chase Jacob (Oregon State University, 2019) and Davis Jacob (Oregon State University, 2018) joined Delt which got him talking to another coworker about the Fraternity.
"I decided to give it a try. Honestly, I didn't think about it that much in the beginning. The only reason I joined to make more friends. But the value that every Delt holds and the brotherhood I built with my chapter and my advisor is more important and precious than the reason I decided to join," said Zhou. "I thought my fifth year would be the most boring year in my college life. But the Fraternity made it the best year."
Zhou attended the Fraternity's values-based Ignite program and participated in a division conference, two experiences which he found eye-opening as he learned more about the Fraternity. He's also felt extraordinary support from his chapter brothers, especially during basic training when he got letters from new chapter brothers he hadn't even met yet.
Last year Zhou invited his chapter advisor to attend his basic training graduation. "He asked me to attend so he'd have someone there since his family would not be able to make it from China," said Jason Feiner (Bradley University, 1997). "Without hesitation, I, of course, agreed to attend. I felt deeply honored and privileged that Shenghao would want me to be there to celebrate such a huge milestone in his career."
Even though he'd made the invitation, Zhou didn't expect to see Feiner on graduation day. "I asked Jason to come to my graduation since my parents wouldn't be here and he is like a parent to me as a mentor," said Zhou. Then during training, Zhou wrote to Feiner telling him the trip wouldn't be necessary and he didn't want him to spend a lot of money traveling to the graduation.
Delta Lambda Chapter President Andrew Lovre (Oregon State University, 2021) decided he also wanted to be there to celebrate his big brother's graduation.
"I've learned a lot from Josh," said Lovre. He's one of the few people in my life that I can tell anything, and I know he will always have great advice for me or will be willing to just listen to me. One of the biggest things that I've learned from him is staying calm in the face of adversity, and persevering… watching him stay cool under pressure inspired me and taught me that people will copy your demeanor. This is something that I have taken into my presidency in our chapter. I know that if I stay calm in a tough situation, my brothers will follow my example and it makes everything a lot easier. For perseverance, reading Josh's letters from boot camp showed me that just because something in my life seems tough, I know that I can get through it."
Feiner and Lovre coordinated flights for the three-day trip to Fort Leonard Wood in the Missouri Ozarks and were there to congratulate Zhou upon graduation. A group of Delt's also worked together to collect funds and presented Zhou with a ruby-jeweled Delt badge as a graduation gift.
"I only had my phone back four times during the training and only 25 minutes every time, so I barely had a chance to talk to him. I told my battle buddy that I might spend the family day with him since I thought Jason would take my advice, so it was a surprise when I saw them. It was heartwarming. It's a good day to be a Delt," said Zhou.