Determination to Develop a Career in Commercial Real Estate
Army veteran Ross Hedlund (University of Minnesota, 2009) is the youngest vice president at the commercial real estate business, Frauenshuh Inc. where he co-leads the corporate services team. He works with a wide range of clients in the healthcare and office markets and is motivated by the opportunity to create something that serves a specific purpose and makes the community better.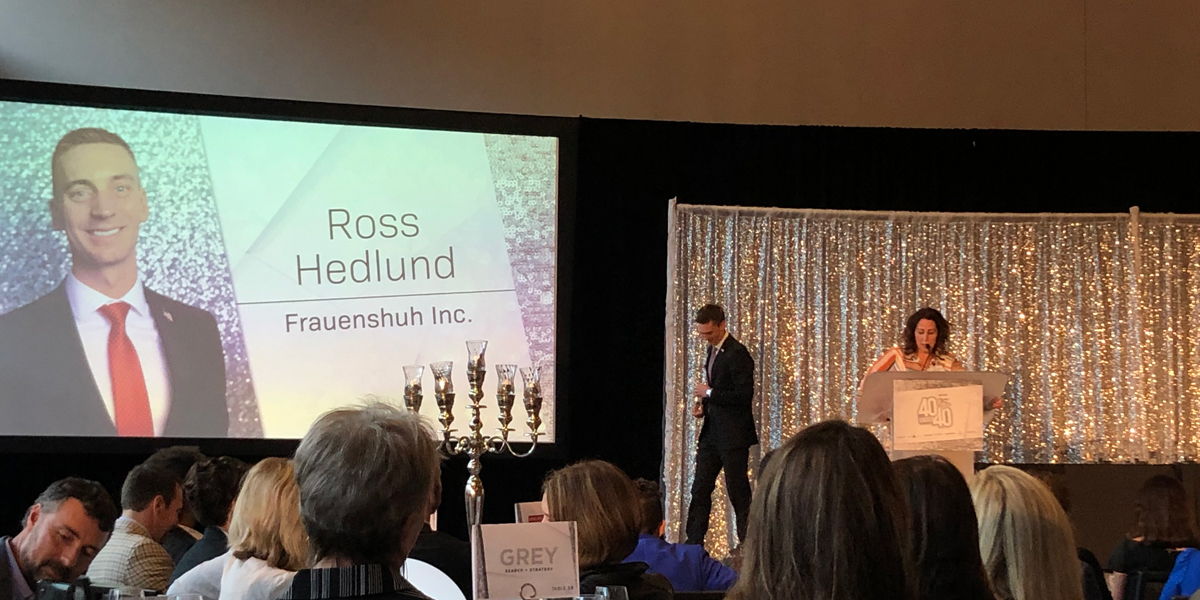 Hedlund has successfully completed more than four million square feet of real estate development, leasing, sales and project management transactions and in early 2019 he was named to the Minneapolis/St. Paul Business Journal's 2019 "40 Under 40" cohort.
He developed his career in commercial real estate after eight years of military experience include two year-long tours to Iraq in 2004 and 2009. He separated from the military with several awards including a Bronze Star Medal, an Army Commendation Medal and a Combat Action Badge.
Due to basic training, the Army's advanced individual training and deployment to northern Iraq right after he finished high school in 2003, Hedlund started college two years later than his peers. At the University of Minnesota, he joined Delta Tau Delta. "Coming into college, I had a negative perception of fraternities and didn't realize all of the positives of brotherhood, structure, responsibility and organization," Hedlund said.
Those traits served him well in the Fraternity, in class and in his career. He declared four majors but by senior year he wasn't sure what he wanted to do after college. Then he learned about commercial real estate through a class project. "Before that class, it had never occurred to me that commercial real estate was even a 'thing.' I never realized people needed to develop, own and manage buildings for companies and individuals," Hedlund said. "I fell in love with commercial real estate and knew that's what I wanted to do with my life."
His six-year commitment to the Army National Guard was coming to an end when he was called up for a second deployment during his final year of college. He missed his last semester but already had enough credits to graduate with degrees in entrepreneurial management and marketing.
"I finished classes in December 2008 graduating with the double-major and I deployed in February 2009. It was a year-long deployment where I was based out of Basra, Iraq and served as the enlisted aide to the 34th Infantry Division's chief of staff. The deployment timing worked out great because it gave me a year to learn more about commercial real estate and to reach out to people, I found on LinkedIn or Google to ask for advice and help," Hedlund said. "By the time I got back in February 2010, I hit the ground running and met with 42 people at 26 companies in order to find a spot where I felt I'd fit in. I discovered a position at Frauenshuh, Inc. and it's been a perfect fit."
For Hedlund, every project, small or big, is like solving a puzzle. "Every time we complete something, there's a tremendous feeling of accomplishment. Sometimes I look back at the first time I wrote in my notebook that I had a goal of 'becoming a real estate developer within five years' to remind myself how blessed I am to be where I am," Hedlund said.
Hedlund's determination and commitment stretches beyond his career. He is an ultra-endurance athlete who enjoys golf, yoga and time with his family. "I picked up running during my second deployment. My boss there, now-retired Major General Neal Loidolt, is an avid runner so I picked it up as well. Before then I'd always run for sports but never as a hobby on its own. I ran my first half marathon and marathon during that deployment. Right now, I'm not as focused on running but still try to get in about 40 miles per week and still complete multiple marathons per year," Hedlund said. "It's still a great hobby, just not something that I'm willing to sacrifice other things for at this stage in my life."
Instead, he's started learning to play hockey so he could spend more time with his five-year-old son who is inexplicably obsessed with hockey. "Since he wanted to dive in head-first I decided to follow him. I borrowed pads from a friend, started playing pick-up hockey, and took adult hockey clinics. Now I coach his teams too and hopefully can continue for a couple more years before they get better than me," Hedlund said.
From the ice rink to the classroom and workplace, Hedlund finds a way to inspire young kids and college students. Through his role as a mentor to college students, Hedlund has learned few students know what they want to do after college. "I was in the same boat when I was in college, but at the time it seemed like everyone else had it all figured out and I was the oddball. Now I think I understand that all of these undergrads are so amazingly talented and intelligent, and they mostly need guidance in understanding what the day-to-day life of certain careers is like so they can cultivate something that they could grow to be passionate about," Hedlund said.
He counts a million mentors who have guided him, especially Major General Neal Loidolt, his last boss in the Army, who taught him the day-to-day corporate, political, interpersonal skills needed to navigate difficult situations—the transition from the world of college to the real world. And the president of Frauenshuh, Dean Williamson who is skilled at making people comfortable. "He truly cares about people and exudes warmth to everyone. His ability to 'coach' is second to none and he can spot areas of improvement and work with people on how to shore them up," Hedlund said.
In addition to his undergraduate degrees, he completed the real estate management program through Harvard Business School and Harvard Graduate School of Design Executive Education and earned an MBA with a finance emphasis graduating with distinction as a Carlson Scholar from the Carlson School of Management. Ross is a licensed real estate broker and real estate salesperson in the state of Minnesota and a licensed remote pilot with the FAA.
Hedlund's community ties are strong. He serves on boards when needed, including Randy's Run raising money for Eden Prairie High Schoolers in memory of Randy Voas, a spec ops pilot who died in Afghanistan and Urban Ice Anglers which helps inner-city youth learn about ice fishing. In addition to coaching hockey, he's also a baseball coach for Eden Prairie, Minn. youth, volunteers on his church council and volunteers at Salvation Army.