Detailed Fundraiser Planning Yields Slam Dunk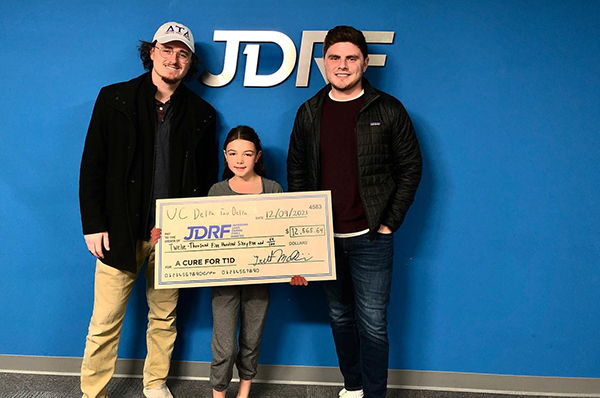 The men of the Gamma Xi Chapter at the University of Cincinnati have worked diligently to foster a relationship with JDRF, the leading global organization funding type 1 diabetes (T1D) research. Chapter members connect with JDRF not only because of the Fraternity's national partnership with JDRF but also because many of the men in the chapter have family and friends who have been impacted by T1D and understand the need to accelerate life-changing breakthroughs to cure, prevent and treat T1D and its complications.
"Our passion for finding a cure drove us to have one of Gamma Xi's most successful fundraising years in recent history," said Matthew Voorhees (University of Cincinnati, 2023), the chapter recent external vice president. "Our relationship has grown strong over the years thanks in large part to having a local JDRF chapter nearby."
The JDRF Southern and Central Ohio Chapter of JDRF is located just 25 minutes from campus allowing chapter members to interact on many occasions. Also fortunate, the JDRF chapter's executive director, Melissa Newman, serves as Gamma Xi Chapter's academic advisor. Newman is also a professor at the Lindner College of Business. "She is an amazing resource as she guides the brothers academically and is there to support us through our philanthropic efforts," Voorhees said.
Having so many JDRF resources so close to the chapter created the opportunity to collaborate on many occasions. Brothers helped the JDRF chapter move into a new office last spring, volunteered at JDRF's annual Bourbon Bowtie Bash fundraising event in the fall and hosted JDRF representatives at chapter meetings to educate members about JDRF and T1D. Where having a local JDRF chapter was most impactful was in how they helped guide fundraising efforts. "Melissa and others from JDRF helped, especially when it came to informational resources about T1D we could provide to chapter members and the greater University of Cincinnati community. They also helped the chapter get JDRF wristbands to sell to philanthropy event attendees and brothers to spread the JDRF mission," Voorhees said.
For fundraising this past year, the chapter focused on a model of having one large-scale event and one small-scale event each semester, along with fundraising during Mom's Weekend. "For our small-scale event each semester, we created social media bingo boards," Voorhees said. "Each brother collected $20 in donations by posting a bingo board on their social media accounts. People could select a price amount on the board and contribute funds via Venmo. While simple, these bingo boards were a highly effective way to fundraise for and promote JDRF to friends and family."
The first of the large-scale events was held in the spring of 2021. With the help of Philanthropy Chairman Cory Bower (University of Cincinnati, 2023), Voorhees set out to create "Dunk A Delt" as he ran for the office of external vice president. "All my life, I have set out to find things that I am passionate about and not only get to have fun doing those things but also make an impact. This inspired the idea of "Dunk A Delt," which was an event set up to give UC community members the opportunity to dunk the brothers of Gamma Xi in a dunk tank that we placed in the front yard of our chapter house. Prior to the event we created promotional materials, t-shirts, and flyers, and with the help of JDRF, were able to get wristbands and informational pamphlets to provide to event attendees," said Vorhees.
On the day of the event, attendees could donate $5 to dunk any brother of their choosing. In between getting dunked, the brothers had the opportunity to educate participants on T1D and the impact JDRF makes. Dunk A Delt drew family members, friends and UC community members from all over for the opportunity to dunk brothers and learn more about JDRF. "The event has become a staple of our chapter, and I hope to see the event grow to become bigger and better in the coming years," said Voorhees.
The next large-scale event, held in the fall of 2021, was developed by Bower as philanthropy chairman. "Smooch A Pooch" was based around the idea of having a dog park in the chapter's front yard and allowing UC community members to donate to come hang out and play with the dogs. "We followed a very similar event structure to Dunk A Delt to make this event happen. Prior to the event, Cory's philanthropy committee worked hard to come up with an amazing t-shirt design and promotional materials. At the event, we had t-shirts, wristbands, and hot dogs for sale to attendees, and for $5 the attendees could come in and play with the dogs. Once again, the event was a huge success seeing a great turnout from our community," Voorhees said.
Between these large-scale events, the bingo boards and reaching out to alumni, family, and friends for donations, Gamma Xi members assembled one of the chapter's largest donations in Gamma Xi history. "It truly was an honor getting to play a part in putting on these amazing events that helped in fundraising towards our final donation of $12,565 for JDRF. With these events, we truly were able to provide the chapter and community with events that were both a blast to be at and helped to make a difference in the world," Voorhees said.