Delta Tau Delta returns to Wabash College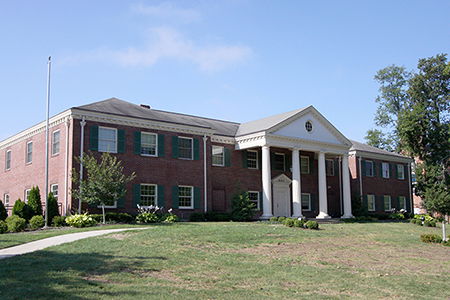 The Fraternity is pleased to announce its return of the Beta Psi Chapter to Wabash College in Crawfordsville, Ind. The return is the product of close collaboration between Wabash College administration and Fraternity staff. Working together, the two parties were able to establish an appropriate timeline to provide the greatest chance of success.
The official project will begin January 25 when four Central Office staff members will locate to Crawfordsville and begin interviewing potential members to become founding fathers of a new colony. The Beta Psi Crescent Colony will officially return with a formal new member induction ceremony on Feb. 18 on campus. All Delta Tau Delta alumni are cordially invited.
The Beta Psi Chapter returns after a seven-year absence. The absence of the chapter has been felt both by the chapter and by the national Fraternity. Indeed, Delta Tau Delta is very much part of the college experience at Wabash College.
"There's definitely been a void on both the student and alumni experience at Wabash without an active Delt chapter. The return is an opportunity for our values to make an impact on the entire community," said House Corporation President Nick Prihoda (Wabash 1999).
Delta Tau Delta at Wabash has operated under two different chapter designations starting with Psi in 1872. The most recent Beta Psi designation came with a rechartering on Sept. 11, 1894. It remained actgive until 2008. More than 1500 men have been initiated into the Beta Psi Chapter.
For the Wabash administration, the return is about filling a hole in the campus community. The chapter shelter still stands on campus as a testament to the influence of Beta Psi Delts throughout the ages. Wabash College sees the return of Delta Tau Delta as an opportunity to further enhance the student experience.
"Officials from Delta Tau Delta, the Beta Psi Alumni body, and Wabash College have looked forward to a recolonization effort. We are anxious to see how the principles of Truth, Courage, Faith, and Power are not only found in current Wabash Men seeking another fraternity option, but also how those principles will be values added to the lives of future Wabash gentlemen and responsible citizens who are educated here to think critically, act responsibly, lead effectively and live humanely. The congruence and confluence of Delt principles and Wabash values are obvious, historic, and most impactful," said Wabash Dean of Students Mike Raters.
To buttress the connection between alumni and the campus community, the Fraternity will host an alumni reception Feb. 18. This reception is a chance for potential new members of Delta Tau Delta to meet the Wabash alumni. For many Delts, students and graduates, this is a significant event with an opportuntity for profound and lasting impact.
"It's always a rewarding effort return a chapter to a campus where there is such rich history," said Kyle Yarawsky, director of growth for the Fraternity, "The campus community has been very welcoming and excited to see Delta Tau Delta return." Delta Tau Delta will join a fraternity community with nine current chapters. Additional questions should be directed to Kyle Yarawsky at kyle.yarawsky@delts.org.
The most critical part of any return and, in particular, the return to Wabash, will be the involvement of local alumni. The new founding fathers will need guidance to build their new fraternity chapter. The Fraternity is interested in talking to anyone – Wabash man or otherwise – who is interested in seeing a new fraternity chapter built from the ground up. If you have any interest, please contact Director of Alumni Affairs, Allen Wente at allen.wente@delts.org.