Delta Tau Delta Returns to University of Nebraska at Kearney
Delta Tau Delta welcomed 20 colony members at the University of Nebraska at Kearney this semester. The new colony was inducted into the Fraternity on September 22, 2017, with a ceremony at the Alumni House on campus. Performing the ceremony were men from the Beta Tau Chapter at the University of Nebraska - Lincoln.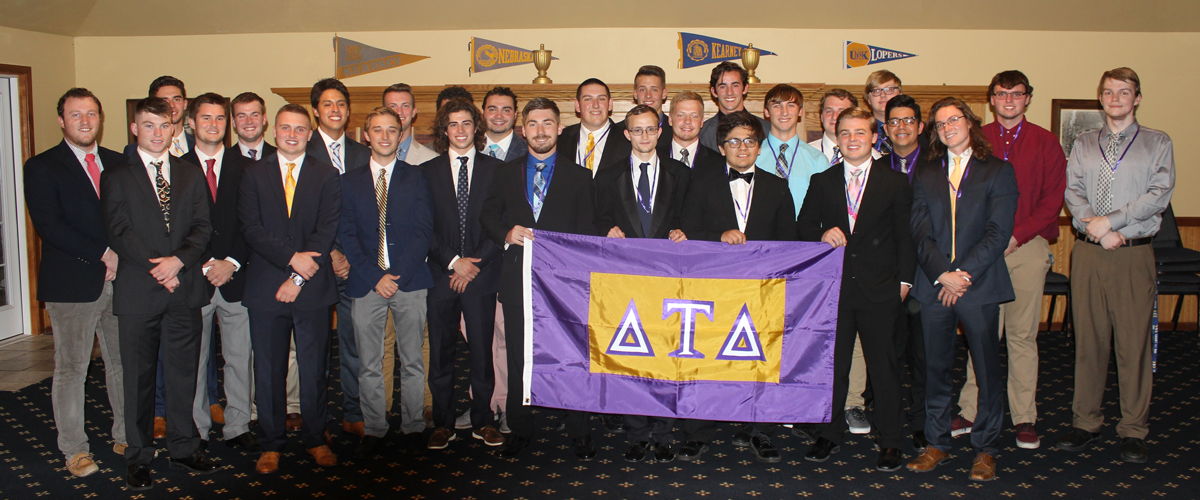 Bobby Mussa (University of Iowa, 2016) led the Central Office staff team which also included Adam Abbott (Morehead State University, 2017) and the colony's leadership consultant, Vince Russo (Robert Morris University, 2017). In late August, these men began recruiting the founding father class of the Theta Kappa Crescent Colony.
"I am confident in the founding fathers of Theta Kappa. There has been a void on the University of Nebraska at Kearney's campus since Delta Tau Delta was last on campus. We have no doubt these men are filling that void and will be an asset to the Greek system," said Brenden Welch, director of growth for Delta Tau Delta.
Originally installed in 1993, the Theta Kappa Chapter had been inactive since 2013 due to a decline in membership. Through the chapter's first two decades, 266 men initiated and the Fraternity recognized Theta Kappa Chapter with the Court of Honor distinction, as one of the top 20 chapters in the nation, eight times. Additionally, the chapter earned the Hugh Shields Award for chapter excellence in 2002, 2003 and 2004. The Hugh Shields Award is presented annually to the top 10 Delt chapters in the nation.
Fraternity staff also recruited a volunteer advisory team whose members will guide the new colony members as they pursue a charter. The volunteer team includes Theta Kappa alumni Tony Trausch (2010), Marcus Kloepping (2001), Ben Brachle (2002) and Bradley University Delt alumnus Robbie Erickson (2013).
The University of Nebraska at Kearney offers more than 170 majors, plus 20 pre-professional programs. Fraternity and sorority members make up 15 percent of the nearly 6,650 enrolled students.
Founded in 1858 at Bethany College, in Bethany, W.Va., Delta Tau Delta has 137 chapters and colonies in 39 states and the District of Columbia with a membership of more than 9,000 undergraduates and 120,000 living alumni. The Fraternity posts a GPA of 3.1, making it one of the highest achieving men's fraternities academically.
Delta Tau Delta's mission, "Committed to Lives of Excellence," is what the Fraternity seeks to represent at its host institutions. Delta Tau Delta strives to develop its members' leadership skills, seeks superior academic achievement, promotes community service efforts and helps its members launch successful careers.