Delta Tau Delta Installs Kappa Zeta Chapter at the College of Charleston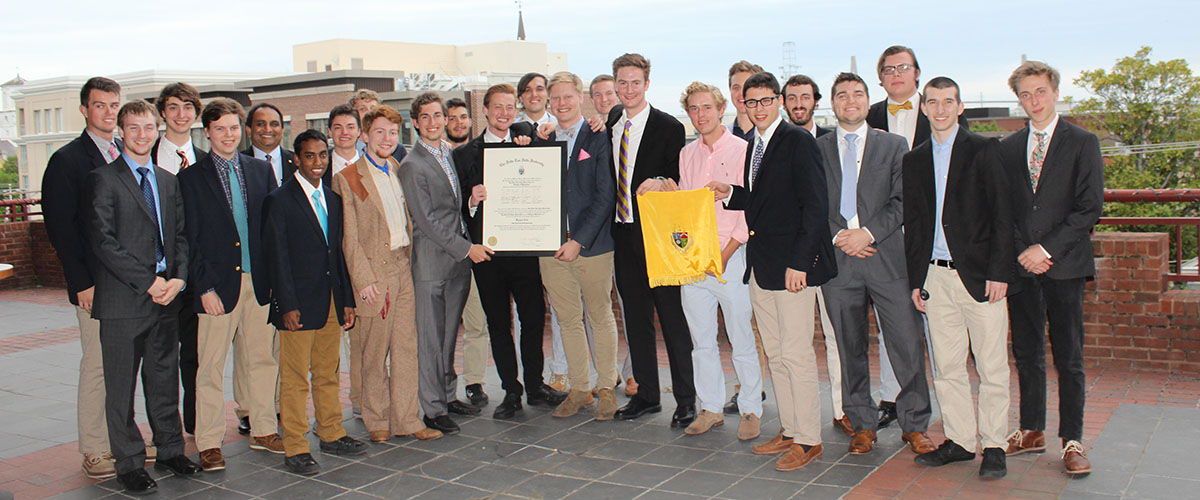 Delta Tau Delta installed Kappa Zeta Chapter at the College of Charleston Sunday, April 22, 2018. It becomes the 10th fraternity at the college. The chapter grew from a colony formed in September 2016 at the school of nearly 11,000 students. Founded in 1770, the College of Charleston is in the heart of historic Charleston, South Carolina, and is a nationally recognized public liberal arts and sciences university.
Thirty-three founding fathers experienced the Rite of Iris and Ritual performed by the men of Epsilon Omega Chapter at Georgia Southern University.
International President Jim Garboden (University of Pittsburgh, 1988) presided over the ceremonies. He was joined by Southern Division President Tiger Edwards (Southeastern Louisiana University, 1973) and Rajiv Patel (University of Central Florida, 1999) chapter advisor to Kappa Zeta.
Chief Operating Officer Jack Kreman (University of Nebraska-Kearney, 2004) presented the Eversole Badge to Andrew Denning (College of Charleston, 2020). The president of every new chapter is given this gift to pass down to each president thereafter.
Director of Growth Adam Abbott (Morehead State University, 2017) and Chapter Leadership Consultant Jack Mattern (Albion College, 2016) also attended.
The installation preceded a celebratory banquet where guests included College of Charleston Director of Fraternity and Sorority Life Sarah Jane Franciscus.
"A very enthusiastic and fired-up group young men were excited to put Delta Tau Delta on the College of Charleston campus and claim their chapter designation as Kappa Zeta. Excitement was the key to the evening at a banquet held in TD Arena. We overlooked the basketball arena on one end and the city of Charleston on the other," said Edwards.
President Garboden delivered a keynote address after presenting the chapter charter signed by all 33 founders of the Kappa Zeta Chapter.