Delta Tau Delta Installs Kappa Eta Chapter at Mount St. Joseph University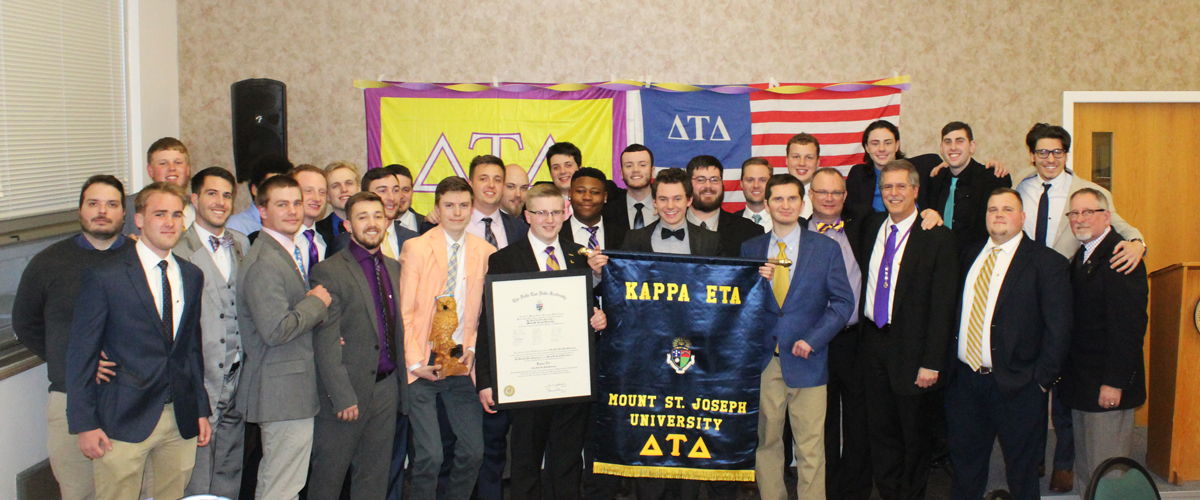 Delta Tau Delta installed Kappa Eta Chapter at Mount St. Joseph University on Saturday, April 28, 2018. The men of Gamma Xi from the University of Cincinnati performed the Rite of Iris and Ritual welcoming 26 founding fathers.
International Treasurer Bruce Peterson (University of Wisconsin-Milwaukee, 1975) presided over the ceremonies joined by Northern Division President Mark Starr (Case Western Reserve, 1995), Northern Division Vice President Brian Smith (Bradley University, 1990), and Northern Division Treasurer Dave Julien (Bradley University, 1988). Delt volunteers also included Kappa Eta Chapter Advisor Mitch Reiber (University of Minnesota, 2011) and Assistant Chapter Advisor Jim Flick (Eastern Michigan University, 2006)
Executive Vice President Jim Russell (Purdue University, 1975) presented the Eversole Badge to Matt Paluga (Mount St. Joseph University, 2019). The president of every new chapter is given this gift to pass down to each president thereafter.
A celebratory banquet followed the installation. Fraternity guests included the current Northern Division President Mark Starr and four former Northern division presidents; Jim Russell, Bruce Peterson, Tom Calhoon (Ohio State University, 1970) and Don Kindler (Ohio State University, 1955). Dean of Students Janet Cox, Dean for Student Engagement and Leadership Warren Grover, Faculty Academic Advisor Karl Power and A.A.R.C. Academic Advisor Mary Mazuk represented Mount St. Joseph University at the event.
Chief Operating Office Jack Kreman (University of Nebraska at Kearney, 2004), Director of Growth Adam Abbott (Morehead State University, 2017) and Chapter Leadership Consultant Jack Mattern (Albion College, 2016) also attended.
"It is exciting to see all the work chapter has put in pay off with a charter. Kappa Eta members are in a unique situation as pioneers of Greek life at Mt. St. Joseph," said Starr. "I look forward to seeing what they accomplish in the future."
Peterson delivered a keynote address after presenting the chapter charter signed by all 26 founders of the Kappa Eta Chapter.
To learn about the origin of the chapter watch this video: