Delt Ties Span 117 Years for Fifth-Generation Initiate
When Curtis Stump's great-great-grandfather joined the Fraternity in 1900, Delta Tau Delta Founding Father Eugene Tarr (Bethany College, 1860) was still living in West Virginia.
A Delta Zeta initiate at the University of Florida, Curtis is a fifth-generation Delt continuing a 117-year tradition that began when Charles Wilbur Stump initiated May 24, 1900. As a founding father of the resurrected Gamma Delta Chapter at West Virginia University, Charles was the chapter's fourth initiate. Delta Tau Delta first organized at West Virginia University in 1861, though the chapter closed after members scattered due to the Civil War.
Charles had two sons Wilbur Dale Stump (West Virginia University, 1922) and Eugene Curtis Stump (West Virginia University, 1927) who both joined the Gamma Delta Chapter followed by their respective sons Wilbur Dale Stump Jr. (West Virginia University, 1950) and Eugene Curtis Stump (West Virginia University, 1952).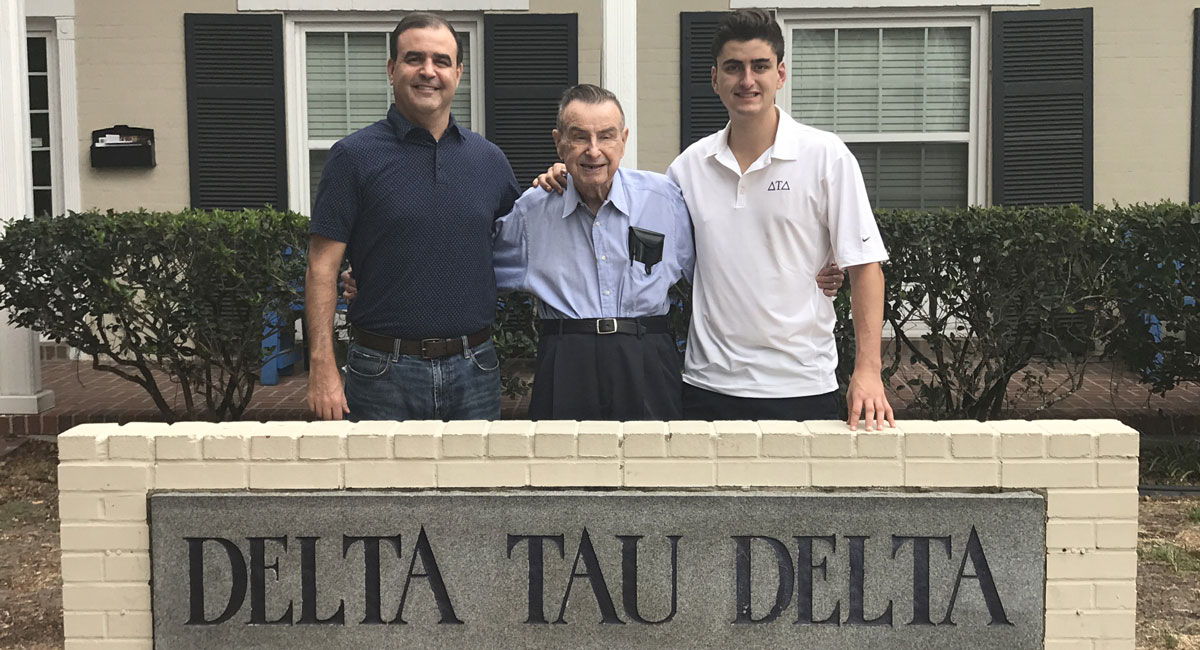 Now 87 years old, Gamma Delta Chapter's 553rd initiate, Eugene Curtis Stump (1952) lives in Gainesville, Fla. where he established roots during graduate school.
"I'm the ninth generation of my family in the United States," said Eugene. "My ancestor came here in 1742. I was the first one from our family ever to leave West Virginia. Of course, it wasn't West Virginia at the time since it became a state in 1863. It was the area that later became West Virginia."
Eugene served in the Air Force following his graduation and then enrolled in graduate school at the University of Florida where he connected with Delta Zeta Chapter.
In 1958, Eugene met his future wife, Ayhan, a student from Turkey pursuing a master's in English literature at the University of Florida. On December 6, 2017, Eugene and Ayhan celebrated their 59th wedding anniversary. Each spring the couple returns to the Delt house in Gainesville to commemorate the location where they met for their first date on Good Friday in 1958.
The Stump family ties to the Fraternity deepened in Gainesville when Eugene's son John (University of Florida, 1992) joined the Fraternity and again when Curtis (2020), the most recent initiate from the Stump family, initiated in spring 2017.
Curtis was thrilled to celebrate the Delt family tradition at his initiation. "It was really special knowing that my dad was there," Curtis said, "He went through the same thing over 20 years ago, in the same spot. That's moving to me."
It was equally as special for John to share that moment with this son, as he had the opportunity to share the same moment with his father, Eugene, at his initiation in 1989.
"It was the coolest thing to share that with Curtis. I felt nothing but pride watching him go through the same Ritual and experiences that I did," John said.
Despite the family history of Delta Tau Delta membership for the Stumps, there was no pressure for the men to join. John said he did not feel pressure from his father to choose Delta Tau Delta and he did not want to push Curtis either. He just made sure he was aware of the family history and let his son choose for himself.
"No one was pressuring me to go to Delt, I was even looking at other fraternities," Curtis said, "But at the end of the day, Delta Tau Delta is just where I fit in."
Sharing the Delta Tau Delta tradition with his father, grandfather, great-grandfather and great-great-grandfather gave Curtis a strong understanding of the brotherhood.
"It hammered home the fact that I am a part of something bigger than myself," Curtis said.
For John and Eugene, the reward lies in watching Curtis experience the same values and rituals that they hold dear.
"Being able to look at Curtis now as not only just my son but also my brother is a great feeling for me," John said.
He now gets to share the feelings that Eugene felt as well as the family members before him. These family ties also allow Curtis to see Delta Tau Delta is truly not just four years; it's for life.
"The friendships that I forged with my fraternity brothers are something that I will never forget," John said, "Although I don't see them all the time now, the bond that we built is still there. I've shared that with my father and now I get to share that with my son as well."