Delt "Taucos" Takes Off as Chapter Fundraiser for JDRF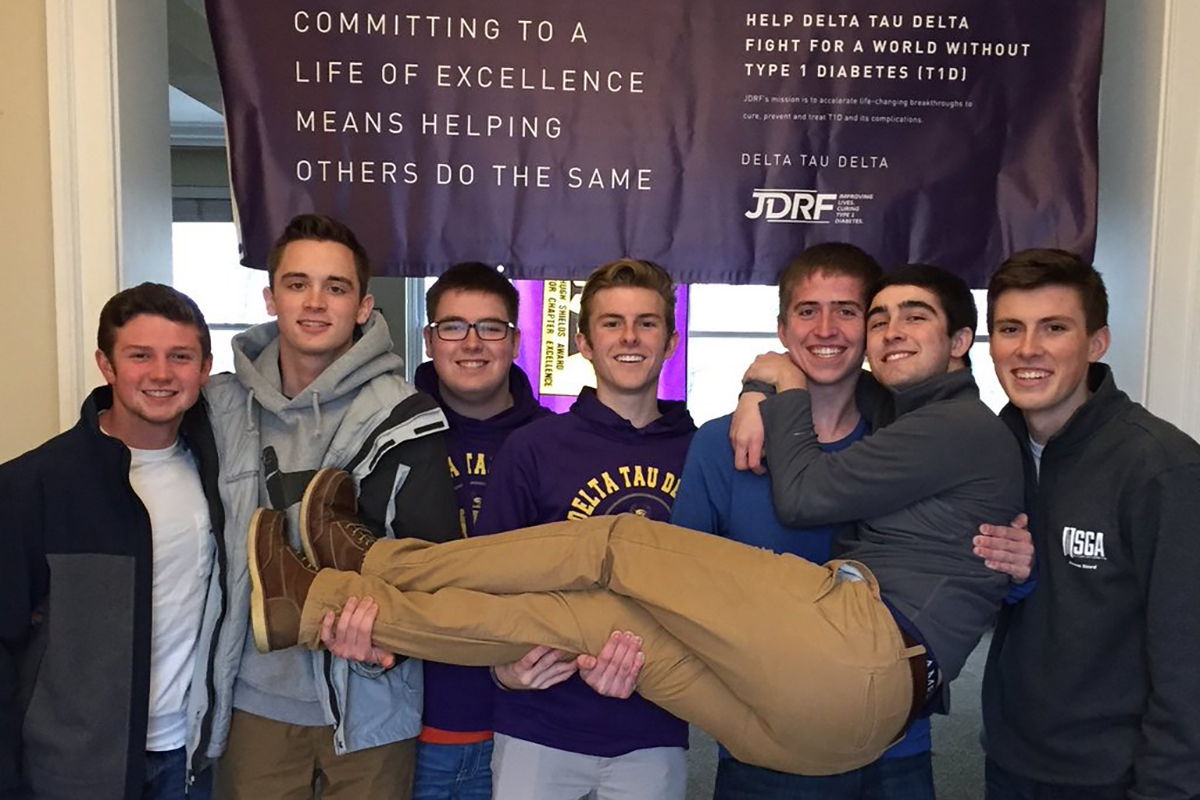 Beta Zeta Chapter at Butler University has a strong history of support for philanthropic causes. They consistently raise funds for both Riley Hospital for Children in Indianapolis and the Matt White Cure ALS Foundation. When Andrew Thompson (Butler University, 2018) became director of service and philanthropy, he decided to find a way for the chapter to support Delta Tau Delta's philanthropic partner JDRF. The largest global organization working toward a cure for type 1 diabetes (T1D), JDRF became Delta Tau Delta's philanthropic partner in 2012.

Thompson started Delt Taucos specifically to raise funds for JDRF and build awareness of type 1 diabetes. The event is simple. The men serve tacos and share information about JDRF and type 1 diabetes. This past fall was the third Delt Taucos event; the next one will be held in the spring. Now that chapter members have executed Delt Taucos a few times, they have a protocol for event preparation. "The biggest part is collaborating with our chapter's food service, College Chefs, who are wonderful," said Chapter President Patrick Holden (Butler University, 2020).
College Chefs plays a significant role in the event. For fundraising events like this the company offers a philanthropic donation each semester based on the number of members on contract, and also provides food at cost for the fundraising event. If the event takes the place of a scheduled meal, the chapter gets a credit which can go toward food purchase for the event. This way the chapter can focus on ticket sales to truly fundraise. Heather Thomas, special events coordinator with College Chefs, says they are always excited to help with philanthropy events.
Outside of planning with College Chefs brothers are assigned volunteer stations such as washing dishes, serving food, and collecting money. Then, Thompson said, "The magic just happens."
Most publicity for the event goes through social media and word of mouth. Butler's Greek community is very close, and for this event campus Greeks are the main targeted demographic.
Caroline Cohen, a sophomore member of Alpha Phi attended Delt Taucos as a freshman and couldn't wait for a repeat. "It was so nice being able to get together with others on campus, enjoy tacos, and support a great cause at the same time. The guys did a phenomenal job of displaying information about JDRF and type 1 diabetes around the house," Cohen said.
Beta Zeta Chapter also supports JDRF by volunteering for the Indianapolis JDRF Gala and OneWalk and they are making a name for themselves with the local JDRF Chapter. "We are thrilled to have the Delts from Butler support JDRF. They have been such a great partner for us and we truly appreciate all that they do," said Katie Pappas, senior development manager, JDRF Indiana State Chapter.
Holden explained that each Delt event has raised more money than the last. As the event grows, they also want to add more education including posting JDRF and T1D facts on signs throughout the shelter and information on the televisions in the dining room. Next spring, they will add an additional educational component and present the children's book "Ralphie the Giraffe and the Insulin Pump Adventure" co-authored by Nicholas Sgro (Butler University, 2016). "Andrew started a great tradition that the Beta Zeta Chapter will surely continue for quite some time," Holden said.