Delt Takes Off from Air Force Academy
Graduation ceremonies at the United States Air Force Academy included one Delt last spring, even though there's no Delt Chapter on the campus. The graduate, Caleb Elms (University of South Florida, 2019) joined the Fraternity when he participated in an ROTC exchange program. Each year six Air Force Academy cadets trade places with counterparts at a civilian institution who are enrolled in an Air Force ROTC detachment. "I was chosen to swap places with a cadet at the USF AFROTC Det 158 where I could learn more about our sister commissioning source as well as share experiences from my own journey at a Federal Military Academy," said Elms.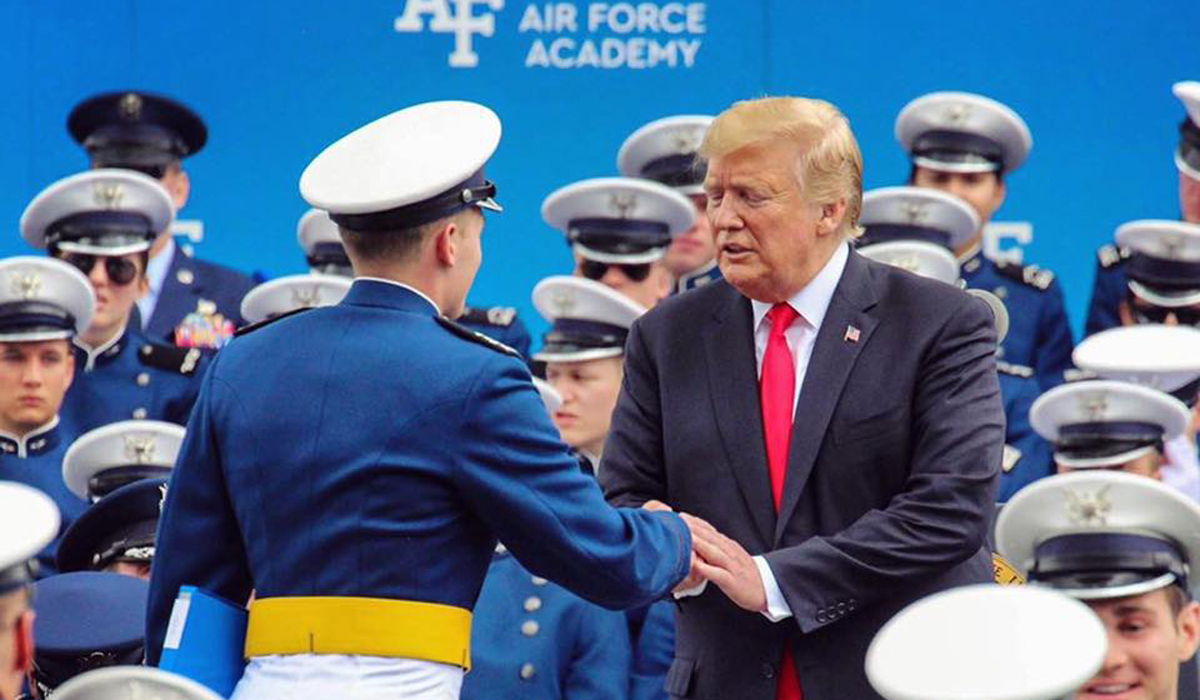 Brothers from Epsilon Pi Chapter who are enrolled in the Air Force ROTC detachment at the University of South Florida introduced Elms to the Fraternity. "They basically just reached out to me and asked me if I wanted to become a part of something that would be a close-knit group of men who support and inspire each other to be the best they can. In fact, a large portion of the Fraternity was comprised of ROTC cadets, veterans and reservists at the time of my pledging. It felt very natural for me to join such a service-oriented culture. I was very excited about the opportunity because I wanted to know more about the American college experience and this fraternity provided me with so much more than that," said Elms, who credits Brandon Timmerman (University of South Florida, 2018) for encouraging him to join the Fraternity.
"I joined because I saw something in the brothers that truly inspired me. It was the authentic friendship and camaraderie that told me there was something special about being in this fraternity. The men were all there for each other and knew everything about each other. They talked about their professional aspirations as well as helped each other with difficult struggles throughout the undergraduate journey."
Though his undergraduate Fraternity experience only lasted one semester, Elms found what he calls a rare gift-- true brotherhood. "I have never gotten so close to so many people in such a short period of time. I made some of my best friends for life in just one semester," said Elms.
After a semester at the University of South Florida, Elms found the most notable difference between campus experiences was going from a rigorously detailed and planned daily schedule to almost complete autonomy. "At the Air Force Academy, I knew when to wake up, where to go to eat, when I needed to study, when to work out and so on," he said. "At USF I had to develop my independent thinking skills a lot more with a lot more time on my hands and I believe that served me well."
Inspired by his family, Elms always wanted to serve in the military. His grandfather spent 20 years in the Army with Special Forces, his father spent four years in the Army Airborne and his brother serves in the Army with Special Forces. His uncle was killed while serving in the Army on a peacekeeping mission.
Elms graduated with a degree in economics and as a newly commissioned 2nd Lieutenant on active duty in the Air Force, his military career is starting with pilot training. "This is what I have always dreamed of and now I'm finally getting my chance to make it into a reality," said Elms.
Don Ware: The First Delt to Graduate from the United States Air Force in 1960
The first member of Delta Tau Delta to graduate from the United States Air Force Academy was Donald Frank Ware who joined the Fraternity while he was a student at the University of Idaho for one year before attending the Academy. "Don loved his association with the Fraternity and we had several of his pledge brothers at our family home for Thanksgiving dinner that year," said Don Ware's sister Elizabeth.
Ware graduated from the Academy in 1960 as a member of its second graduating class. His was an exclusive and highly competitive entering class with 317 appointed, but only 227 (72%) completing the program. He lettered on the pistol team and after flight school, received the coveted Top Gun award at the conclusion of his F-100 Super Sabre jet training. Ware met an untimely death in a 1963 midair collision out of the Lakenheath Air Force Base in England.
Ware's father, Marcus Ware was a 1927 graduate of the University of Idaho and was an alumnus member featured on the petition when Beta Chi Fraternity was accepted into Delta Tau Delta. Marcus Ware was initiated when Delta Mu Chapter was installed in 1931.