Delt Returns to University of Louisiana at Lafayette with Epsilon Psi Crescent Colony
Delta Tau Delta welcomed 36 founding fathers to the Epsilon Psi Crescent Colony on November 8, 2019. First chartered in 1969 when the University of Louisiana at Lafayette was known as the University of Southwestern Louisiana, the Epsilon Psi Chapter has not been active for more than 30 years.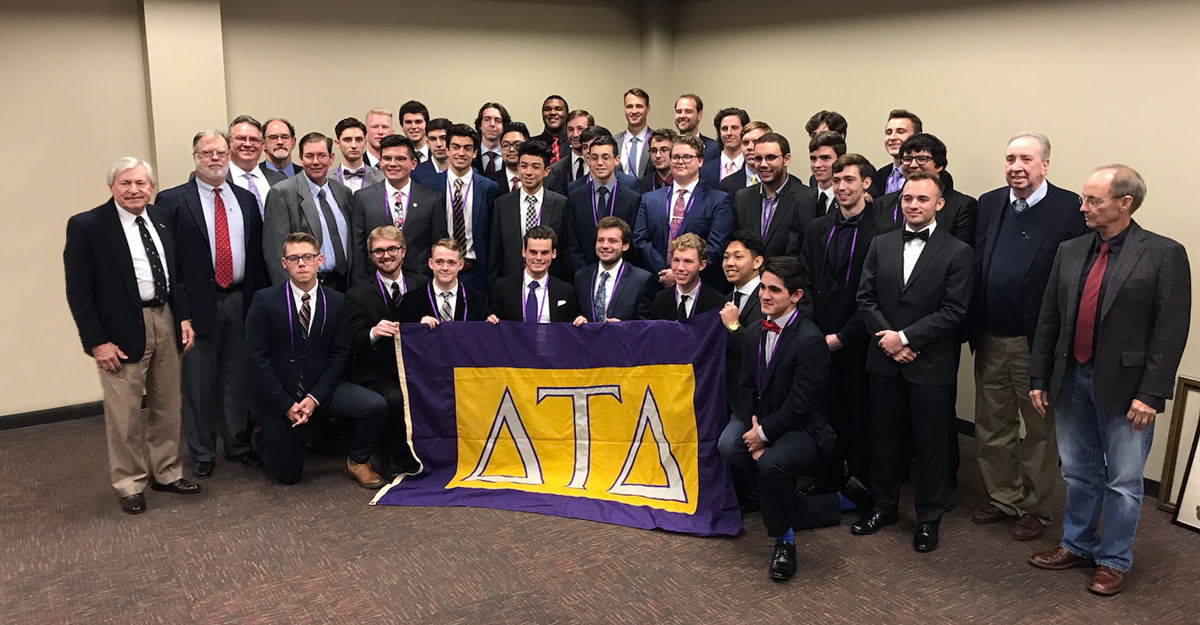 "We have been gone for too long from Lafayette. Seeing the Epsilon Psi Chapter return makes both Delta Tau Delta and the state of Louisiana better. Seeing the alumni of the chapter reengage is truly gratifying. The project stands as an enduring reminder that we are a lifelong organization. I look forward to visiting soon for an installation," said CEO Jack Kreman.
Chapter Leadership Consultant Nick Pidgeon (University of South Florida, 2019) led the expansion team of Brooks Rahaim (University of Southern Mississippi, 2019), Erik Sink (Lafayette College, 2019) and Heath Schintler (University of Iowa, 2019).
"The Fraternity's expansion at UL Lafayette was an effort coordinated through multiple avenues, with the initial push started by a group of determined Epsilon Psi alumni. Throughout this process, our team was able to form strong, meaningful relationships on campus with student leaders and university staff. This opened the door for us to recruit a high caliber of man, including students involved in student government, homecoming, ROTC, university athletics, and more. I am proud of our results and very excited to see what these 36 young men can bring to our organization," said Pidgeon.
The Epsilon Phi Chapter at Southeastern Louisiana University provided the Ritual team to perform the induction ceremony. The colony joins eight fraternities on the campus of more than 17,000 students.
Ceremony attendees included Southern Division President Mark Nichols (Kansas State University, 1991) Colony Advisor James McLaurin (University of Louisiana at Lafayette, 1983), Colony Assistant Advisor Frank Hull (University of Louisiana at Lafayette, 1971), Colony Assistant Financial Advisor Bo Billeaud (University of Louisiana at Lafayette, 1979), Colony Assistant Alumni Advisor Jacques Walker (University of Louisiana at Lafayette, 1984), and Epsilon Phi Chapter Advisor Gene Pregeant, (Southeastern Louisiana University, 1980).
Special guests included UL Director of Fraternity and Sorority Life, Luke Lawson, UL Dean of Students Margarita Perez, UL Associate Dean of Students Heidie Lindsey, UL Assistant Director of Student Engagement Ruben Henderson, SGA President Rachel Lautigar and chapter presidents from Sigma Sigma Sigma, Kappa Delta and Phi Mu.
Additional members of the colony's volunteer advisory team include Assistant Advisor for New Member Education and Risk Prevention Chase Wilson (University of Southern Mississippi, 2014), Assistant Advisor for Recruitment-Bruce Brown (University of Southern Mississippi, 2011) and Division Vice President-Charles "Tiger" Edwards (Southeastern Louisiana University, 1973).