Delt's Orange Legend Plays Alumni Lacrosse
Last fall John Dean (Syracuse University, 1959) suited up for his alma mater's Orange Alumni Classic Legends' lacrosse game in the Carrier Dome. He was the second oldest of the 52 players from the graduating classes of 1949 to 2018. The two team rosters included players with a combined 27-All-American honors and seven players who currently play Major League Lacrosse.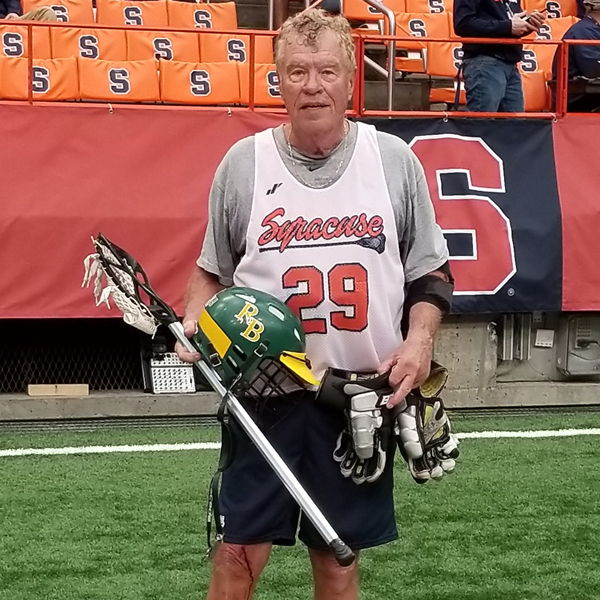 Dean grew up in Troy, New York where he played five sports in high school, some with overlapping seasons. In the spring he ran track, practicing after school and then heading to play with a club lacrosse team in the evening. Even as an engineering student in college he managed to find time for extracurricular activities. He played in the marching band for four years, held a job, joined the Fraternity, was a two-year participant in the Chapel Choir and served as Interfraternity Council vice president.
He also played lacrosse and says he was privileged to walk on the lacrosse team as a freshman and play in 1956 through 1959 seasons, graduating as a three-year letter winner. In 2009 he was named a Letter Winner of Distinction by Syracuse University's Varsity Club.
"The claim to fame is we were undefeated my sophomore year and Jim Brown, the famous professional football player and all-American football lacrosse player was a teammate," Dean said.
Dean continues to enjoy the unique fellowship with Syracuse lacrosse alumni and he and his wife established an endowed athletic scholarship, the John Dean Endowed Lacrosse Scholarship Fund at Syracuse. He returns to campus regularly and values his experience playing on the turf at the Carrier Dome in the Legends game.
"You go through the whole deal, getting dressed in the locker room like when you were a student and they play the national anthem," Dean said. "It was a pretty brutal game for a bunch of old guys. I got clobbered from behind when I was taking a shot and they never called a penalty. The guy who hit me was 30 years younger than me, but he went down. I had to help him up. I actually got a video—it's hilarious."
Dean competes in the Senior Olympics as a sprinter, plays basketball with his grandchildren and rides a bike regularly. His doctor tells him to "act his age," but last fall, he was running down the field in Syracuse.
A CEO whose career included several senior management positions, Dean retired, or in his words "stopped working for a living" about 15 years ago. In recent years he coached high school lacrosse in Columbia, Mo., the source of the Rock Bridge Bruins helmet he wore for the Syracuse alumni game. Dean also serves as an academic advisor for Gamma Kappa Chapter after serving as the main chapter advisor for several years. He was honored as the university's Greek Advisor of the Year in 2008.