Delt Brother: #T1DLooksLikeMe
Michael Rondon (Westminster College, 2017) was just three years old when he was diagnosed with type 1 diabetes (T1D). "My earliest understanding of T1D was that shots hurt and I wanted to eat as many cookies as I could, but never was able to." From his elementary school years, he remembers always going to the nurse to test his blood sugar and injecting himself with insulin, which he started to do on his own around first grade.
"I vividly remember the hospital I was in when being diagnosed with diabetes and how I ran around the room the first time the nurse approached me with an insulin injection," Rondon said. "I have grown up with diabetes and have always considered it a part of me, but nothing that would ever limit me in achieving my goals in life."
Rondon is especially thankful for his parents as well as family and friends who serve as a strong support system, including his girlfriend, Delaney, and his best friend from grade school, Jimmy Liss, who also has T1D.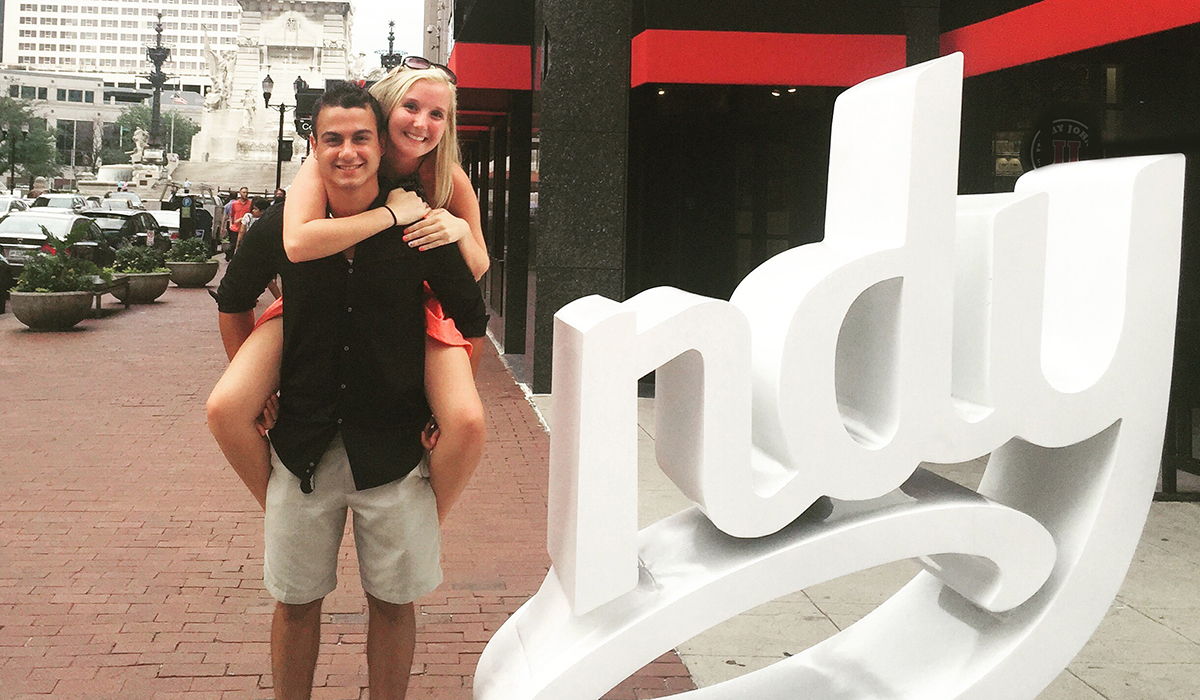 When he joined Delta Tau Delta at Westminster, Rondon added brothers to this support system. But starting college with T1D was still difficult. It wasn't until the second semester of his sophomore year that he built up the time management skills he needed to manage T1D. He always carries snacks in his backpack in case he needs something to eat when his schedule gets unpredictable.
Rondon is a security studies major with a minor in psychology. He wants to pursue a career with the FBI and hopes to get his foot in the door by working for a fusion center to collect and analyze critical information. Fusion centers assist law enforcement and homeland security partners in preventing, protecting against, and responding to crime and terrorism. With every part of his life though, T1D is there.
For this sports lover who embraces the adrenaline rush of a roller coaster, the most challenging part of T1D is remembering to do his shots and glucose checks and having to deal with low blood sugars. "It sucks to have to eat a granola bar because your blood sugar dropped low during a running drill with your team. Everyone stares at you and doesn't believe that your blood sugar is actually low," Rondon said. "Carb counting sucks."
"I also carry around my Novalog insulin shot and glucose meter so that I can stay at a stable blood sugar," Rondon said. He found it difficult to adjust to drinking alcohol. "Thankfully, I have a group of friends that would know exactly what to do in case something went wrong, but I have always been responsible when it comes to drinking." While it's not talked about much, Rondon said drinking is a topic that needs to be addressed for young adults with T1D.
As a philanthropy chair for Delta Omicron Chapter, Rondon increased his involvement with JDRF, the leading global organization funding T1D research. Nationally Delta Tau Delta has partnered with JDRF since 2012. Earlier this fall Rondon's Instagram video about living with T1D as a college student was shared by JDRF and Delta Tau Delta. His chapter hosts events to raise money to support finding a cure for diabetes and brothers volunteer at Camp Hickory Hill, a Central Missouri camp for kids with diabetes.
"Delt's partnership with JDRF means so much to me. It is amazing to be part of a chapter that supports something that personally affects my life every day. I love that all my brothers support me and help raise money for JDRF," Rondon said.