Delt Alumnus Travels to Ukraine to Offer Humanitarian Aid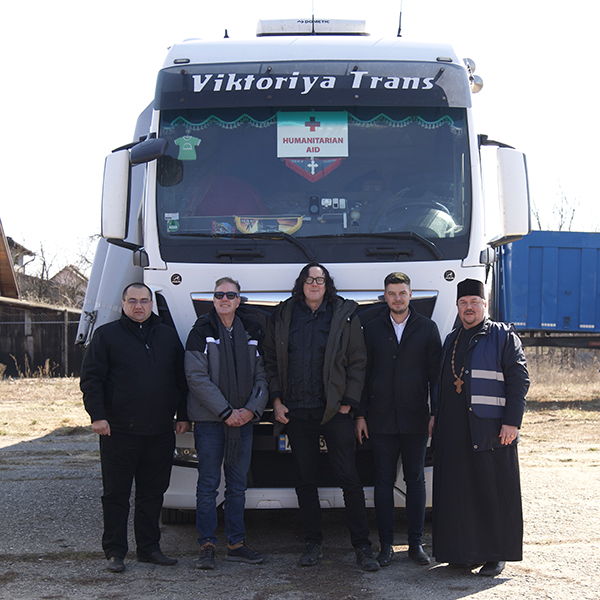 James Rice (University of California-Los Angeles, 1991) is helping offer humanitarian aid in Ukraine. Rice, an experienced CEO passionate about building brands, leading employees and growing businesses, retired from his job as CEO of Paradise Company in Papua New Guinea last August. After six months of retirement, he took the full-time unpaid role as CEO of Ukraine Disaster Relief, applying his global business leadership expertise to the non-profit organization.
UkraineDisasterRelief.org focuses on using technology, human capital, and logistics to bring humanitarian relief to the people of Ukraine. UkraineDisasterRelief.org coordinates with local and national and international jurisdictions, identifies their needs, and provides real-time solutions. The organization coordinates with other aid and relief organizations offering opportunities to assist in many forms of disaster relief, supply logistics, and joint operations command center to act as a base of operations. UkraineDisasterRelief.org helps raise and distribute donations and aid, provide and coordinate refugee relief, provide logistics and security for international aid, and assist other organizations with forward operating bases with data hubs.
In mid-March Rice landed in Romania and began a three-hour drive to Ukraine to meet his team and share hope and compassion combined with medical supplies, shelter, and food.
With Rice's permission, Delta Tau Delta is sharing a few of his recent updates:
March 18: A full day in Ukraine. Starting in Romania, I rode on a Ukrainian truck with a Ukrainian drive into Ukraine. We delivered food, water, and medical supplies. These will continue on a journey towards other areas that need these vital items.
March 20: The men of Ukraine are sent to the frontline to fight, leaving the woman and children behind. Eventually, widows and orphans walk out of the country with nothing left but hope. I know nothing of this woman's story except that she is one kilometer away from the Romanian border and almost out of Ukraine. And I am driving in the other direction with food and medical supplies.
March 21: Every day Romanians donate the food, water, medicine, and other lifesaving items going into southern Ukraine. Faith-based organizations coordinate the people and trucks to get these supplies in, but Romania isn't a wealthy country. They are running out of help to give, and we need to come in now before the Ukrainians run out of food and medicine!
March 21: I'm in Ukraine this week helping get food and aid to the women and children. I am riding on this truck deep into Ukraine, personally delivering food and medicine behind the battle lines of the country. I'm proving help can be delivered to the people of Ukraine. I'm looking forward to getting back to the USA. In the meantime, you can help this cause by supporting the charity I started so I can get more food and medicine to the people who really need it. Thank you!
March 22: Personally taking a truckload of food into Ukraine. No one thought this was going to last three days, let alone three weeks, and the people in Ukraine are running out of everything, especially food and medical supplies. They need our help. Please support the charity that I personally run at http://ukrainedisasterrelief.org/.