Dedicated to Education for Youth
As a small-town country boy, Larry Rabalais was told not to go to college, but that only inspired him to go. Rabalais (University of Southwestern Louisiana, 1971) turned his own pursuit of education into a lifetime commitment of educating young people.
Though technically retired as an educator, today he volunteers as executive director of SkillsUSA Louisiana Incorporated, a partnership of students, teachers and industry working together to ensure America has a skilled workforce.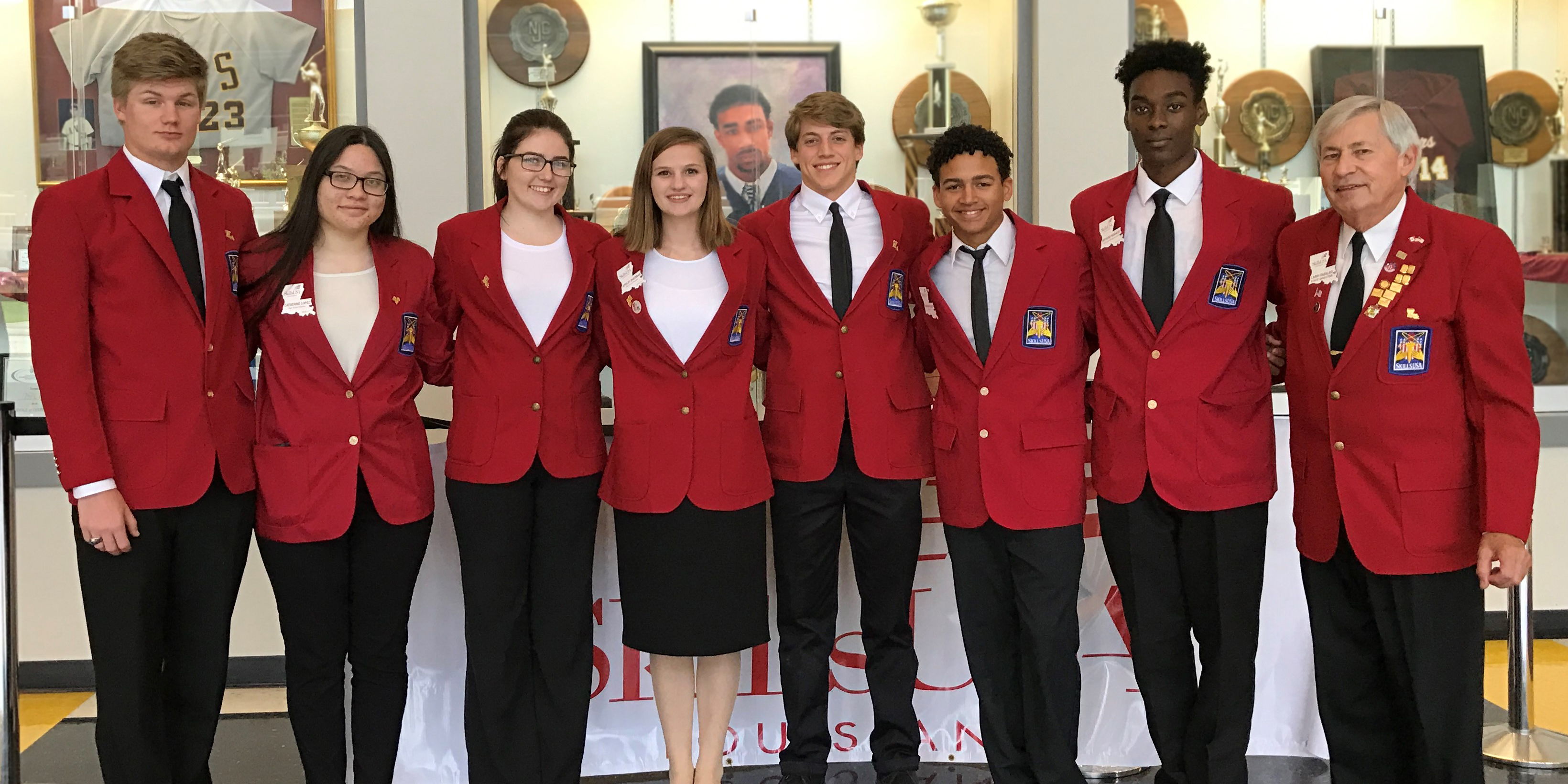 "I want to ensure we have a skilled workforce and young people have a way of understanding that if their sink or their bathtub or toilet is broken, they don't want a person to come and write a term paper or a thesis on it, on how to fix the sink, they want a plumber," said Rabalais, who earned college degrees, but used his technical skills to advance his career.
After graduating from high school in 1965, Rabalais enrolled in Nashville Diesel College. His father owned a local garage where had worked and he spent his teenage summers pursuing vocational training. At the Nashville Diesel College, he specialized in automotive, welding and diesel, completing a two-year program in one year, then enrolled in Louisiana State University. After his junior year he transferred to the University of Southwestern Louisiana (now University of Louisiana-Lafayette) where he pledged Delta Tau Delta and became a founding father of the Epsilon Psi Chapter. He also served in the Louisiana National Guard as squad leader where his technical background landed him in the engineer school for training in heavy equipment.
He returned to his hometown to teach automotive service technology. "For 35 years, I was certified as a master ASE [Automotive Service Excellence] technician, qualified to teach in five areas, welding, diesel, outdoor power and collision repair. My school was one of nine schools to form what was then called VICA, Vocational Industrial Clubs of America. Now called, SkillsUSA."
After 20 years of teaching and recognition by the American Vehicle Manufacturers Association as having the best automotive shop in Louisiana, he became a supervisor of career and technical education programs for the Louisiana Department of Education.
Rabalais also became the state director for SkillsUSA Louisiana and was later elected as president of SkillsUSA Incorporated. SkillsUSA is one of the largest career and technical student organizations in the United States and a proven talent pipeline for career-ready employees.
Through the SkillsUSA Championships, the organization helps measure the abilities of young people. These competitive events showcase the best career and technical education students in the nation. Contests begin locally and continue through the state and national levels. "We are the only organization in America that's allowed to take winners in all of these areas in welding and cosmetology and culinary arts to compete in the world skills," Rabalais said. "Right now, there are two jobs for everyone because of baby boomers retiring. Jobs are getting better and the pay is going to increase because of the skill sets and the training necessary to operate technologically forward machinery," Rabalais said.
Rabalais has long felt the apex of his career was in 2000 when he became the first certified state director in America, but he now celebrates another significant accomplishment. In recent weeks he saw an agreement signed between Louisiana's Community and Technical Colleges System (LCTCS) and SkillsUSA Louisiana, Inc. The agreement calls for a $500 one-time scholarship for every SkillsUSA Louisiana Secondary member that graduates from a Louisiana high school and a $1,000 one-time scholarship for every gold medal winner to any LCTCS college, beginning with the high school graduating class of 2018.
"The scholarship commitment not only shows the relevance of career and technical education, but it shows the value that people are beginning to place on careers rather than just college degrees," said Rabalais. "The LCTCS scholarship program rewards students for excellence and affords students relevant training in their career path.
Frank Hull (University of Southwestern Louisiana ,1971) praised Rabalais for dedicating his life to the education and encouragement of excellence in youth. "He has served his country and donates many hours of his time to the betterment of his community. His impact is far reaching helping school districts across Louisiana improve their programs and relevance," Hull said. "As Delts we live by a common mission, 'Committed to Lives of Excellence.' There is no Delt example I know that follows this commitment more than Brother Larry J. Rabalais."