A few decades ago Xerxes Bhote (University of Colorado, 1984) started organizing a small group of Delts who met every other year in Boulder, Colorado at a fall football game. As he asked who knew who, more Delts were invited and the event grew. Installed in 1883, the chapter closed almost 30 years ago, but the brothers' connections continue to grow in ways they never anticipated.
Dave Stockert (University of Colorado, 1984) reflected after attending the reunion last fall, "Remembering the good times I shared with my Delt brothers becomes all the sweeter as I get older," he said. "Our reunions in Boulder are wonderful opportunities to catch up on each other's lives and to strengthen the bonds of friendship. I never fail to marvel at how well we all turned out! Now that we've all been through the ups and downs of life, I feel in some ways more connected to these guys today than I did all those years ago."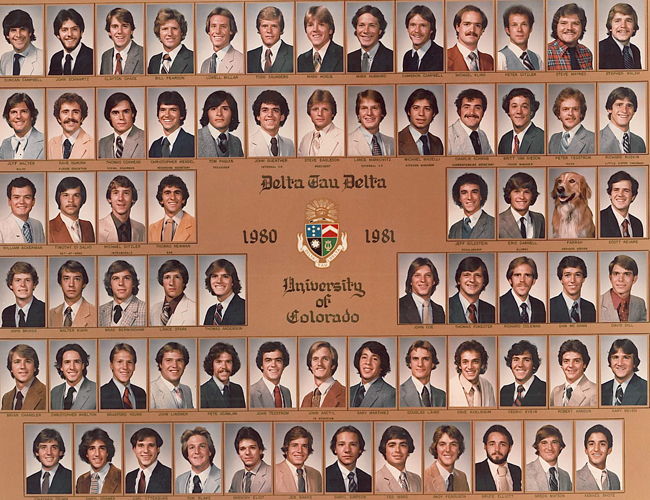 Planning has become easier in the last ten to 15 years and Bhote maintains a growing list of contact information to invite all Beta Kappa alumni. Bhote says the interesting aspect is just getting guys together and learning what everyone is up to, but at this phase in life, many of his contemporaries have kids who benefit from their connections.
"Delts can help with college recommendations," Bhote said. "They can help with different universities where guys have gone to graduate school. If people are looking for internship, you can send out an email and say, 'My son or daughter is looking for an internship in Chicago or the Bay area, do you know anyone?' That's not the focus, but it's a nice little perk. If I've got a buddy who is the CEO of a company in Atlanta and my daughter is interested in Emory, it's easy to make a quick call. That's been kind of fun. I've helped a few of my fraternity brothers' kids with advice, put them up for a night or helped find internships. That's been an interesting aspect."
One of the most significant results of their reunion was honoring the memory of Andy Seligson (University of Colorado, 1984) who passed away a few years after graduation.
Bhote reached out to chapter brothers seeking donations to present to Seligson's parents as a donation to the Cold Springs Harbor Lab in Long Island, home of the Andrew Seligson Memorial Clinical Fellowship. Founded in 1890, Cold Spring Harbor Laboratory has shaped contemporary biomedical research and education with programs in cancer, neuroscience, plant biology and quantitative biology.
"We raised $15-$20K in the early 2000s," Bhote recalls. "They were really touched. I collected all the checks and gave it to the research center. It was a great experience."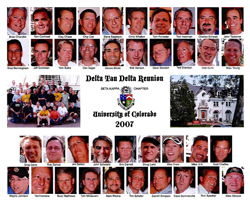 Bhote's emails and notes and the circulations of composite pictures from the 1980s led to a strong turnout last November. Thirty men gathered for a Friday night dinner and the Delt crowd nearly doubled for the tailgate and football game on Saturday, Nov. 11. "Guys flew in from New York to California and Florida," Bhote said. "One guy came from London."
"At the end of the day what means the most to me is the guys continued consistent commitment to each other. People thank me for putting it together. I think the real thanks goes to the guys who decide to show up which really makes it a success. Truly the credit goes to the guys who show up."
One of the many alumni who shows up, Dan Sager (University of Colorado, 1984) says staying connected nurtures the soul. "I am never happier than when I'm with my brothers. Thirty-three years after graduation, five of these guys are amongst my closest friends and I stay in touch with 40 others," said Sager. His daughter's path to a marketing job at Dreamworks Animation, was aided by a Delt connection Sager rekindled at a reunion. "I do important business with many of these guys. My brothers are CEOs at Fortune 500 Corporations, renowned senior executives, industry innovators, superstar owners and all-around business studs. I'm blessed to be a Beta Kappa Delt and wake up every day grateful for my experience-- the experience that never stops giving back to me."