Dave Schreiner is proud to be a Delt.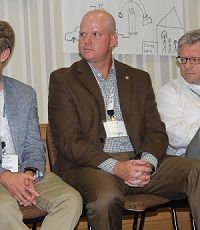 We all have moments in which events align to make a single emotion perfectly clear. For Dave Schreiner, that moment was sitting on a Delt alumni panel at The Charge with his son, Andrew, feeling nothing but pride. "It was one of the coolest things I've done. The motivation at work in the room. The intelligence exhibited in their questions. For me, it's incredible to be able to support that."
Even after his college years, Dave has felt the benefits of the Delt experience. "It was life changing for me. I use so much of what I learned as a Delt in my life even today. As rush chairman, as president, you're twenty years old with a budget recruiting sixty men to your organization, leading committees, making things happen. There are so many things you learn from this experience that I've used in my career—leadership skills, team building, and even just the ability to try and learn from the mistakes you make."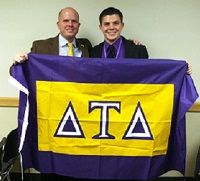 While he was involved as an undergraduate, Dave hadn't found his way back until his son called him to say they were opening a Delt chapter on his campus. "That was probably the second most proud moment for me, getting to pin the badge on Andrew at his activation." Once his son got involved in the new colony, he, like his dad, quickly gave his all, becoming chapter president and becoming a consultant after graduation.
"I got to get involved with Andrew's chapter and it was a great experience to get to support them. It's so much more than just throwing money, it's going back to the chapter and the undergraduates just to talk and share your experiences with these guys who are so hungry for it." While undergraduates have clearly benefitted from Dave's involvement, he says it's more than a one-sided relationship—what they can give back to alumni, Dave says, is connection.
"We find a way to keep that connection, and I think that's something special that people in the Greek community have really figured out is important."