Damage Done with the Red Sox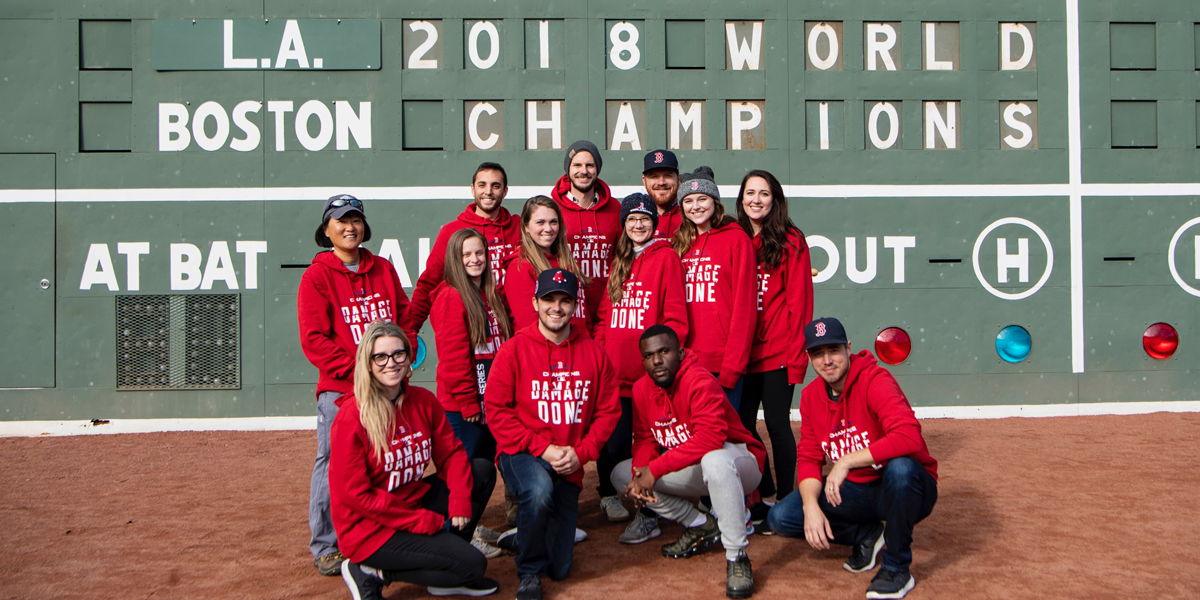 The triumph of holding the Commissioner's Trophy after the 2018 World Series didn't hit him at first, but the rush of the Red Sox run is sinking in for Nick Sciarratta (Northeastern University, 2017). As a graphic design coordinator working for the Boston Red Sox, he gained a unique perspective through an extraordinarily busy fall.
"We were lucky with how talented the team was and how well they played. We were able to prep early for our hopeful, and what turned out to be, a long postseason run. This involved refreshing all our player gifs, graphics, and templates for our social media."
Sciarratta's design projects included projecting photos throughout Boston every night for five nights, hanging a banner with the postseason "Do Damage" campaign on city hall and placing a second bigger banner before the World Series by the pier.
"Traveling to Houston for the ALCS and Los Angeles for the World Series was an absolute once-in-a-lifetime experience, and I was speechless when they finally won. The team was incredible, playing the entire season at a historic rate and what a perfect ending, winning the World Series."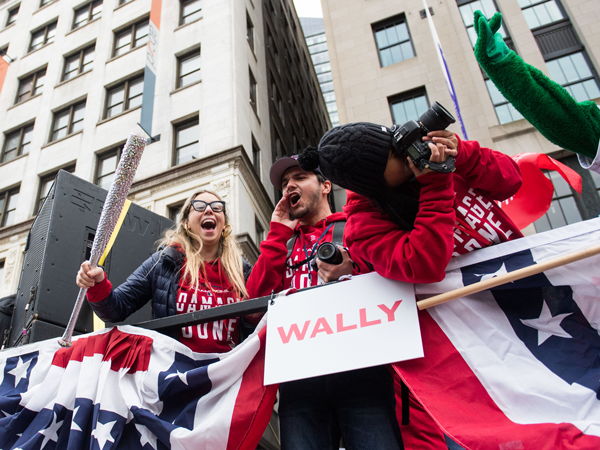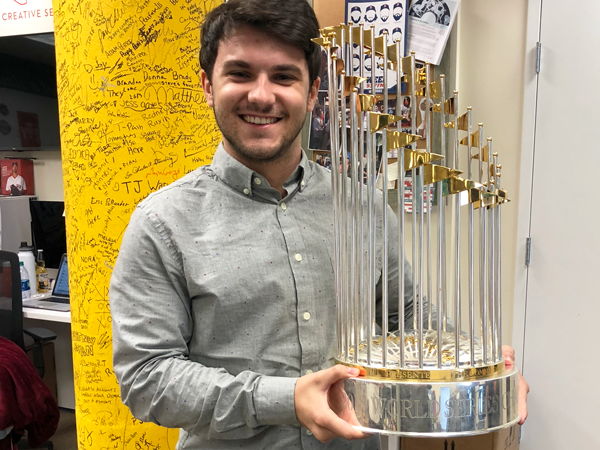 As the playoff buzz multiplied with each win, Sciarratta worked to support the team. "I think the media our marketing team put out certainly helped, but it was such a humbling thing to be part of," said Sciarratta. "It felt so satisfying that after all the hours and work we put in throughout the whole season, we were able to reach our goal. The parade too was such a surreal experience -- one of the best days of my life. Just getting to celebrate being world champs with thousands of screaming fans, I'll never forget that day."
A New York native, Sciarratta, grew up rooting for the Giants and the Mets, and thanks his mom for his love of sports. "She was an awesome softball shortstop through college and still plays on multiple teams today. My mom got me to fall in love with the game. She would always take me to Shea [Stadium] and made a lot of awesome memories for me. In 2015 when the Mets were in the World Series, I'd get a care package from her of Mets stuff from each round they won along with the newspaper headlines," said Sciarratta. "I think the favorite part of our relationship is after we call and catch up on our lives, we'll go into the Mets and how they're playing, what trades they should make."
Combining his love of baseball with his graphic design talent is a natural fit. Sciarratta always enjoyed drawing, but when he took an introduction to Photoshop class in high school, he was hooked. The guidance of a high school teacher influenced his involvement with art shows and contests and ultimately led to his career in graphic design.
His late grandmother was another source of inspiration. "She had an amazing artistic talent that got passed on in my family. She would always say, 'Phenomenal, phenomenal," when I showed her my work with the Red Sox. I continue to push myself to be a better artist in her memory."
As a sophomore transfer student, Sciarratta was looking for the traditional college experience at Northeastern. He hoped to get involved with Greek life when he met the Delt recruitment chairman and became part of what was then a colony. His favorite undergraduate memory is when the chapter received its first recognition with the Hugh Shields Award. "It just felt like such a culmination of everything coming together … being in a room of about 30 guys in a colony, learning how to run and be a chapter, it was such an awesome moment we all got to share. From the older guys who put in the groundwork and to the new guys who came in and took us to another level, I know we all such felt pride and happiness when we found out we won. I'm very happy to say we have continued to keep receiving the Hugh Shields, an ode to our hard work and continued success of our younger brothers at Northeastern."