Creating positive change to the campus fraternity culture is especially important to brothers of the Omicron Chapter at the University of Iowa. On the first day of the fall semester, chapter brothers volunteered to greet and set an example for the University's entire Class of 2021 during an event at the home of University President Bruce Harreld.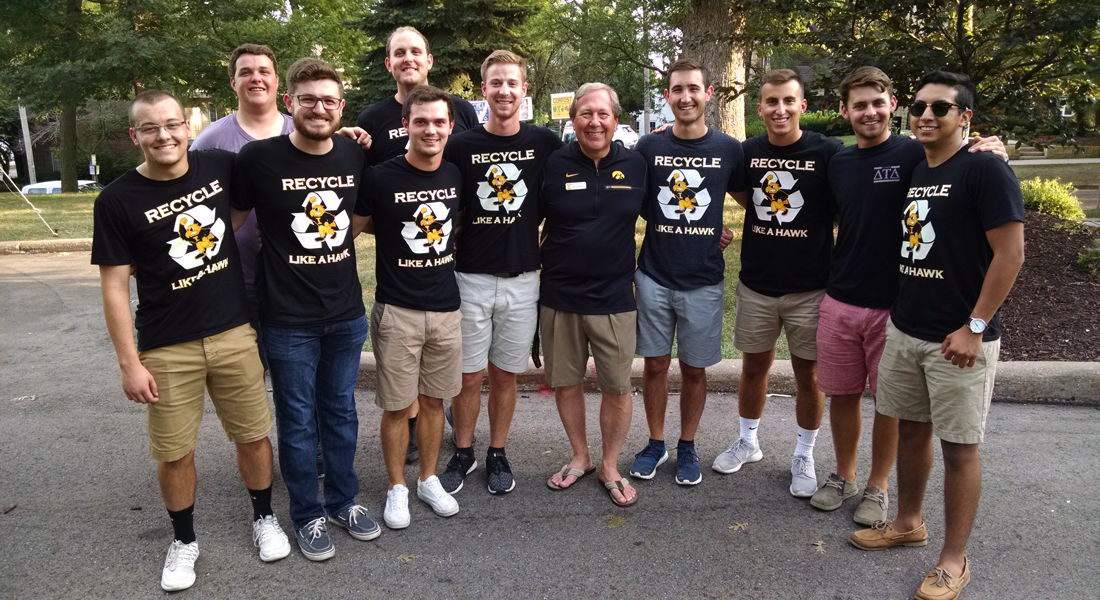 The Delts helped make the event more sustainable by staffing the Green Stations, diverting and separating compostable and recyclable materials. Throughout the year, these men volunteer for many on-campus and off-campus community service events, including home football games, Dance Marathon, JDRF, Habitat and much more. They each give up the traditional fraternity pre-game tailgating activities to perform fan-related gate service duties at entry gates around Kinnick Stadium at all home games. They help educate fans on recycling and waste diversion.
"Working with the Office of Sustainability at the University of Iowa has allowed us to make an actual, measurable difference in our community," said Heath Schintler (University of Iowa, 2019). Every fall, we see a spreadsheet that shows how much waste we have diverted--numbers that mean we are improving the environment around us."
Easily recognized on campus by their "Recycle Like a Hawk" t-shirts with Delt letters, the men have participated in many UI events, including RecyleMania, Science Thursdays on the Med campus, OnIowa, UI Orientation and admissions-related recruitment. The men are entering their sixth year of Leading a Legacy, established during colonization, to improve the culture of fraternity life on campus.
In six years they have assisted and led efforts in reducing risky behavior and promoting student safety programs on campus. Many members take an active stand in programs such as Take Back the Night, Women's Resource and Action Center (WRAC), Rape Victim Advocacy Program (RVAP) and training as L.E.A.P. Violence Program facilitators. They have worked to promote a campus culture that empowers Iowa students to become active bystanders and allies. They live the Delta Tau Delta values every day, everywhere, on and off-campus.
"We as Delts are charged to strengthen our community, and Omicron takes that to heart. Doing the right thing often demands sacrifice, and in this case, sacrifice means giving up some football Saturdays at a Big 10 institution. Nevertheless, our men have smiles on their faces as they greet fans and students from near and far as we strive to better ourselves by bettering the lives of those around us," said Schintler.