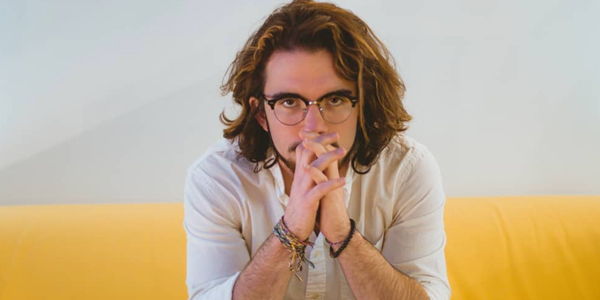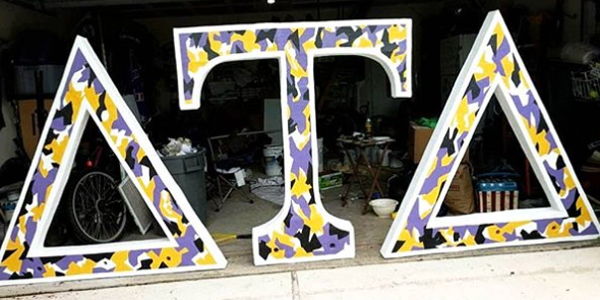 Founding Father Dalton Zarko (University of Texas - Arlington, 2020) created a cost-efficient and lightweight alternative to wooden letter for the Epsilon Rho Crescent Colony. Zarko is currently the colony president but has taken it upon himself to be the artist for the colony, working on flyers, t-shirts and other related projects. Another outlet for Zarko is photography. He fell in love with it while studying aboard in Europe.
How did you build the letters for the colony?
First, I built out the frame using cardboard and cups to give them depth. I then paper mache newspaper with wood glue. Next, I created a water-proof layer by mixing paint and exterior wood glue that covered the whole structure. The final step before painting was more paper mache, but this time with mortar mache, a thin paste similar to concrete.
Why did you want to make the letters for the chapter?
The letters allowed me to not only be creative but develop a cheaper and longer lasting way to make the letters while still allowing a single person to be able to carry each letter.
What do you enjoy most about working with your hands?
I have always been into art and designing since I was a little kid. I enjoy being able to create something to my liking. When I'm building anything, I recognize that I accomplished something, and not very many people can make what I create. It's a major reason of why I chose mechanical engineering as my major.
What is the hardest part of staying creative?
The hardest part, now that I am in college, is time; a lot of creative projects require time and a commitment that would distract from many of my priorities. The letters alone took a couple of months to create because each layer of paper mache had to dry.
How has the colony supported you creatively?
The fraternity has given me lots of areas to create such as these letters. I also made our first rush video and designed all of the colony's t-shirts, flyers and pretty much anything that requires art.
How is photography another outlet for you to be creative?
I fell in love with all the places it takes you and the people you can meet while doing photography. I treat my photography and art as a hobby. I started to hate being creative, but when I do it for fun, inspiration comes naturally and not forced.