Creating a Life of Value through Soccer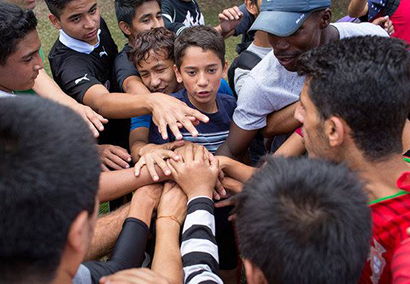 In the fall of 2012 when Martin Angus (Stevens Institute of Technology, 2011) began reflecting on the direction of his life, he realized soccer had played an integral role—much more than he could have imagined when his mom signed him up for a recreational soccer team at age 10 in Franklin Township, New Jersey.
Today, as outreach coordinator and head coach with Soccer Without Borders in Oakland, California, Angus is leading underprivileged young people toward opportunity. Soccer Without Borders uses soccer as a vehicle for positive change, providing under-served youth with the tools to overcome obstacles to growth, inclusion and personal success and Angus is working every day to extend their reach and coach players.
The son of Jamaican immigrants, Angus met kids from all over through soccer. He recalls childhood teammates from Peru, Mexico and Ethiopia as well as Caucasian kids. "I became comfortable around so many different types of people," Angus said. "I was just sort of pre-disposed to it. My mother put me in and I excelled and gained relationships with people from different nations."
Angus didn't just excel, he worked hard to capitalize on his talents. He attributes his speed to his Jamaican roots, but his skills were the result of determination and practice. "I'd come home from school and I don't know if I'd even take my backpack off. I'd just run into the back yard and start dribbling around the soccer ball. It's just what I did every day and it helped my trajectory."
He went on to play varsity soccer at Stevens for two years and that's where he met and was impressed by members of the Rho Chapter. "When you go off to college you feel like a little boy because you're 18 and you're around 22-year-olds and they seem like adult males. They were so kind and so strong. I wanted to be a part of that and I wanted to learn from them so I joined the fraternity."
After college Martin pursued songwriting and lived in Los Angeles and New York City. Then he began to ask how he could live a life of value. He thought about the opportunities he'd gained through soccer and wondered how he could help provide similar opportunities for underprivileged kids. Through an online search for "soccer non-profit that benefits immigrants and refuges" he found Soccer Without Borders.
He called Soccer Without Border founder Ben Gucciardi to learn more about the organization and when he was invited for an interview, he never mentioned that he was in New Jersey. He flew to California and learned that a coach had just left to play professionally and a full-time volunteer position was available. Angus accepted the position on the spot and never returned to New Jersey.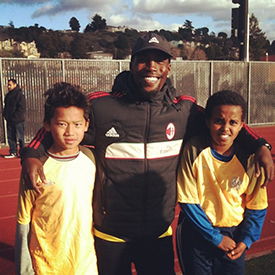 "When I came to California I had a goal in mind. I said to myself, 'I'm going to create a life of value through service and soccer.' I did research and immersed myself in soccer related things. I found pick-up soccer. I went out and played pick-up soccer every day. I would go to these soccer fields and play pick-up soccer. I immersed myself in the San Francisco Bay Area Soccer community because it's my passion. I met a lot of like-minded individuals and made some great friends and jumped right into the community."
Four years have passed and he now serves as outreach coordinator and head coach, working with the oldest boys' team. He modestly claims to wear a lot of hats as he explains that his responsibilities with the organization include grant writing, volunteer coordination, tournament coordination, partnerships and sponsorships as well as social media.
His voice rings with enthusiasm and pride when he talks about the young people he coaches. "These are the boys who are seniors in high school. It's a lot of college preparation for them as far as the head coaching position," Angus said. "It's amazing because they come from war, gang inductions, they are fleeing essentially. As refugees, they seek asylum here, so it's a lot of assimilating into America. Working with the older boys is amazing. Recently they've been getting into college to play college soccer. It's just incredible."
In 2013, the first young man from the program went to college with a full-ride scholarship. This year two boys earned full soccer scholarships and eight boys will go to college, not to play soccer, but simply to further their education. The program is clearly changing lives and Angus is working hard grow the reach of Soccer Without Borders and guide his players toward opportunity.
2020 Update: Martin Angus is in the process of publishing his first novel, "Outside with Elephants" in July under New Degree Press. Learn more.