Courage and Power: Support for JDRF Helps 6-Year-Old Charlie Live a Life of Excellence with T1D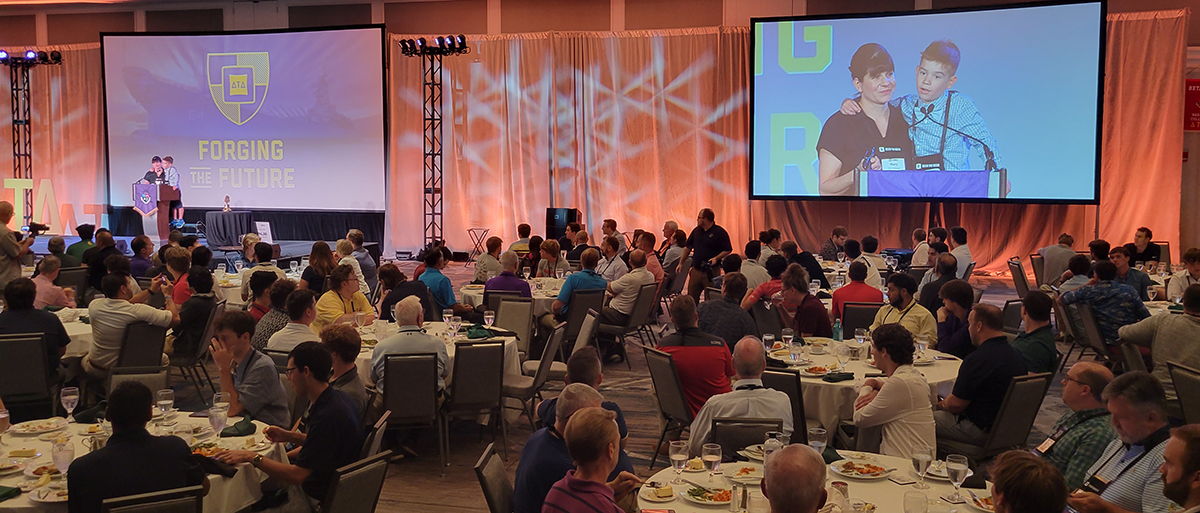 Standing at the podium on a step beside his mom, 6-year-old Charlie Van Hoozer stole the spotlight at Karnea on Aug. 4, repeatedly letting the 500-member audience know "tough" is the best way to describe his life with type 1 diabetes (T1D).
Charlie was diagnosed with T1D when he was 21 months old. With no history of diabetes or auto-immune disease in the family, the diagnosis was unexpected, and the signs unfolded gradually. Charlie started waking up with soaked diapers and at first, his parents thought he'd simply had too much to drink or needed better diapers. Then he began asking for water during the night. After a few weeks of changes, Charlie threw up and woke up flushed and not breathing steadily.
His mom, Mary, scheduled an afternoon pediatrician appointment the next day and while Charlie was napping before the appointment, she Googled his symptoms. That's when everything came crashing down at once.
"At the pediatrician, they took his blood sugar, and it was 455. They said, 'Look, you need to take him to the children's hospital immediately,'" Mary said. "It was a whirlwind from there."
Facing diabetic ketoacidosis, Charlie spent two days in an intensive care unit until he was able to regulate his blood sugar. The silver lining of Charlie's diagnosis was the family lived in Colorado Springs at the time—just 90 minutes from Children's Hospital Colorado. The hospital is associated with the Barbara Davis Center for Diabetes which specializes in type 1 diabetes research and care for children and adults. "They sent us there to immediately get training and get a care team involved and they were phenomenal," Mary said.
The Van Hoozer family also found support through JDRF. Mary reached out to a neighbor who is a physician seeking a referral only to learn the neighbor's daughter has type 1 and his friend's son had also just been diagnosed with type 1. The neighbor and friend introduced the Van Hoozers to the entire JDRF network of parents in the Colorado Springs area.
As a military family, the Van Hoozers now live in Virginia and have connected to the T1D community there through JDRF. Charlie is thriving and full of energy thanks to careful monitoring and management of his T1D. He loves sports, especially basketball and soccer, and he is taking a dance class. He also enjoys rock climbing and watching NBC's American Ninja Warrior. "If you ask him what he wants to be when he grows up, he'll say he wants to be either an engineer or an obstacle course racer," Mary said.
T1D is a constant concern though. Charlie's blood sugar levels must be monitored throughout the day and night and his doses of insulin must be balanced with the food he eats, his activity levels and his overall growth and general well-being.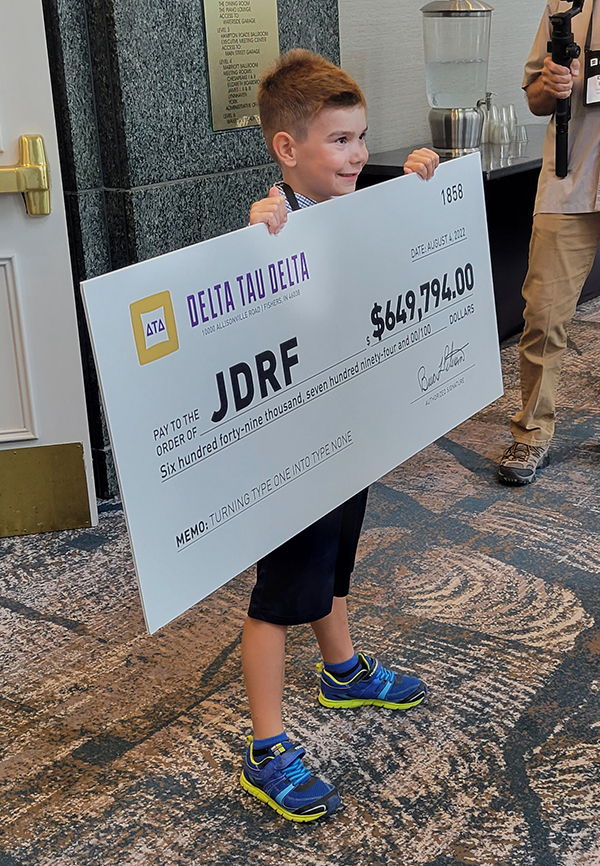 "We have lots to share regarding type 1 and how JDRF has helped and continues to help us," Mary told the Karnea. "Like your fraternity's fundamental value of courage, living with type 1 involves courage. We have to have the courage to plow through what both lows and highs feel like. Like Delta Tau Delta's fundamental principle power, JDRF has funded research and brought forth support that has given Charlie, and his parents, the power to manage his diabetes with fewer complications. Charlie benefits from the power of the insulin pump, the power of the Dexcom and the power of support through JDRF family outreach."
Founded by parents determined to find a cure for their children with T1D, JDRF expanded through grassroots fundraising and advocacy efforts to become a powerhouse in the scientific community. As Delts support JDRF, they also can improve the journey for individuals and families who live with T1D.
"By supporting JDRF as your fraternity's philanthropic partner, please know that you are part of the reason why Charlie manages so well in daily life. You are part of the reason he is thriving and growing," Mary said. "I learned that Delta Tau Delta's mission is being 'Committed to Lives of Excellence.' With every JDRF fundraiser, you, and your brothers back on campus, not only exemplify that mission but have helped clear the path for kids like Charlie to have a life of excellence as well."
Mary said she was blown away by the number of people who approached after the Karnea program to meet Charlie and share their personal connections to type 1 diabetes while demonstrating their support for JDRF.
"The dollars you raise with every JDRF event are critical to today and tomorrow for improving lives like Charlie's. JDRF helps accelerate life-changing breakthroughs to treat, prevent and hopefully cure this disease," Mary said.
"Thank you for making our lives easier and giving us hope that one day there might be a cure. We are grateful for Delta Tau Delta's support of JDRF. Based on our experiences today, I would be very proud to have Charlie join you as a brother, Class of 2038."
About JDRF
JDRF is the leading global organization funding Type 1 diabetes (T1D) research. Our strength lies in our exclusive focus and singular influence on the worldwide effort to end T1D.
Vision: A world without Type 1 diabetes
Mission: Improving lives today and tomorrow by accelerating life-changing breakthroughs to cure, prevent and treat T1D and its complications.
Why we fight Type 1 diabetes
Type 1 diabetes is an autoimmune disease that strikes both children and adults suddenly. It has nothing to do with diet or lifestyle. There is nothing you can do to prevent it. And, at present, there is no cure.
Delts Partnership with JDRF Betters Our Communities and Helps Our Brothers Live Lives of Excellence
Delta Tau Delta established its national philanthropic partnership with JDRF in 2012. This partnership engages the Fraternity's more than 130 chapters and colonies on college campuses nationwide to work closely with local JDRF chapters to help raise funds and awareness of Type 1 diabetes (T1D). Since the partnership began, Delta Tau Delta chapters have raised nearly $2 million for T1D research. Additionally, Delta Tau Delta undergraduates and alumni have contributed countless hours of service through local JDRF chapter events. The partnership between Delta Tau Delta and JDRF strives to create multiple avenues for philanthropy and creativity, from volunteering at JDRF galas and forming walk teams to creating campus fundraising and awareness events to benefit T1D research.