Community-Focused Advocacy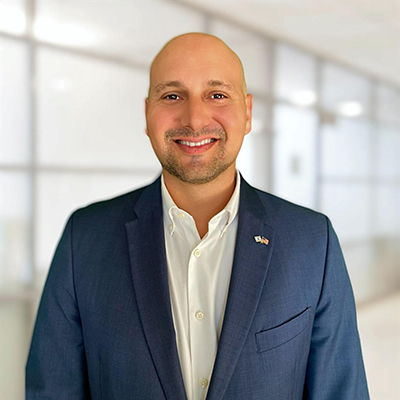 Born and raised in an active and tight-knit Jewish community in Puerto Rico made up of Cuban exiles, Michael Teichberg (Tufts University, 2006) finds that to this day, his Delt connections maintain his sense of community, brotherhood and friendship, while strengthening his non-profit work in advocacy, leadership and fundraising.
After considering several organizations at Tufts University in the spring of 2003, he joined Delta Tau Delta's Beta Mu Chapter because they had the reputation on campus of having the highest GPA, hosting the most fun events and being the most diverse and international of all the fraternal organizations. Many of Teichberg's best friends to this day are his Delt pledge brothers. Several were groomsmen at his wedding, and he even introduced one to his future wife. "Most of my fondest college memories are having personally hosted at the Delt house, salon-style philosophical conversations with students from colleges around Boston, art-house movie nights, and Latin dance nights, but also what we all did as part of the local community. The year-round volunteer work we did with the local K-12 schools, as well as the annual campus-wide fair for the local children, really resonated with me, having been a Zionist (pro-Israel) youth counselor during my time in secondary school," Teichberg said.
Teichberg is passionate about networking and values opportunities to build community. Tufts was the first non-Ivy League school Facebook added to the network in the spring of 2004, so as an early adopter on the platform, Teichberg created the Tufts DTD Alumni Facebook group to build connections. He served as pledge class president and when he served as steward, he enjoyed organizing activities for the entire brotherhood. As an alumnus, he organizes spring break reunions in Miami Beach among his brothers.
For more than a decade, Teichberg worked in human resources for nonprofits and venture-backed education technology startups in the Boston area. He led teams and supported operations in 15 countries across South and Central America, Africa and Australia. In 2014, when his wife's new job took the couple to Miami, Teichberg kept his job in Boston. "I was an early digital nomad before it became in vogue like it is today post-pandemic. And that's how I got to know South Florida," he said. "Every neighborhood and the beach were my office. I was able to meet a lot of great intellectually curious people and even reconnect with other Delt brothers in the area."
In 2018 Teichberg launched his own HR boutique consulting practice, InventivHR, supporting nonprofits and tech startups. "After my third time working for a startup, I realized that for the amount of sweat equity and hours working for someone else, I could make a bigger impact supporting even more organizations providing human resources support to companies that otherwise could not afford a full time HR function. I had a lot of fun building my own business figuring out the business model, finally being an entrepreneur myself after working for so many others. After a year, my career-changing realization was learning that HR wasn't truly my passion — what I enjoyed most and was really good at, was networking, prospecting and bringing people together."
When the right nonprofit opportunity came along to begin a new career using his skills to disrupt the nonprofit philanthropy space, the way he had done in HR modernizing hiring practices for nonprofits starting out, he knew he had to take the leap. "Specifically, I picked the Jewish nonprofit sector because of my strong Jewish identity. Participation in volunteerism, leadership, and philanthropy for Jewish causes, was something I could authentically 'sell' because they were passions of mine," Teichberg said.
For four years, he supported Jewish National Fund-USA as a director managing fundraising and community programming for Broward and Miami-Dade counties. In 2021, he also founded the SoFlo-Israel Tech Innovation Entrepreneurship Council, the premier invite-only networking group connecting South Florida entrepreneurs, investors and tech companies to Israel's tech ecosystem.
As Teichberg continued to see a rise in antisemitism in the news, he felt a pull towards advocacy work as the next logical step in the non-profit space after learning to fundraise effectively. That's when American Jewish Committee (AJC), the nonpartisan global Jewish advocacy organization, approached him and together, they created a new position as director of strategic partnerships. Teichberg took on this new role in November 2022 as part of the Miami and Broward Regional Office team in Florida.
"The position combines all of my passions. I'm working with the corporate and tech sectors, creating unique advocacy programming, including combating hate and antisemitism in the workplace," Teichberg said. "I'm excited to be working with AJC National's Combating Antisemitism department to develop workshops that I'll be able to deliver to companies here in South Florida. AJC does this around the country already, so I'll be able to take their template, work with them and develop something through my human resources lens for professional organizations such as chambers of commerce and large media companies and academic institutions."
At AJC, Teichberg will also engage Jewish Latino/Latin American community members through the organization's existing local Latin American Task Force and launch a new group for non-Jewish Latino/Latin American professionals in media, political consulting, technology, and other sectors active in public discourse. "Collaboration with AJC's Washington, D.C.-based Belfer Institute for Latino and Latin American Affairs (BILLA) and Latin American consulates in Miami to offer programs, speakers, and tours provides a unique offering to our community, as there is no other institute bridging the people and issues of importance in Latin America, Israel, and the USA in quite the same way," said Teichberg.
"It's very liberating that my focus is no longer fundraising for projects. While every nonprofit must fundraise to execute on its mission, I now fundraise simply to find sponsors to fund my events, so it's about doing meaningful advocacy work connecting Jewish and non-Jewish community members. I really like the plurality of the organization," Teichberg said. "In addition to Latin American Affairs, the organization does a lot of intergroup and interfaith programming as well, bringing together members from the Black community, from the Muslim community, Catholic community as well. When we get speakers visiting from around the world, we'll be able to put together panels of speakers from these different communities and bring people together."
With a focus on advocacy, leadership, and fundraising Teichberg finds work with AJC fulfills his passion. "In an organization like AJC, you can actually make an impact and work with volunteers, donors, colleagues and peers from different industries. It's a nice ecosystem where you're able to work on what you love in business and collaborate with people who all share that same passion and mission. That's what connects you. And that is why I draw a parallel back to Delta Tau Delta and my brothers. We all have such different lives. We work on different things, but we have a shared passion and experience. A common thread I've seen through all of them is we all share this life mission to make a better world, the mantra in Hebrew of Tikkun Olam."
---
AJC's 2023 State of Antisemitism in America report, released in February, found 9 out of 10 American Jews and the general public surveyed agree that antisemitism is a problem in the U.S., more than 80% of Jews believe antisemitism has worsened in the last five years and nearly 4 in 10 have altered their behavior in public to avoid being identified as Jewish. To get involved with AJC in your local area or to share your thoughts with Brother Teichberg, please contact him at teichbergm@ajc.org.
---