Charity Golf Tournament Yields $8,700 Raised for JDRF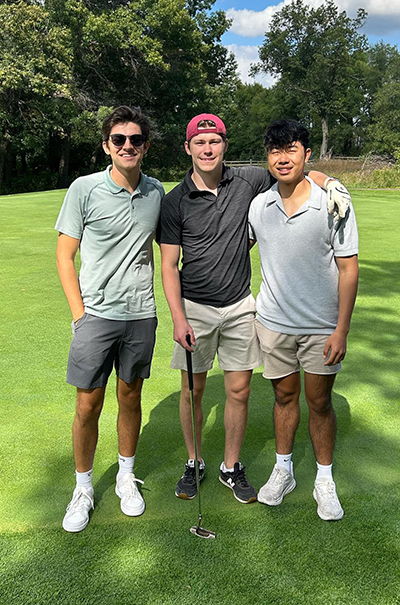 What do you do when there's too much snow on the ground for your spring charity golf tournament and your event chairman is graduating? You postpone the event and count on your brothers to pick up where you left off.
Though it was originally planned for April 2023, the brothers of Beta Eta Chapter at the University of Minnesota hosted their 7th annual Crescent Cup Charity Golf Tournament on Sept. 17, 2023. The event, held at Majestic Oaks Golf Course in Ham Lake, Minn., raised more than $8,700 to support Delta Tau Delta's philanthropic partner, JDRF. JDRF is the leading global organization harnessing the power of research, advocacy, and community engagement to advance life-changing breakthroughs for type 1 diabetes (T1D).
After the event was postponed, Chapter President Paxson Picken (Minnesota, 2024) asked Vasili Nicklow (Minnesota, 2025) to organize the event because the original chairman Rocky Brown (Minnesota, 2023) graduated in the spring, shortly after the original event date.
Beta Eta Chapter members paired fundraising efforts and raising awareness in support of JDRF through ticket sales which included greens fees, a banquet dinner and an entry into the raffle. A separate ticket option allowed those who were not golfing to participate. The chapter used the fundraising platform CrowdChange to manage ticket sales and donations.
Continuity was key to the leadership transition. The chapter maintains a shared Google drive folder with spreadsheets and examples of what to say when soliciting sponsors and donations.
"The biggest thing that helped plan and organize the event was starting well in advance in the summer, as well as having lots of resources from past Crescent Cups," Nicklow said. "Having such a thorough pool of resources was a huge help."
According to Nicklow, identifying event sponsors and businesses willing to donate prizes for the raffle had a significant impact. For both the golf and dinner tickets, a portion of the cost was designated as a donation to JDRF and the rest went toward the golf fees and dinner. "While it is a donation, it is not necessarily that much per person after the cost of the event is taken out," Nicklow said.
As such, pairing ticket sales with sponsor support, direct donations and raffle tickets was critical. Each ticket came with one raffle ticket and additional raffle tickets were sold individually. "One prize that I am proud of being able to obtain was four tickets to a Minnesota Twins game through a guest speaker from a class of mine. That was objectively the best raffle prize, and I believe it motivated more people to purchase more raffle tickets, Nicklow said.
With 85 people attending the event, including 53 golfers attendance was lower than hoped, but chapter members know the postponement impacted availability. The fall event date fell before the end of recruitment which limited the potential for attendance by new members and their families. With tentative plans for the 8th Crescent Cup in the spring 2024 semester, two classes of new members will be able to participate.
Building on the successful Crescent Cup format, Nicklow sees an opportunity to establish additional programming during the dinner portion of the event. While this year, he used that time to thank the sponsors and donors and conduct the raffle, the chapter will add a more robust explanation of JDRF as Delt's philanthropic partner. JDRF is the leading global organization harnessing the power of research, advocacy, and community engagement to advance life-changing breakthroughs for type 1 diabetes (T1D).
"It meant a lot to me to see everyone at the event having a good time. There is a positive mindset about this specific event," Nicklow said. "Everyone knows they are there to support JDRF and that it's a fundraiser event, which I think improves the overall mood and level of satisfaction."
While JDRF is the main philanthropic cause Beta Eta Chapter supports, the chapter also engages in other philanthropy events. They have volunteered through Feed My Starving Children, sometimes partnered with a sorority, volunteered at a 5K race to help hand out supplies and medals, and donated manpower to package and hand out meals to give to families around Thanksgiving. Last semester, the chapter hosted a joint philanthropy event with a campus mental health club at the chapter's Shelter. The profit from this event was split between JDRF and the club so it can continue to host events and raise awareness about mental health issues.