Chapter President Helps Delivery Baby During Blizzard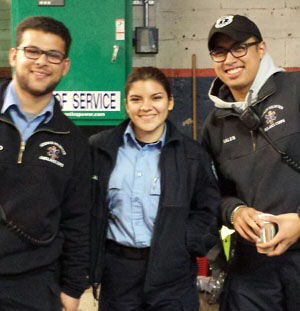 As winter storm Jonas bore down on the East Coast in late January, Rho Chapter President Anthony Grasso (Stevens Institute of Technology, 2017) reported to his shift with the Hoboken Volunteer Ambulance Corps in New Jersey. That Saturday afternoon the first ambulance crew was called out and Grasso's crew took the next call—a woman in labor.
Like any other call, they responded immediately, this time navigating through Hoboken's tight city streets and the 26 inches of snow. They arrived at an apartment where they found a woman whose contractions were close together and quickly realized the blizzard conditions meant there wasn't enough time to transport her to the hospital.
"Normally if someone's water breaks you have enough time to get to the hospital and we've done that before. One time we picked up a woman from the train station and got her to the hospital. When our lead crew chief looked at us and said, 'We're staying' it was a little shocking," Grasso said. "The thought runs through your mind when you hear a maternity call on the radio, but it seems far-fetched. It just didn't seem like a real possibility until we walked in."
Grasso and his crew which included Scarlett Guajala and MikeVales were all first-timers when it came to delivering a baby, but shortly after they arrived they were joined by paramedics from Jersey City. The paramedics, a paid entity who have a higher level of training, are called out for certain types of calls Grasso explained. "When they arrived they took the lead and they were phenomenal," he said. "They made the woman feel comfortable while also making sure all the tasks that needed to be done were done quickly."
Within about 10 minutes they were joined by a baby girl!
"Later I texted my mom and my two brothers," Grasso said, "telling them 'I'm not joking. You're not going to believe it, but we just delivered a baby!"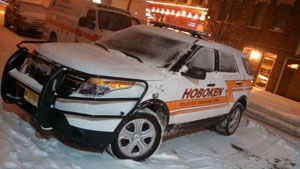 Grasso offers high praise to the Jersey City paramedics. "It just shows the value of teamwork. From lifting heavy objects to delivering a baby, teamwork can get you through."
Grasso plans to pursue a career in the design or manufacturing of medical devices, tools or prosthetics. He first signed up as an Ambulance Corps volunteer as a sophomore seeking real world experience and an understanding of how medical products and technologies are used in the field. He hopes his experiences as a consumer of medical products give him a more well-rounded approach to design and manufacture as he combines his engineering background in his career down the road.
Keeping his Fraternity responsibilities, his volunteer commitments and his school work in check is a balancing act, but Grasso takes it all in stride. "The thing about the Fraternity is when you get more people involved, the burden isn't falling on a couple people. There are still meetings and administrative tasks, but I've found that we've been able to get more people involved and that's our biggest helping hand with the Fraternity."
Grasso took over as chapter president earlier this year after serving as secretary. A year ago the chapter was just coming off a term of suspension and Grasso was motivated to lead because he saw a group of people with great potential. "It was really cool to get involved and be part of such a dramatic transformation to get where we are today as a chapter. I saw an opportunity to really invest time and energy into something that can be so much bigger and so much better and help so many people."