Caring Through Philanthropy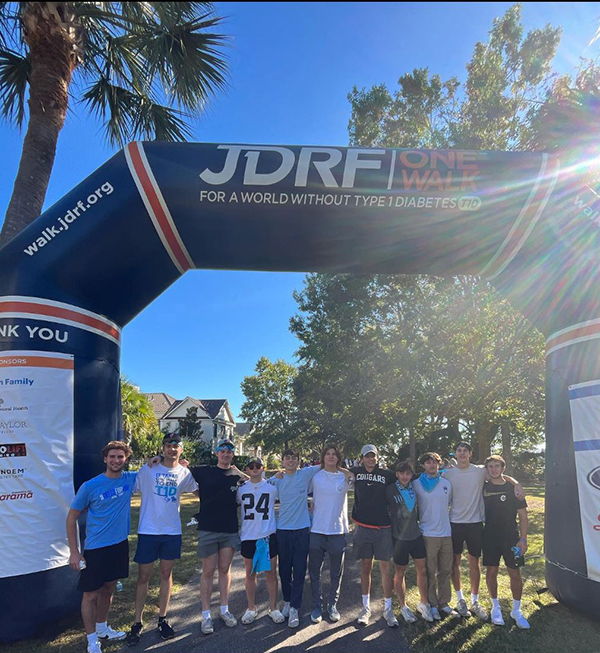 Members of Kappa Zeta Chapter at the College of Charleston take pride in setting themselves apart on campus by demonstrating a sense of caring through their philanthropy and community service efforts.
At the beginning of each semester, the chapter hosts a speaker to help educate members about JDRF, the leading global organization harnessing the power of research, advocacy, and community engagement to advance life-changing breakthroughs for type 1 diabetes (T1D). "This helps us kickstart our fundraising efforts, so we know what we're working to raise money for," said Jackson Van Horn (College of Charleston, 2025) who serves as vice president of the chapter. "We then start our online fundraiser where we reach out to family and friends to help raise money. This leads up to our local JDRF One Walk where our brothers help set up, participate in the walk and clean up."
The JDRF One Walk, South Carolina Lowcountry was held in October 2022. The date isn't final for 2023, but Kappa Zeta Chapter plans to participate again. Each One Walk JDRF reminds communities of the "Our Miles Towards Mission, walking to power more research, enable more advocacy and fund more support for the 1.45 million Americans living with T1D."
For the spring semester, the chapter hosted a Delt Dogs event on campus where they grill and sell hot dogs with proceeds going to the local JDRF chapter. "A little rain did nothing to dampen the enthusiasm of the young men from the College of Charleston, Delta Tau Delta chapter, and their Delt Dogs event today. We appreciate their support in turning type one into type none," is the message accompanying event photos on the JDRF Charleston Facebook page.
The chapter also created a March Madness tournament with proceeds supporting JDRF. Philanthropy chair, Patrick Henzy (College of Charleston, 2024), planned the events with the administrative board's help to ensure any necessary requests were filed with the college and supplies were ready for each event. They have found marketing each event through several methods is extremely important. For on-campus events, they create flyers shared through social media. When making a push for fundraising, they've found it's best to reach out directly to family and friends and let them know about JDRF and what the money goes toward.
"The coolest part for me has been seeing local families who are supported by JDRF and the money we help raised when we were at the One Walk. It also helps connect us to our campus as we are able to spread awareness about JDRF and meet with people whom we might not normally interact with," said Van Horn.