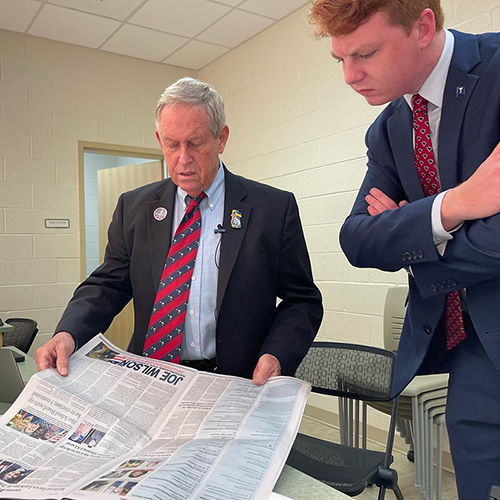 Wylie Shaw (University of South Carolina, 2025) may be the youngest campaign manager ever to work for a member of Congress. At 19, Shaw recently served as campaign manager for U.S. Congressman Joe Wilson (SC-02), starting in the spring semester of his freshman year and finishing at the end of his sophomore fall semester. "It was definitely difficult to balance work, academics, and Fraternity obligations, but it taught me a lot about responsibility, and I would do it all over again," Shaw said.
Shaw started volunteering and interning during middle school when he first became interested in working on political campaigns. To date, his most memorable experience from campaign work is from Election Day in November 2022. "I started putting up signs at precinct locations the night before the election and did not finish those until 4 a.m. I then had a full day on Election Day, traveling with the Congressman and putting the final touches on the campaign, ending with the victory party that night. Though the district is generally a Republican district, we ended up defeating our opponent by 20 points. This was a great moment personally, to see my hard work come to fruition," Shaw said.
As a proud South Carolinian, Shaw chose to attend the state's flagship institution in the capital city of Columbia, where he grew up. His interest in politics and consulting led him to pursue a degree in public relations with a minor in political science. He has also worked as the campaign manager for a successful school board candidate and for a State Senator at the South Carolina State House.
Although Shaw hadn't intended to join Delta Tau Delta when he enrolled in college, that changed when he met chapter members of Theta Eta Chapter during recruitment. "Joining a fraternity comprised of guys with similar life experiences, upbringings and values was very important to me," Shaw said. "I am honored to currently serve as vice president of our chapter, which is rare for a sophomore. I am thankful my brothers put their trust in me, and I know the best is yet to come for us."