Camaraderie Keeps 94-year-old Alumnus Connected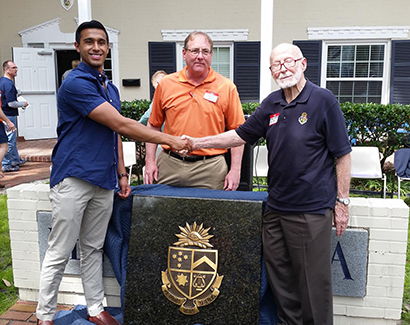 Earlier this month 94-year-old Grady Drake (University of Florida, 1947) made the drive from South Florida to Gainesville with his nieces to participate in the 90th anniversary celebration of the Delta Zeta Chapter. Simply put, the camaraderie Drake has found in the Fraternity over the years keeps him coming back.
Drake grew up in West Palm Beach and the lingering economic challenges of the Great Depression made the University of Florida a sensible choice for Drake who enrolled in 1940 following his brother Terence Drake (University of Florida, 1941).
During recruitment Drake recalls the chapter needed 12 men to balance the budget and thus he was recruited by his older brother's fraternity. "We were still fairly new on campus and recruitment was a difficult situation, so I guess they put up with me," he said.
Drake was drafted after finishing three years of school and went to basic training in Texas, then training for combat engineers in Little, Rock, Arkansas. With the Army he landed in Bristol, England and after three months his unit disembarked at Le Havre, France. "I was never in actual front line combat," he said. "I was in the combat engineer and the headquarters company of that battalion. Among the other things that our unit did was supply purified water to any troops that needed it. I was the clerk for the supply department. Actually, Marlena Deitrich got closer to the front than I did."
Though the war interrupted his education he returned to finish his degree at Florida and went on to Columbia University where he earned a degree in library science. When a recruiter came to campus he applied for a position in Santa Barbara, California where he worked for two years. He was surprised to learn the Fraternity had established a new chapter there and quickly took advantage of his first post-college opportunity to give back as the advisor for the Delta Psi Chapter at the University of California, Santa Barbara.
Drake was inspired by his own chapter advisor for whom he holds a lifelong admiration. "We had an exemplary chapter advisor, Dr. Weber. He was one of the chapter's founding fathers in 1925," Drake said.
George Frederick Weber (University of Florida, 1916) served as Southern Division President from 1936-1938, was chapter advisor for the Delta Zeta Chapter from 1926 to 1956 and held the roles of secretary and treasurer of the Delta Zeta House Corporation. When he was cited into the Distinguished Service Chapter in 1939, he was heralded as having been principally responsible for the chapter's new shelter. "His advice, counsel and unselfish service have been of inestimable value to our Fraternity," reads the citation.
Dr. Weber influence was profound. "He was a hard worker and very, very dedicated to the chapter," Drake said. "He would come by the house several times a week and was always present at chapter meetings. He was a legendary chapter advisor and any chapter that has one similar to Dr. Weber is indeed fortunate."
Following his time in Santa Barbara Drake studied at the University of Edinburgh, spent two years at Northwestern University and spent two and a half years as a civilian librarian for the U.S. Air Force in France and Germany. He then worked for the University of Florida for nine months. The state of Florida was expanding its community college system at the time so when a position opened at the new community college in Ft. Lauderdale he applied and was accepted for a position there. The new school was just 40 miles from where he grew up and where his parents lived at the time. He worked there for more than 28 years until his retirement.
Through his continued involvement with Delta Tau Delta Drake has earned his own celebrated status as an exemplary brother who is committed to the Fraternity. He attended his first Karnea in 1946 and his third in 2012. He regularly joins Delt alumni at the annual Boca Raton Rally and boasts a thorough collection of copies of "The Rainbow" dating from when his brother began receiving the magazine in 1937. The camaraderie he experiences through the Fraternity is immeasurable.