Brothers Work Together to Recover from Louisiana Floods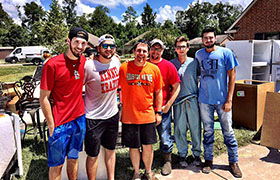 The flooding rains that came to southern Louisiana sometimes measured more than three inches per hour and up to two feet in 48 hours. The National Weather Service believes a flood of that magnitude should only happen once every thousand years – it has happened twice in the last year. Streets became rivers and swallowed neighborhoods. Thirteen lives were lost and roughly 60,000 homes sustained damage.
One of those homes belongs to Chris Peltier (Southeastern Louisiana University, 2006) who lives in Ponchatoula with his wife and two small children. Eleven inches of water flooded their home in March and when the water receded Peltier called on alumni from the Epsilon Phi Chapter to help him gut the house. A couple months ago they finished renovations and moved back. He was relieved to get back to normal.
Then the rain came in August. The water level inside his house exceeded three feet. After his experience in March he knew it was critical to get in and start ripping out materials as soon as possible so Peltier called his former advisor Gene Pregeant (Southeastern Louisiana University, 1980) to ask if he knew a few undergraduates who could help with the first steps of recovery.
"Without hesitation, Gene started to rally some troops to help in any way possible. Groups of undergraduates were at my house the next three days ripping out sheet rock, pulling nails, sweeping, packing anything that could be saved, which was not much, and lending a helping hand anyway possible. A few alumni made their way to help and Southern Division President Tiger Edwards (Southeastern Louisiana University, 1973) showed up with lunch to feed the crew," Peltier said.
As Peltier reflects on the importance of brotherhood he is deeply grateful for the undergraduate brothers, some of whom he'd never met, who volunteered to help. "There have been so many Delts. I cannot be thankful enough for all the help they have provided," he said. "My family and I will never know how to repay so many people, especially from Delta Tau Delta."
Since students weren't back in school yet Pregeant reached out for help through Facebook and the message reached an extended Delt community. One respondent was the Cheryl Braud, the mother of Johnny Braud (Southeastern Louisiana University, 2013). She didn't know whose house flooded; she just wanted to help. A few days after the flood, she traveled from her home in Covington, La. to Ponchatoula, with a batch of prepared meals. When she arrived at Peltier's home she was surprised to recognize him. Peltier was the orientation leader that gave a campus tour when she took her oldest son to visit Southeastern Louisiana University several years earlier. Braud began a food, furniture, clothing and toy drive among her own circle of friends. "She has been a great source of comfort for the Peltier family," said Pregeant.
Four undergraduate members of the Epsilon Phi Chapter also experienced flooding of their family's homes and groups of Delts were dispersed on a daily basis to their homes where the same processes that occurred at the Peltier's home were repeated. Each home had to be completely gutted; all belongings were removed, walls were taken down and floors taken up. The chapter recently finished formal recruitment and welcomed two new members who sustained similar flood damage.
Brothers from across the country also stepped up to offer assistance and encouragement in the recovery process. Immediately following the flooding Anthony Ranatza (Southeastern Louisiana University, 2002), began an online drive to encourage Delt alumni to send donations of gift cards to places like Home Depot and Walmart. "Since we had so many Delts impacted, I wanted to do more than just help them clean their homes," he said. By early September $1,900 in gift cards had been donated and the cards were being distributed to those members and alumni who sustained damage from the floods.
"We initially started the gift card campaign within our own chapter alumni but soon realized we could make a great impact. I was overjoyed with the responses from around the country," said Ranatza.