Omicron Chapter Brotherhood Chairman explains why the brotherhood at Iowa is second to none.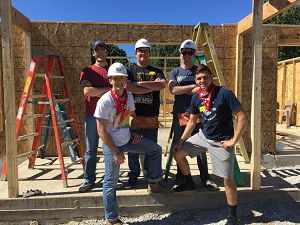 Brotherhood sustains us. Out of everything I have learned from going through the new member process, this statement stands out to me the most. Most fraternities would agree that brotherhood is an important aspect of what fraternity life stands for. It is the soul of the fraternity that binds its members together and allows them to strive towards greater goals. Going off of that mentality, it is important to remember that a house divided against itself cannot stand, neither can a fraternity.
What creates a strong brotherhood you might ask? Many people believe the answer is going through difficult situations and working towards a common goal. Each fraternity has different ways of promoting bonding amongst brothers. Regardless, brotherhood isn't something that can be forced upon an individual, instead it should be a philosophy. Brotherhood is process that regardless of the hardships that come your way, your fraternity brothers will stand by you and support you.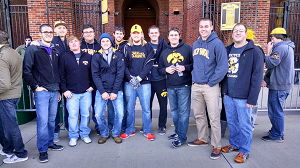 This belief has been warped by hazing and distorts what a true brotherhood should be. Brotherhood is inclusive, not exclusive. When I look around my fraternity, I do not think of people in terms of alumni, new member or even their academic class, they are simply my brothers. Hazing promotes separation between the brothers and new members because often people involved develop an "us against them" mentality. This can lead to them only bonding with their fellow pledges. Not only does hazing promote isolation, but often leads to resentment towards the upper classmen. To feel separated is to feel unequal and brotherhood should embody the idea of inclusion. Through these means, it is difficult to treat someone as a brother if they treated you in a demeaning or degrading way instead of supporting you.
Our chapter has established a brotherhood where our members feel secure talking about their issues which makes it easy for them to seek our support. Talking about what they are going through and having someone there to support and listen to them is key as it provides them not only with a support system, but a chance to overcome their difficulties with the help of the chapter. We have seen that by being vulnerable and understanding we are there for them, a bond is created between our brothers that I cannot begin to describe. Ridicule or criticism is subject to making people feel alone. Our campus is able to see the difference in our fraternity compared to other on campus. As brotherhood chairman, my biggest tip is to create an environment of mutual trust and support. Your chapter will see and experience the difference it makes in its brotherhood.